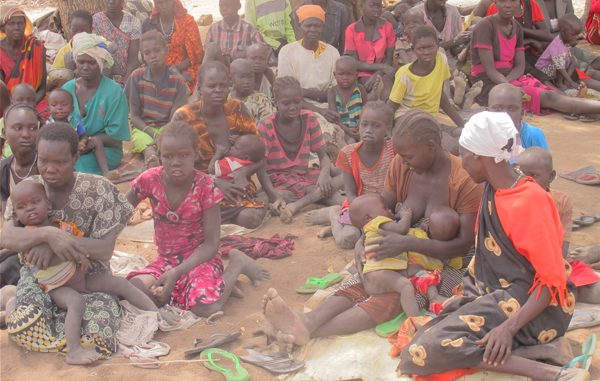 At least 5,200 Internally Displaced Persons (IDPs) from South Sudan's Northern Bahr el Ghazal are in need of urgent humanitarian assistance.
RUM-MADING, 08 March 2017 [Gurtong] –The IDPs are stranded at Rum-Mading Village of Korok East County in South Sudan's Lol State.
During an assessment carried out on Tuesday by over 15 humanitarian organizations operating in the area, the IDPs were forced to flee their homes due to severe hunger that has hit their homes forcing them to flee towards Sudan.
Among the humanitarian teams assessing the situation includes: UNMISS (Civil affairs department) UNOCHA, UNICEF, UNWFP, UNFAO, UNWHO, Malaria Consortium, Concern Worldwide, Premiere, Hu Welt, ACF, NRC, IRC, BRAC, ARC and World Vision.
Upon arrival of the humanitarian team, the situation was confirmed 'worse' as some IDPs were confirmed dead while others were in critical condition lying down unable to stand up on their own.
Ngong Ngong Baak the camp manager of the IDPs who led the team of journalists to the graves of eight victims who passed away due to hunger since their arrival in January explained the deplorable situation of the IDPs.
"These people died of diseases; they ate only leaves from trees which later gave them diarrhoea. This usually affects children resulting to death. Eight people have died so far and many others are still suffering not knowing their fate like these kids you can see here." He told journalists while pointing at some malnourished children.
Victims who were interviewed by journalists said, hunger, lack of water, health facility and rampant diseases have been the major threats in the camp for the last three months they have spent at Rum-mading village.
Atak Kuot says they have lost hope for survival since they have nowhere to go.
"We came from different villages heading to Khartoum when we heard that there is plenty of food there (Khartoum). As we came, we ran out of what we had and wanted to forge a way of living here. It is not easy here. Everyone is suffering! We spend four days without food." Kuot said.
The Relief and Rehabilitation Commission Director, Deng Kuel Kuel says that his office in collaboration with the international partners are working hard to alleviate further deaths by mobilizing little humanitarian support to rescue the situation.
Korok East Commissioner, Garang Bol Ateny appealed to humanitarian organizations to speed up the process of providing food, shelter, water and basic health needs to the IDPs.
The desperate IDPs confirmed that they could not make it across the borders to Sudan as they lacked basic necessities. Most of these stranded persons are the elderly, children and women who were seen to be helpless.