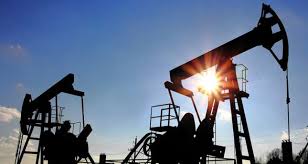 The big plunge in crude oil prices has continued overnight and into this morning. WTI is down 2.2% breaking under $50.00 while Brent is down 1.8% falling toward $52.00 after breaking $55.00.
Through the winter, traders had held up oil hoping that OPEC production cuts would offset the return of US shale production as prices increased. Big buildups in US inventories over the winter were seen as temporary. A week ago it looked like the big build phase was over but this week it roared back to life causing trader to throw in the towel. Between reports suggesting that US oil production could break their 1970s record next year and talk that Russia has been slow to keep its promises, the oversupply issues that sparked the market share war of recent years could be heading back to square one.
Plunging oil prices have pulled the prices of energy stocks and resource currencies down the drain as well. Oil sensitive currencies like CAD and NOK have been hit particularly hard but other resource dollars like AUD and NZD have been impacted as well.
This morning finds US index futures trading down 0.1% with the oil light and technology heavy NASDAQ down less than the Dow and S&P. In Europe the FTSE with its higher energy weighting is down 0.75% while the Dax is down 0.25%.
In currency action, USD remains well supported between yesterday's very strong ADP payrolls report and tomorrow's nonfarm payrolls. GBP has stabilized while gold remains under pressure with trader fully expecting a rate hike next week and increasing speculation another increase could come in June.
The ECB announcement is out with no changes. A one and done taper to QE is expected for April with interest rate and QE levels expected to hold through the rest of the year after that. The ECB seems to want to stay the course until the elections due in the Netherlands, France, Germany and Italy over the next year are done. It will be interesting to see if rising inflation or external events force them to change their plans in the coming months. EUR pairs could be active around the decision and the Draghi press conference.
Chart Signals: Crude oil crumbles, dragging CAD and the UK 100
In technical action, the spotlight remains on energy related markets with WTI crude breaking down through $50.00, USDCAD breaking out over $1.3500 and the UK 100 falling back under 7,300. Indices in general continue to struggle while signs have emerged suggesting gold and GBP may be starting to regain their footing following recent tumbles.
North American and European Indices
US 30 is still drifting downward with resistance falling toward 20,875 and the index drifting down toward 20,830 a previous breakout point with next potential support near 20,700. RSI under 70 and falling indicates upward momentum weakening and a correction deepening.
US SPX 500 has dropped back into the 2,360 to 2,368 area as it continues to fall away from 2,400 resistance. RSI falling away from 70 indicates momentum downshifting from upward to neutral. Next potential support near 2,348 then 2,313 a Fibonacci level.
US NDAQ 100 is holding near 5,350 and the middle of a 5,300 to 5,400 trading range but it looks vulnerable with RSI falling away from 70 indicating weakening upward momentum. An uptrend appears to be failing but so far it looks like that could be replaced by a sideways trend.
UK 100 continues to roll over, dropping under 7,300 and trading near 7,275 with its 50-day average and uptrend support near 7,240. RSI testing 50 which could confirm the uptrend or signal a downturn with next potential support near 7,200 then 7,125.
Germany 30 is still struggling with 12,000 round number resistance trading between 11,920 and 11,960. Lower highs in the RSI and a negative divergence indicates upward momentum has peaked and a downturn possible. Next potential support near 11,780 then the 50-day average near 11,730.
Commodities
Gold has bounced up out of its $1,200-$1,205 Fibonacci cluster support zone while the RSI has held 40 suggesting that the recent correction may have run its course. Gold has bounced back up toward $1,208 with next resistance possible near $1,212 the 50-day average then $1,218 a Fibonacci level.
Crude Oil WTI is breaking down again today. An uptrend break that caused an ascending triangle to fail has been followed by a channel failing and the price nosediving under $50.00 and on toward $49.00 with next potential support near $48.30 and the 200-day average. RSI indicates downward pressure increasing.
FX
US Dollar Index is sitting between 102.00 and 102.25 having completed an ascending triangle but unable to push significantly higher. RSI indicates upward momentum still growing. Next resistance possible near 102.50 then 130.30 with initial support in a pullback near 101.70.
USDJPY is sending mixed signals. Rising RSI and higher lows indicate an accelerating upswing with support rising toward 114.30 from 114.05 a Fibonacci level and the 50-day average. Resistance remains in place at the 115.00 round number with more possible near 115.50 another retracement test.
EURUSD remains in a downtrend with the RSI still below 50 and the pair trading under resistance in the $1.0585 to $1.0600 area. A recent breakout appears to be failing as distribution resumes with next potential support near $1.0525 then $1.0500.
EURGBP's latest rally appears to be running out of gas with resistance emerging near 0.8700 and the RSI indicating upward momentum levelling off. Additional resistance possible near 0.8760 with initial resistance possible near 0.8660 a Fibonacci level then 0.8620 and 0.8600.
GBPUSD continues to stabilize as it attracts support above $1.2140 and trades up toward $1.2180. The right shoulder of a head and shoulders base appears to be forming with next potential resistance near $1.2200 then $1.2260.
USDCAD is breaking out again today, clearing the $1.3500 round number and advancing on $1.3530 with next potential resistance near $1.3540 then $1.3600. RSI getting extremely overbought suggests potential for a pause or correction but is confirming rally momentum for now.
CADUSD remains under pressure but is approaching an area where it could find some support trading into a Fibonacci cluster between $0.7380 and $0.7410. With RSI getting oversold, the pair could pause or even potentially bounce a bit. Next resistance near $0.7455 with next downside support possible near $0.7350.