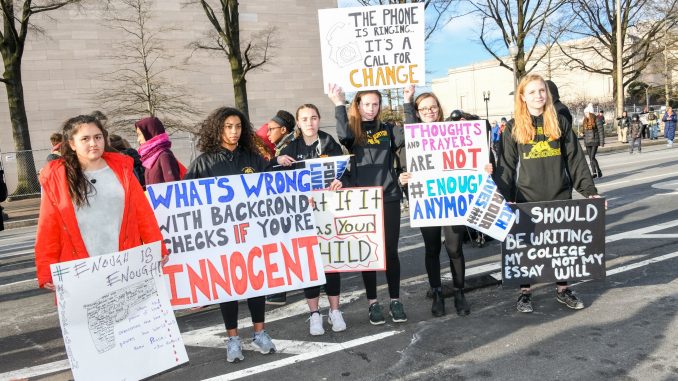 This article was last updated on April 16, 2022

"I should be writing my college essay, not my will," read one of the countless signs protesters brought to the March for Our Lives in Washington, D.C. on Saturday.
The anti-gun violence demonstration was conceived by the students behind Never Again, the group created after the Feb. 14 mass shooting at the Marjory Stoneman Douglas High School in Parkland, FL that left 17 dead. Organizers said that the event drew about 800,000 people, making it the largest protest in the capital's history. There were also sister marches in about 800 other locations across the globe.
In downtown Washington, protesters braved a cold morning that would go on to feel like a quintessential spring day. Several marchers talked to Refinery29 about everything from anger at lawmakers' lack of action to curb gun violence, to the policies they would like to see implemented at the local and national levels, and how inspiring they found the Parkland teenagers and all the other young activists that had worked tirelessly to keep pushing the debate about gun safety forward.
Refinery29 was on the ground in D.C. for the protest. Ahead, a look at the faces of the March for Our Lives.

Alleyjah Thomas, 15, and Attanise Jones, 14, from Florida.

A group of students from Vermont.

Emma Putney, 17, from Vermont.

Katie and Tiana, both 17, from Virginia.

LaBria Roberts, Ellie Witt, Peter Bashaw, and Sara Whitmore from Massachusetts.

Veterans Leo Cruz, from Virginia, and Jessica Houghton, from Washington, D.C.

Matilda and Marlow, both 4.

Melvin Smith and Melina Smith, from Maryland.

Susanna Getis, 17; Leyla Kolbai, 17; and Jillian Donahue, 18.

Ethan, 5, and Lucas, 3.

Kelley, 7.

Rachael Stetina.Riley_Robinson, 19_DSC_7761

Riley Robinson, 19.
Click HERE to read more.

You can publish this article on your website as long as you provide a link back to this page.
You can publish this article on your website as long as you provide a link back to this page.