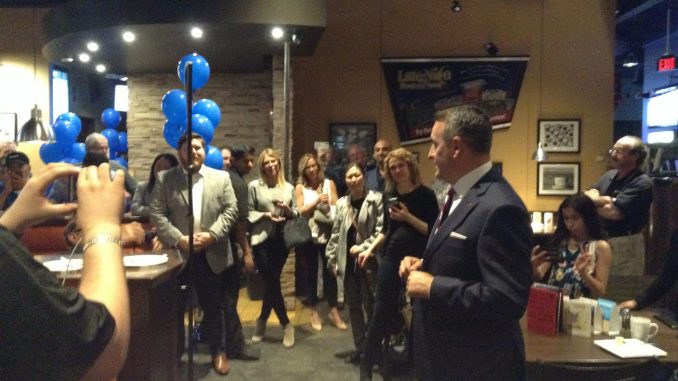 Calandra won the riding going away receiving, 25,912 votes in the unofficial tally, with Jazcek getting 14,007, Kwok, 10,997 and Green Party Candidate Jose Etcheverr
Many of the same faces that were celebrating a Calandra and Ontario PC Party victory June 7 at Boston Pizza in Stouffville were also on hand at the restaurant in 2015 when Calandra and the federal Conservatives bowed out in defeat.
A loss can be humbling in politics.
"It's been a long six months," the new Markham-Stouffville MPP said. "We were here in 2015 and it wasn't such a happy night."
Calandra told the assembled crowd that Liberal candidate and Health Minister Dr. Helena Jaczek called to congratulate him.
"I want to thank her as well," he said.
The room gave a big round of applause to Jaczek for her work as MPP.
The two became friends when they both represented the old riding of Oak Ridges-Markham from 2008 and 2015, he said.
Calandra thanked his family for putting up with him during the campaign.
The hard work is just getting started for the Ontario PCs, Calandra said, noting the government has to regain people's trust.
"Voter turnout was lower than we would have liked it to be," he said.
Calandra finished by thanking his home town of Stouffville.
"What you did for me tonight I will never forget," he said.
"This is our first step," NDP candidate Kingsley Kwok said after his third-place finish. "I was very happy to engage the voters from Ballantrae to Markham village."
He said he is happy the NDP will be able to form the official opposition.


Loading ...