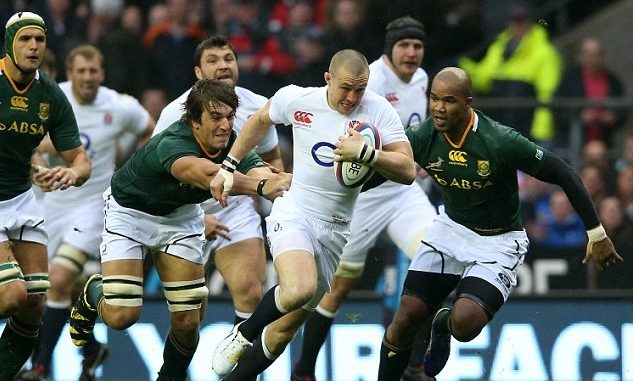 England "didn't even notice" the effects of altitude in the first Test defeat by South Africa in Johannesburg, says defence coach Paul Gustard.
Having led 24-3 after 20 minutes, England conceded five tries either side of half-time as they lost 42-39 at Ellis Park, 1,800m above sea level.
Springboks scrum-half Faf de Klerk said his side targeted England's vulnerability at altitude on Saturday.
"It didn't affect them – it didn't even register," Gustard told BBC Sport.
Eddie Jones' side are back training at sea-level in Durban, with Saturday's second Test again at altitude in Bloemfontein, located 1,395 m above sea level.
"I have spoken to most of the players individually, and everything we got was that they felt fine," added Gustard.
"The first 20, and the last 20, how fast we started and how strong we finished, [showed] that there was no effect from altitude."
Gustard also defended England's decision to base themselves on the coast in Durban between the Test matches.
"We made choices before we came out here about what was appropriate to prepare ourselves for two Tests at altitude," he added.
"We spoke to a lot of Super Rugby coaches that come over here, and we put that all into our thinking.
"Most of the players and most of the coaches all agree there is nothing wrong with being at sea-level. We are 100% happy [with the decision]."
'Games is more about attack'
After blitzing the Springboks early on, England were overwhelmed by a De Klerk-inspired South Africa, with the Sale pivot saying afterwards they had planned to play at a fast pace to exploit England's preparation.
England have now shipped 113 points in their last four Test matches, but Gustard – who is leaving the set-up after the tour to join Harlequins – says this is a trend in world rugby.
"If you go back to the Six Nations we conceded the second fewest tries in the competition and fewer than Ireland who won the competition," he argued.
"The game is moving in the direction where more points are being scored. Last weekend we conceded five tries but so did South Africa.
"We averaged 18 points conceded [in the 2018 Six Nations] and the best was France on 16, who conceded 48 against the All Blacks at the weekend.
"The game is moving towards attack, teams are trying to throw more caution to the wind and defences are adapting and we didn't adapt well enough at the weekend


Loading ...