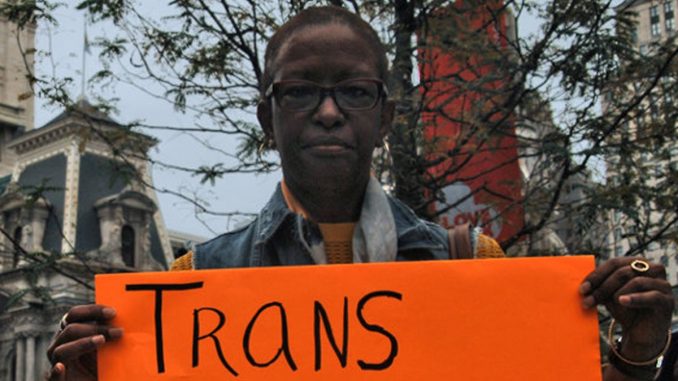 This weekend, The New York Times reported that the Trump administration is considering implementing a strict definition of gender as "a biological, immutable condition determined by genitalia at birth."
Should this come to pass, it would be a massive blow against the transgender community, effectively curtailing federal civil rights protections for trans people across the country.
How The Administration Plans To Enact The Change
A memo outlining the plan to narrow down the government's definition of gender has been circulating among administration officials since last spring, per the NYT. The Department of Health and Human Services is leading the effort to establish a legal definition of sex under Title IX, which bans gender discrimination in education programs that receive financial aid from the government. The memo also states that any dispute over a person's sex would have to be clarified using genetic testing.
Trump administration officials told the NYT that HHS is prepared to present the new definition to the Department of Justice to determine its legality by the end of the year. If the definition is approved by the DoJ, it can be applied to Title IX and across government agencies.
"This administration is willing to disregard the established medical and legal view of our rights and ourselves to solidify an archaic, dogmatic, and frightening view of the world," said Mara Keisling, executive director of the National Center for Transgender Equality, in a statement to Refinery29.
According to the NYT, about 1.4 million transgender Americans would lose federal recognition under this new definition of gender.
Where Trump Stands On Transgender Rights
On the campaign trail in 2016, Donald Trump repeatedly promised to break from the GOP hard-line's anti-LGBTQ sentiment. At the Republican convention, for example, he brought up the Orlando Pulse nightclub shooting — one of the largest in U.S. history, with 49 deaths — and swore to protect LGBTQ Americans. (If it wasn't already clear to voters from the start, people close to the campaign later confirmed that it was, of course, a total sham.) He tweeted. He unabashedly waved the flag. At the time, his position attracted pundit support from across the aisle.
But since taking office, Trump and his administration have taken definitive steps to restrict trans rights. Last year, Trump lifted protections for trans students in school bathrooms. The Trump administration banned the Center for Disease Control and Prevention from using certain terms, including transgender, in its work and findings. He has repeatedly moved to ban trans people from joining the military, and earlier this year approved new guidelines limiting the capacity in which trans troops can serve. His administration rolled back regulations allowing prisoners to use housing and bathroom facilities corresponding with their gender identity, placing trans inmates at greater risk of violence and sexual assault.
How You Can Fight For Transgender Rights
This new definition could potentially have a huge impact on trans people, including affecting access to health care, education, housing, and employment, and the ability to acquire a photo ID (which, among other things, is required to register to vote in many states).
Omar Gonzalez-Pagan, a senior attorney at Lambda Legal, told Refinery29 that existing civil rights law, the majority of the courts, and medical and scientific consensus all go against the nature of this new definition.
"In any event, organizations like Lambda Legal stand ready to battle and fight against such an outrageous proposal so divorced from reality and the lived experiences of this community," Gonzalez-Pagan said. "But I think in the immediate…Call your representatives. Call your media outlet. Find ways to elevate the voices of transgender people."
While this proposal is administrative in nature, Congress is able to take legislative steps to safeguard trans rights, specifying that trans rights are protected under Title VII and Title IX. Keisling says that NCTE is pushing for Congress to pass the Equality Act, which is written to explicitly protect LGBTQ Americans' civil rights.
Legislators on the state level are also able to pass laws protecting their trans citizens' rights. Brianna Titone, a trans woman running for the state House of Representatives in Colorado's District 27, says instances like these are why it is vital to vote. "We need more state legislation to protect civil rights, but many states refuse to advocate for their most vulnerable citizens," Titone tells Refinery29. "We need to elect people at all levels who will stand up for these groups of citizens."
The Trevor Project said in a statement that they have seen a significant rise in contacts from young transgender and non-binary people in the past year, now over 30% of their total crisis volume. "Trevor will always be here to let LGBTQ youth know they are not alone, we will always fight to keep LGBTQ youth safe, and we are exploring options to push back against any policy decisions that tell LGBTQ youth they should not exist," they said. "And as always we will be available 24/7 for any and all LGBTQ youth in their moment of crisis."
If you are an LGBTQ person experiencing a crisis or thinking about suicide, please call the Trevor Lifeline at 1-866-488-7386.
Click HERE to read more from Refinery29


Loading ...