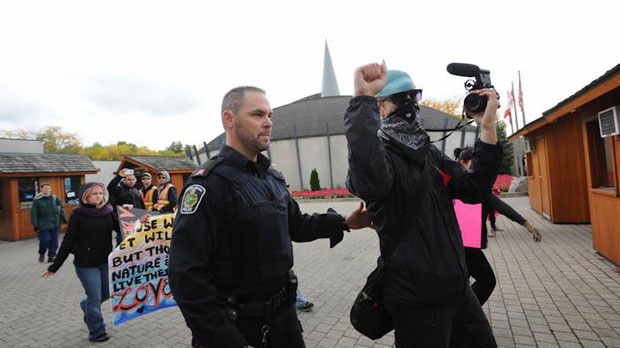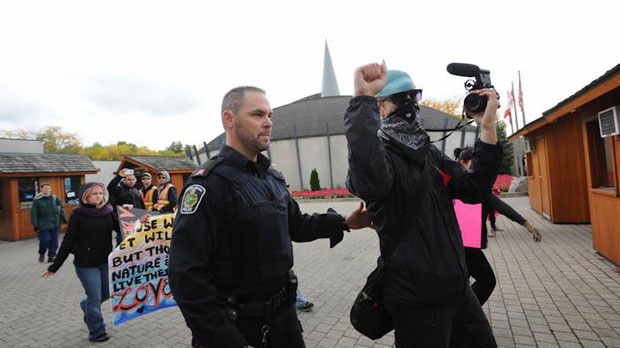 Protesters began gathering at the Marineland Park gates since 9 a.m. in the morning, and it was around 1:45 p.m. when the gathering was enlarged to more than 800 people. Such large number of protesters gathered abd fooled around the park, attacking the park gates and chanting slogans.

The Niagara police was outnumbered and forced to call in additional reinforcements. The news spread rapidly as different photo updates were posted on social networks, namely Facebook and Twitter, till Sunday afternoon. Some of the photos even demonstrated activists disturbing a dolphin show inside the park. Even though the police could not handle the crowd as it grew more than expected and had to call in reinforces, a press release of the police stated that they have successfully dispersed the crowd.

When the police ably moved the protesters out of the park, they did not disperse but instead took the herd at the side of highway where they again held up signs reading "justice for animals" and "things are worse behind the scenes." It was not until 3 p.m. that the crowd actually dispersed. Police reported that no damage, injuries or arrests was made during the protest.

The dreadful rally was conducted to protest against the alleged 'mistreatment of animals' at the facility. Several claims were made earlier in the summer regarding the issue, including former employees who said the animals were "not being properly cared for." So far the management of Marineland has completely denied all of the allegations against it for the mistreatment of animals.