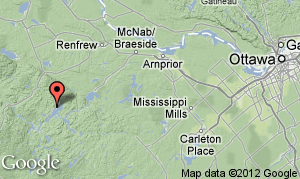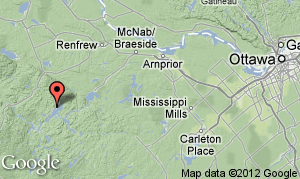 The Ontario Provincial Police has confirmed the news of a small plane crash near the town of Calabogie, about 120 km west of Ottawa, on early Monday afternoon. News of one person's death in the crash has also been confirmed, though the identity of the deceased passenger has not yet been revealed. The type of plane or the number of passengers it was carrying has also not been verified.

The police spokeswoman, Sgt. Kristine Rae stated that the plane was totally ruined upon contact, soon after which Ornge air ambulance was asked to assist at the crash site, but was later cancelled almost around 2:30 p.m. while the helicopter was in the air close to Calabogie. Rae also mentioned that "only one person is dead, and it is not known how many people were aboard the aircraft." Some unofficial and non-verified Twitter reports have claimed that the plane was a Socata general aviation aircraft, i.e. a small plane.

The aircraft crashed in a wooded area between the towns of Calabogie and Griffith. The crash site is roughly a two-hour drive west of Ottawa. The rescue officers with the OPP's Renfrew detachment had to travel the wooden area to reach the crash site on ATVs. The Emergency Response Team of the air force is working closely with the local officers, whereas the officials from the Joint Rescue Coordination Centre are also assisting them to search for the wreckage.