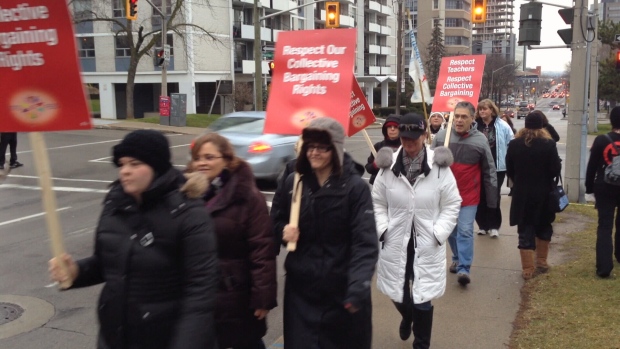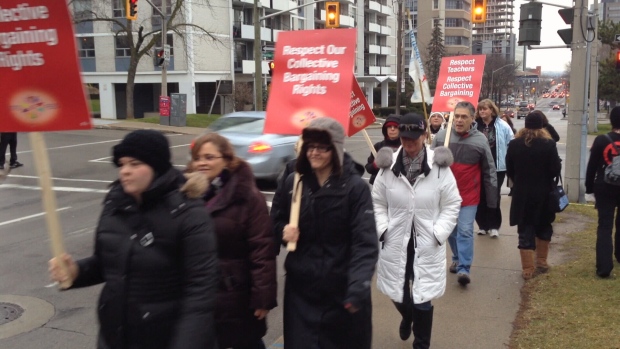 The rolling one-day walkout strikes of elementary and high school teachers will reach Hamilton and three school boards in northern Ontario on Monday, making thousands of parents prepare for labour disruptions affecting their children in the Greater Toronto Area. These rotating one-day walkouts are on a tour covering all school boards across the province all week. Teachers are mainly protesting against the recently approved Bill 115, i.e. a controversial law giving provincial government the authority to block strikes, freeze wages and cut benefits.

The announcement was made by the Elementary Teachers' Federation of Ontario declaring that teachers of Hamilton-Wentworth District School Board will be observing strike on Monday, along with northern Ontario teachers in Sudbury, Moose Factory Island and Moosonee. Later on Tuesday, strike will be observed in GTA and seven other boards. The strikes of Toronto will be the largest demonstration so far.

The president of the Elementary Teachers of Toronto, Martin Long, mentioned that "as the largest school board in the province, this is not an action that our members take lightly." He added that "we have been forced into this action by an education minister who has willfully stripped educators of their legal right to collectively bargain." The strikes in Toronto will calculatedly affect 784 schools and 328,000 students. Additionally, the daycare centers operating on school property might also be affected. Each daycare can choose whether to open on Tuesday, but any workers would likely have to cross a picket line in order to do so.