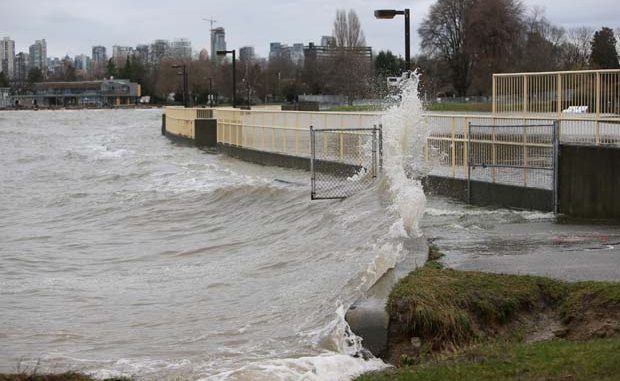 Recent flooding has caused the seawall in West Vancouver and part of the Stanley Park to be closed, as the crew attends the storm surge and high tides. West Vancouver spokesman, Jeff McDonald, announced that seawalls were closed sometime around 9 a.m. for more than a few blocks from Park Royale to 24th Street. He stated that as per protocol, the seawall users will be evacuated and not allowed to return until the tide retreats, which is expected on Monday afternoon.

The storm surge has affected numerous waterfront areas of West Vancouver, especially the seawall from Ambleside to Dundarave which includes the parks, John Lawson playground, the Spirit Trail through Ambleside and all piers located in those parks. It was announced by the District of West Vancouver that public shall refrain from visiting those areas until the officials complete a comprehensive damage assessment and complete a clean-up this afternoon. The Stanley Park seawall has been closed from Third Beach to Lions Gate Bridge. It was stated by The Vancouver Park Board that gates were closed at almost 9:30 a.m. on Monday for the sake of public safety. It added that hopefully the seawall will be reopened for the public again when the tides retreat this afternoon.

Moreover, a wind warning was issued for Vancouver Island on Monday, while the weather system expectedly hits the south coast later this morning. Environment Canada has cautioned about damaging winds entering the Greater Victoria area, as a low pressure system moves inland from the U.S.