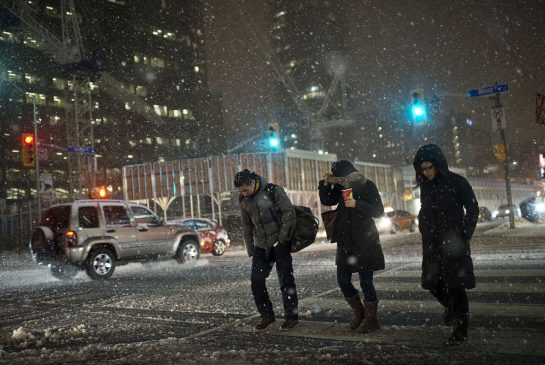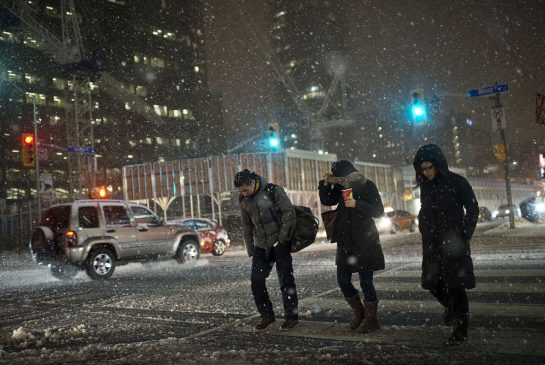 Even though majority schools in the Greater Toronto Area have opened today, the buses remain cancelled due to the sloppy mixture of rain and snow, accompanied with storm, that took over the region last night. Environment Canada has suspended snowfall warning for Toronto, while it still continues for York, Durham, Halton and Peel, where an additional five centimetres of wet snow is expected today. Environment Canada recorded an averaged 10 centimetres of snow during the night.

Both schools and buses remain open in Toronto, while some buses and schools remain suspended in Wellington-Dufferin. On the other hand, buses of Peel School Board buses were all cancelled today in Brampton, Caledon and Mississauga, even though the schools and offices were open; along with Halton District School Board and Catholic School Board, York Catholic District School Board and the Durham District School Board and Catholic School Board north of Hwy. 7.

Nearly 300 inbound and outbound flights were cancelled at the Pearson Airport, which is calculated to be 20 per cent of the total air traffic. Hence, passengers are highly advised to ensure the status of their flights before leaving for airport today. As for the effect on roads, an official news release by the City of Toronto suggests that people should "don't drive if they don't have to. This is for personal safety as well as to permit snow clearing operations to occur more efficiently. If you must travel, please consider taking public transit." Additionally, the stormy weather resulted in power cuts for almost 3,500 customers in Durham and York overnight. Toronto Hydro claims to have re-established the connections to all but 500 customers.