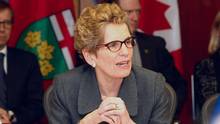 This article was last updated on April 16, 2022

Queen's Park has succeeded in finalizing a three-year deal of transitional funding arrangements with four more racetracks while it plans to integrate a horse racing in the province's already expanding gambling empire. These deals are only one of the substantial accomplishment in Premier Kathleen Wynne's effort to patch up with rural Ontario, which previously let her Liberal party astray in last election by denying it a majority government.
The announce was made by Ms. Wynne at Grand River track in Elora, Ont., while she refused to reveal the terms of the interim funding agreements with Grand River, Western Fair, Clinton and Hanover race tracks, or the already-signed deal with the Woodbine and Mohawk tracks, because the government still has pending negotiations with eight other facilities. However, she did share that after the three-year funding are over, the tracks shall take in revenue from "new and different" gaming activities, which is a part of the Ontario Lottery and Gaming corporation's plan to expand and modernize. She alleged that all the money received by the tracks from the OLG will be less than the government will collect from them in taxes.
Ms. Wynne elucidated that "the reality is the industry is going to be smaller than it was." She added that "and we've said that all along: a sustainable horseracing industry is going to be smaller." Previously, the Liberals implemented overwhelming cuts to the program, last year, which paid racetracks a commission on slot machines installed at their facilities.
You can publish this article on your website as long as you provide a link back to this page.