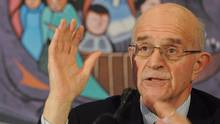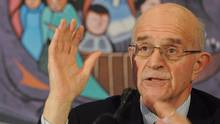 Toronto Police Chief, Bill Blair, has announced to appoint another renowned former Supreme Court judge, Frank Iacobucci, to lead his internal review of the shooting death of 18-year-old Sammy Yatim, after the previous nomination for the post stepped aside amid concerns of a possible conflict of interest.

Frank Iacobucci has an experience of serving Canada's top court from 1991 until 2004, along with working as the federal deputy justice minister. Mr. Iacobucci will be tasked to primarily examine the role of Toronto Police Service, its tactics, and use-of-force while dealing with emotionally disturbed people, which is a job previously assigned to another renowned judge, Dennis O'Connor, previously on Aug. 12. Mr. O'Connor announced to give up the task on Wednesday in light of growing controversy that highlighted his association with a law firm acting in civil suits involving allegations of wrongful police use of lethal force.

While making the announcement during a press conference on Friday afternoon, Chief Blair mentioned that "I was very disappointed to lose someone of that calibre, but I can't tell you how pleased I am that Justice Iacobucci, when asked, stepped to the forefront and agreed immediately to take on this work." He added that "I think there's an overwhelming recognition that this is important." The incident has overwhelmed the entire city after Mr. Yatim was shot thrice and then again with six more bullets. Later, another officer tasered Mr. Yatim, and this entire act was caught on cellphone video and surveillance footage.