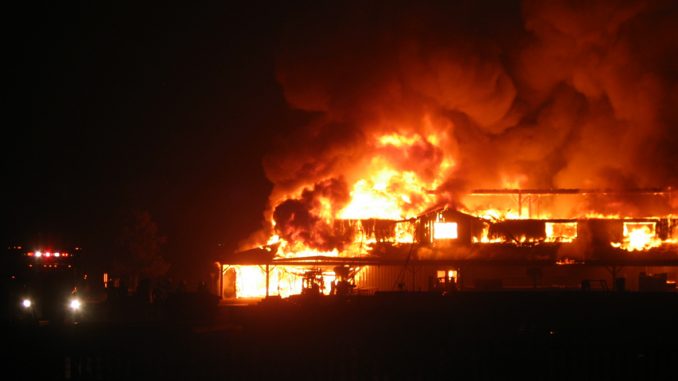 Fire officials in Ontario have speculated on the damage caused from an overnight fire that tore through the historic St. Jacobs Farmer's Market nearly Waterloo, Ont. on early Monday morning to be approximately $2 million. Woolwich Township Fire Chief, Rick Pedersen, mentioned in a press conference conducted on Monday that the two-story wooden building that houses almost 60 vendors was housed with a "high combustible load." He added that "(there were) a lot of food vendors in this building, a lot of quilts and other items that are sold."

Mr. Pedersen acclaimed that fire crews were "very lucky" as the wind was blowing flames away from the surrounding buildings on the property. It was explained that a neighboring building housed livestock for auction but none of the animals were harmed. It was disclosed that fire officials were alerted of the situation at about 1:45 a.m., and it took them five minutes to arrive scene at the scene and discover that the fire was "totally involved."

Pedersen revealed that the exact cause of the fire is yet to be determined and the Ontario Fire Marshall has arrived on scene to investigate the blaze. He stated that "we have not gone into the interior to look at anything," because "it's still pretty hot in there." He confirmed that it took approximately three hours for the fire crews to take control of the fire. The market located in St. Jacobs, Ont. was a popular destination for local residents and tourists.