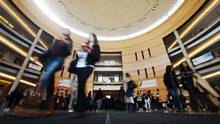 This article was last updated on April 16, 2022

Toronto Police was called on to a frosh week event at York University on Friday morning, where an 18-year-old female student complained about being sexually assaulted. Sergeant Janine Hancock alleged that the woman, believed to be a student at York, was at a frosh party early Friday, where she was approached by a male suspect from behind and allegedly sexually assaulted. However, the woman was successfully able to rid herself from the scene but later called on a police officer on campus at about 1:25 a.m. The incident took place at Stong residence, i.e. a building on the university's Keele campus.
Sergeant Hancock stated that "we have officers who do work through York University this time of year due to the number of students who are normally on scene at the university the first week." It was disclosed that police is currently searching for the suspect, who is ought to be identified as between 5-foot-2 and 5-foot-7, with olive or tanned skin, between the ages of 18 and 20 years old. Police claims that the suspect has a medium build, a lower right lip piercing, and wore a hoodie over a baseball cap, along with black sunglasses at the time of the incident.
In an e-mailed addressed to several media outlets on Friday morning, York University spokeswoman, Joanne Rider, stated that the school is fully cooperating with police on the investigation. She added that "we will provide counselling and support to the survivor," alleging that "we take the safety of all students very seriously."
You can publish this article on your website as long as you provide a link back to this page.