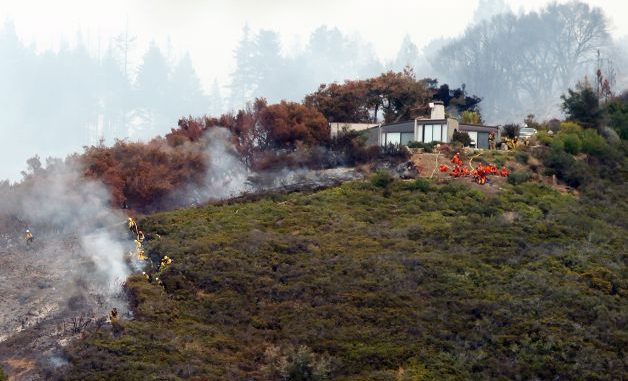 A wildfire in the Big Sur area has lead to the destruction of 15 homes and made at least hundred people evacuate their homeland. Big Sur is an area of California where the fire erupted in the area known as Pfeiffer Ridge in the Monterey Ranger District of Los Padres National Forest. Officials informed that it started on Sunday midnight and by Tuesday morning had burned down about 550 acres of land.

Officials informed that it grew on slightly on Monday night and five percent of it has been contained. About six hundred firefighters are still battling with the fire and people are still waiting to hear if their homes were part of the brush fire. Big Sur also consumed the fire chiefs home. At a press conference Monday evening the fire chief, Martha Karstens, could not hold back her tears. 'I'm just trying to function as a chief,' she said, further adding that she still can not believe the tragic incident and that she has lost everything.

Karsten explained that she stepped out the door wondering that the fire was elsewhere but soon realized hat it was a wildfire when she saw sparks and ashes right next to her front door. 'I finally got some people there and everybody tried really hard. It was too much fire too fast, and we couldn't save the house,' said Karsten. The fight against the wind driven fire is being aided by air tankers and helicopters. Los Padres National Forest spokesman Andrew Madsen is optimistic about pinning the fire down in the next couple of days.