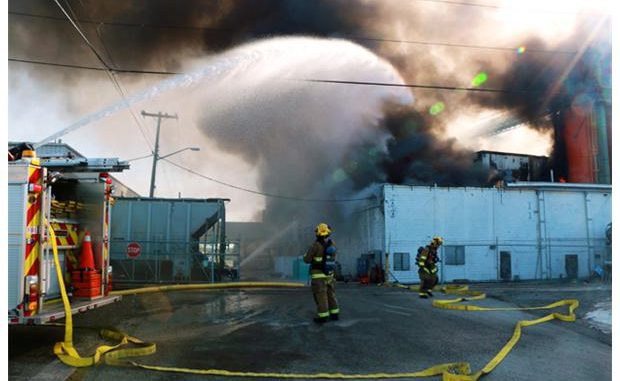 Emergency officials have confirmed that the major fire that exhaled clouds of black smoke at a southeast industrial site is now under control. It explained that a team of firefighters responded to the three-alarm fire at IKO Industries at 1600 42nd Ave S.E. at about 10:45 a.m. Additionally, the crew reached the site, which manufactures roofing materials, soon because a fire station is nearby.

Everyone inside the industrial site was able to make it out safely, however majority could see flames and thick plumes of smoke billowing from the site. Several crew members are still battling the fire and attempting to avert any further damage, while officials claim to be testing air quality. Furthermore, police has blocked traffic at Ogden Road from 50th Avenue to Highfield Road S.E. and all of 38th Avenue, while the crew evacuates several buildings in the area.

This is not the first time that fire has broken out at the site. Back in December 2006, nine people inhaled smoke and had to be taken to hospital after a two alarm fire erupted at the plant, whereas in the August of same year, firefighters were also called when insulation made of recycled paper ignited spontaneously. Moreover, it took 22 firefighters and seven trucks several hours to extinguish a blaze in August 2001. A construction product made of cellulose and wood scraps, Buffalo board, was likely stacked too soon after it was made, igniting several stacks.