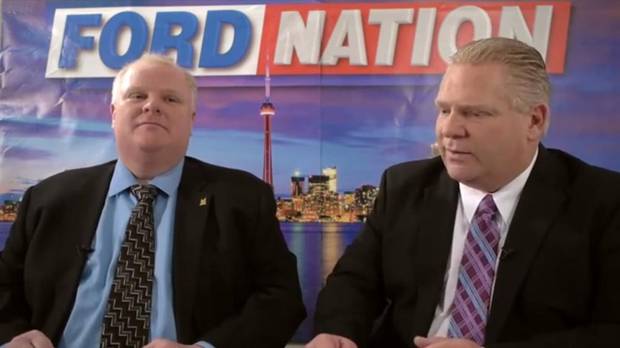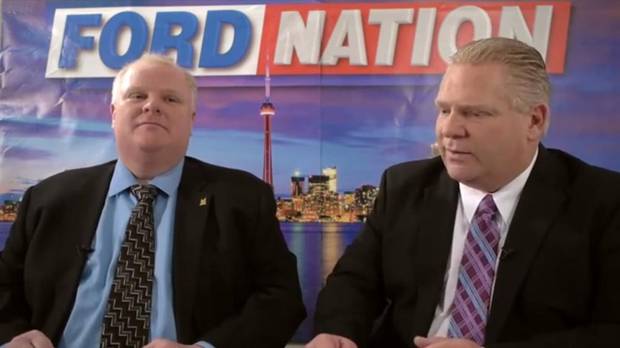 Highly controversial Toronto Mayor, Rob Ford, and his councilor brother, Doug Ford, discussed details of their recent Hollywood trip in the latest episodes of their YouTube show, Ford Nation. In the last three episodes of the show uploaded on Friday, the brothers described the late-night host Jimmy Kimmel as an "underdog," slammed both TMZ and actor Kevin Spacey.

Most noticeable highlights of the brothers' trip was their attendance at a post-Oscars party and a visit to L.A's City Hall. In addition to their harsh comments about Jimmy Kimmel, Councillor Ford also took shots at Mr. Spacey, whom he described as an "arrogant SOB." The actor, who plays leading role in the show The House of Cards, was seen in a post-Oscars teaser for Mr. Kimmel's show the same night as the mayor. According to Doug Ford, the actor refused to take photos with them backstage. In response to Doug, Ford stated that "I don't watch movies. I wouldn't know him if I ran him over," and he replied that "we were told you can't take a picture and you can't speak to him. Who does this character think he is? He thinks he's God?"

In addition to that, the Fords also criticized a TMZ article posted shortly after the mayor's appearance at the Oscars after-party at the W Hotel Hollywood, titled "'Crack Mayor' Rob Ford Loaded with Chick Magnets at Oscar Party." The article alleged that the mayor purchased a $2,500 cabana to party at the hotel.