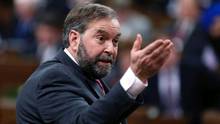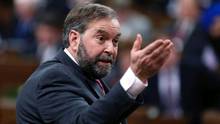 In an announcement made by NDP ethics critic, Charlie Angus, on Tuesday morning, it was revealed that the party is preparing to present an opposition day motion stating that the government should only use planes for government business only. According to Angus, the motion will come in the House of Commons later in the day.
In her statement, Angus alleged that it's "simply unacceptable" that the Conservatives used a government plane to transport party fundraisers. He recalled that Mr. Harper took office in 2006 with a promise to Canadians that "he would clean up the culture of entitlement" in Ottawa. However, Angus complained that "if he's decided that the only thing he wanted to clean up was Liberal entitlement but Conservative entitlement is OK, I think that that is sending a message to the Canadian people that the taxpayers and the Canadian people are really being held in contempt by this government."
The motion states that "government planes, and in particular the plane used by the prime minister, should only be used for government purposes, and should not be used to transport anyone other than those associated with such purposes or those required for the safety and security of the prime minister and his family." Previously in 2012, the government announced to cut down its fleet of Challenger jets from six to two. Consequently, in response to the bill, the government claims that it has already reduced the use of the jets since coming into office.