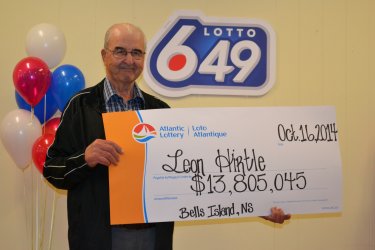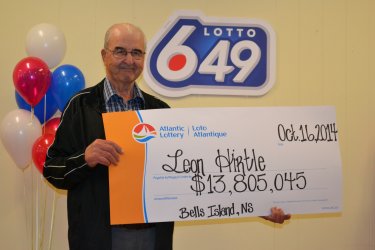 Accepting a lottery winning cheque for $13.8 million, retired fisherman Leon Hirtle didn't have much to say on Thursday morning. He told Atlantic Lottery Corporation's Karen Aucoin that "most of it will go to the family." Hirtle's many lucky family members were present at the Bridgewater Curling Club for the presentation, majority of which alleged that there hasn't been a lot of discussion about what the Bells Island man will do with the money.

Hirtle's niece living in Conquerall Bank, Trudy Corkum, alleged that "I don't even know what you would ask for," adding that "it's just a shock. It's still sinking in, I guess." One of two brothers living with the lucky winner for 45 years, Eric Hirtle, said his brother will most probably look after the extended family and do some modest work on the house. Although Eric confirmed he hasn't yet asked for anything yet, he suggested he might want a new car when things settle down. Eric shared that his brother doesn't even drive himself and has never had a licence. However, Eric stated "but I don't want to tell him that. I'll wait tell the rush is over," adding that "I'd like to have a new Elantra."

Mr. Hirtle never married. He has three brothers, a sister and two nieces who have three children between them. The winning ticket was bought by Mr. Hirtle at the Bridgewater Pharmasave the day before the October 1 draw. Owners Cameron and Susan Cochrane also received a cheque for one per cent of the winnings on Thursday.