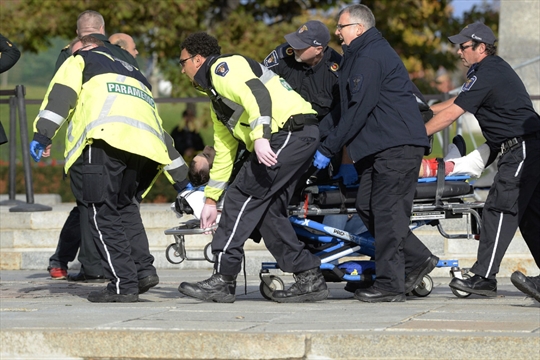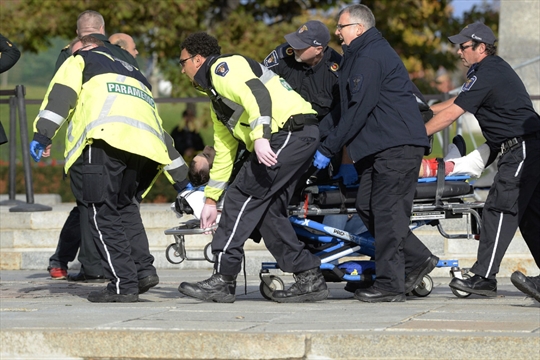 A suspect allegedly carrying hunting rifle opened fire at the National War Memorial and wounded a soldier, before moving on to nearby Parliament Hill and wounding a security guard. Thereafter, Parliament's sergeant-at-arms have reported to have shot the suspect.

Despite having had shot the suspect, police and soldiers continued a chaotic hunt that led to speculation that there was more than one suspect. According to a press release by Ottawa police Const., Marc Soucy, on Tuesday morning, he said "as to the number of suspects, we don't know." It was confirmed that police received a call about shots fired at 9:52 a.m., after which paramedics performed CPR on the soldier at the memorial and he was taken to hospital. One of the witnesses, Alain Merizier, alleged that the suspect was carrying a hunting rifle, had dark hair, and was driving a black car in civilian clothes.

Currently, police are expanding a perimeter around Parliament Hill and are investigating "several shooting incidents in downtown Ottawa." Home of the Prime Minister's Office across the street from Parliament Hill, The Langevin Block, has been evacuated and citizens are being moved back. In addition to that, bystanders were also taken off the street and shifted to a major office building with strict instructions to stay away from the windows. According to a tweet by Cabinet Minister Tony Clement, he heard at least 30 shots fired from inside the building, where Conservative and Liberal MPs were holding their weekly caucus meetings. Most of those MPs remain locked down in their caucus rooms.