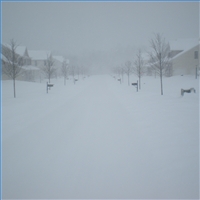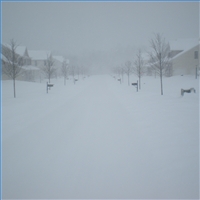 The latest from Environment Canada for
Toronto as of 10:47am EST
Winter storm watch for City of Toronto issued
Major winter snowstorm Tuesday night and Wednesday.
This is an alert to the potential development of dangerous winter weather conditions in these regions. Monitor weather conditions..Listen for updated statements.
A major winter storm is developing over Texas and will track towards Southern Ontario Tuesday. The low is expected to track just south of the lower lakes Wednesday.
Light snow will begin in advance of this system tonight and Tuesday. However the heavier snow is forecast to begin Tuesday night and continue Wednesday morning. Potential widespread snowfall amounts of 20 to 30 cm are likely before the snow tapers off Wednesday afternoon.
In addition strong and gusty east winds will develop with the snow. This will cause local whiteout conditions in blowing snow. The east winds will also generate local snow squalls off Lake Ontario in advance of the main snow area which will give enhanced snow amounts to regions near the west end of Lake Ontario.
This will be the first Major winter storm of the season for the Toronto area, and the most significant storm of the season for many regions outside the traditional snow belts. The heavy snowfall and blowing snow will cause whiteout conditions making for extremely hazardous driving conditions. The public should be prepared to change plans accordingly to avoid travel during the storm. This storm has the potential to create near-paralyzing conditions.
Environment Canada continues to monitor this dangerous winter storm and will issue further watches and warnings as necessary.
Click
HERE
to read more from William Belle.