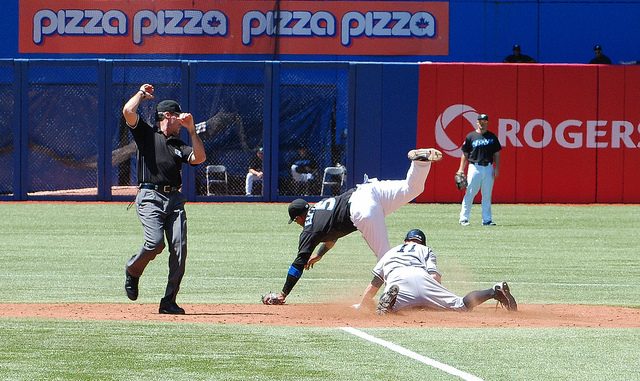 CC Sabathia Comes Out on Top in Battle of the Aces
Missing its leader Jose Bautista for the second consecutive game, the Toronto Blue Jays could not provide enough run support for ace Ricky Romero in a 4-1 loss to the New York Yankees.
The game was the third in a four-game set at the Rogers Centre with yet another big crowd on hand – the dome was open as 45,606 fans took in the afternoon tilt under sunny skies on a beautiful hot day in Toronto. The crowd was the largest since July 22, 2006, a game also against the Yankees with just over 50,000 in attendance.
CC Sabathia cruised along and pitched a stellar game while receiving timely run support early on to pick up his major league leading 14th win of the season. The Jays opened the scoring in the first inning, but Sabathia settled in quickly and made short work of the Jays lineup. He lasted eight innings while Mariano Rivera came on in the 9th to pick up his 23rd save of the season. Sabathia only gave up three hits, one run, and three walks while striking out eight batters.
Romero, on the other hand, struggled with his rhythm as the patient Yankee hitters took a lot pitches to work deep counts and waited for the right pitch to hit. He lasted just five innings giving six hits, three earned runs and three walks and finished with seven strikeouts. The Jays' ace had similar troubles against the Boston Red Sox in his last outing which took place before the all-star break. As has been the case all season, Romero once again had very little run support as the offence produced just a single run.

Manager John Farrell took Romero out after the fifth inning and utilized strategic matchups with his bullpen. The combination of Shawn Camp, Luis Perez, Frank Francisco and Jon Rauch was effective and shut down the Yankee batters the rest of the game, but the Jays could not add to its run total.
"Well, they are tough opponents," said Farrell. "They'll take close pitches and are not afraid to get to two strikes, continue to take a very solid approach. This is a very good hitting team and he kept the big inning from happening and yet they have that capability."
"That happens to guys. They go through stretches where their touch and feel isn't quite as consistent. Physically everything was fine – thought his stuff, overall power of stuff was there and just the inconsistent execution at times when he did make some quality pitches they found ways to foul them off. So I'm not overly concerned with a deep count, high pitch count through five today.
Despite back-to-back tough starts against AL East Rivals, Romero is not worried about his pitching moving forward.
"It's baseball," said Romero. "You're going to struggle sometimes. I'm not worried about it, just going to continue to work hard."

"I had trouble finding rhythm all day, didn't really get comfortable. I was a little wild with my fastball and wasn't really getting ahead of hitters, was getting deep into counts and that's what caused me to only go five innings.
Despite some of the outcomes he's had this year, Romero enjoys the challenge of going against the other team's best pitchers.
"That's part of the game," added Romero. "That's part of being against good pitchers and being at the top of the rotation. I have no problem with it, I love it and I embrace it. CC's a good pitcher – I've faced off against him in New York and I did pretty good job, today just wasn't my day."
First baseman Adam Lind thinks Romero has handled himself well all year, but he was simply in tough against a very good hitting Yankee lineup.

"He's been our ace all year and I thought when we got up 1-0 with Ricky out there, we had a really good chance to win, but it didn't work out," said Lind. "I think he's been great. I think the Yankees were being themselves – taking a lot of pitches, getting guys pitch count up and maybe frustrate them a little bit. They're a good hitting team and it showed today."

Timely Hitting
The Jays opened the scoring in the first inning when Yunel Escobar singled up the middle, driving in Rajai Davis from second base. Davis led off the inning with a walk before stealing second base.
The Yankees wasted no time by responding with two runs in the top of the second inning. With one out, Nick Swisher hit a ground rule double over the fence in centre field. Andrew Jones followed up with a single down the third base line driving in Swisher from second. Then Brett Gardner hit another double advancing Jones to third base. Next up was Eduardo Nunez who grounded out on a fielder's choice, but it was good enough to score Jones and gave New York a 2-1 lead.

With runners on first and third in the third inning, a pitch in the dirt by Romero tempted Home Run Derby winner Robinson Cano to go to second base. Arencibia threw to Hill stopping Cano in his tracks but an alert Curtis Granderson on third base darted for home plate. Hill's throw to home plate was high and off line as the Yankees added another run to increase the lead to 3-1.
Gardner used his exceptional speed to manufacture a run in the fourth inning. He led off with a fly ball that landed in shallow centre field. The hit would have been just a single for most hitters, but Gardner never broke stride, turning the corner at first to the surprise of Davis in centre field. By the time the throw arrived, Gardner was safe at second base. He then advanced to third on a sacrifice bunt and eventually scored on an infield single by Derek Jeter. With the hit, Jeter is now tied with Al Kaline for 26th place on the all-time hits list with 3,007.
The Jays will hope to rebound in the series finale on Sunday and will most likely be without Bautista again. He continues to undergo treatment on his ankle and is still listed day-to-day.
The Jays and Yankees wrap up the four-game series with Jays right-hander Carlos Villanueva (5-1, 2.99) on the mound against Phil Hughes (0-2, 10.57).

To follow me on twitter click
HERE
Download or stream
the 500 Level podcast with co-hosts Aman Dhanoa and Ben Trattner as they discuss news, opinions, and views on Toronto sports from the Upper Deck. Leafs, Raptors, Jays, Argos, TFC – nothing is off limits. It's good to be a fan!
Also available on iTunes
Photos courtesy of Karan Vyas
Contact Aman Dhanoa at aman@oyetimes.com

Article viewed at: Oye! Times at www.oyetimes.com