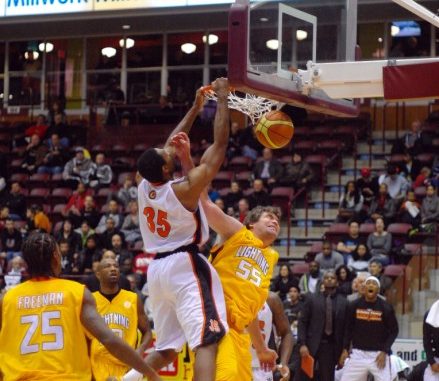 In one of the most exciting contests this year, the Oshawa Power were able to hold off a surging London Lightning squad in an extra frame in the first regular season meeting between the two rivals.
The Power got off to a great start taking a 30-19 lead at the end of the first quarter. They looked to blow their 401 rivals out as they led by as many as 20 points in the first half.
First overall draft pick Morgan Lewis had by far his best game of the early season recording 21 points and 12 rebounds. Lewis also hit two key free throws to seal the victory for the Power late in the game.
"It was a total team win," said Lewis after the game. "We keep our composure late in the game. We had to go into overtime to get a win against a team like that it just shows the direction this young team is headed."
Forward Akeem Wright added 18 points and 10 rebounds recording his second double-double this season in the Power victory.
Momentum took a turn for the worst during the fourth quarter as the sizeable lead the Power once enjoyed was dramatically reduced and eventually non-existent as the Lightning battled back to force overtime winning the quarter 31-16.
Former NBA veteran Rodney Buford had his second solid outing in Lightning uniform, recording 22 points and 7 rebounds. Guard Eddie Smith added 24 points in the losing effort.
The Power will have less than twenty four hours to celebrate their third victory of the season, as they get set to travel to London for the rematch on Saturday against the Lightning.
Power Glance
Record: 3-3
Next Game: Saturday November 19 7:00 p.m. vs. London Lightning – John Labatt Centre
The Power will play their next home game on Friday, November 25 at the General Motors Centre, where they will tip off against the Summerside Storm at 7:30 p.m.