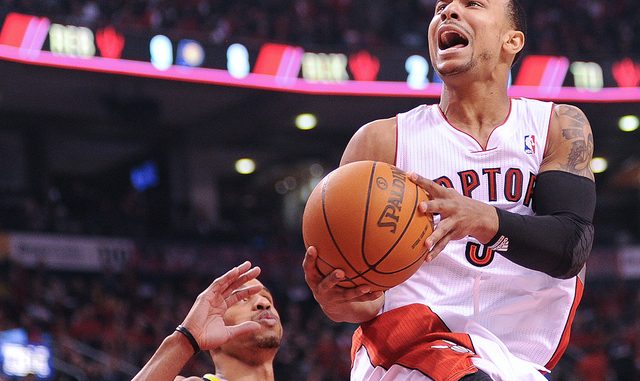 DeMar DeRozan Sparks Rally to Finish with Game-high 22 Points

After much anticipation, professional basketball finally made its official return to Toronto on Wednesday night.
Eight months after its last regular season game, the Toronto Raptors played its home opener in front of a sold-out crowd at the Air Canada Centre. But the Indiana Pacers spoiled the evening and hung on for a 90-85 victory.
The Raptors made a late rally led by shooting guard DeMar DeRozan who scored a game-high 22 points. He went scoreless in the first half, but suddenly got hot in the second half and scored 16 points in the fourth quarter alone.
"Tonight he (DeRozan) came alive," said Raptors head coach Dwane Casey. "He got us back single-handedly in the game offensively. I thought everyone was hesitant and tight in the first half."
"Again, we weren't playing against chop liver. Indiana is one of the top defensive teams. They are big, strong, aggressive and are going to be in the playoff hunt once the times come."
DeRozan had a spirited fourth quarter as well in team's season opener on Monday in Cleveland and has been the Raptors go-to guy late in both games.
"I just want to win," said DeRozan. "Whatever my team needs me to do. I just want to win especially when it's a close game in the fourth quarter. I'm going to do as much as I can in order to win."

As Toronto (1-1) closed the gap 83-81 with just 1:35 left on the clock, the crowd rose to its feet and cheered so loudly that the game resembled a playoff-like atmosphere. In the end, two late defensive miscues led to wide-open shots by the Danny Granger and David West that sealed the win for the Pacers (2-0).
"It's one of those things that you have to play for the entire 24 seconds," said Casey. "I know it's a cliché, but we are right there as a young team. I cannot fault our men's effort. They gave it to us. They fought back in, clawed back in."
"We have to put a 48-minute collective effort together. It's not one guy's fault, it's not on one man – it's on all of us collectively as a unit not to have those breakdowns in those crucial situations. But those two plays with the kind of hesitant rotation really broke our back."
Raptors forward James Johnson hustled and worked hard all game on both sides of the court, but it was his missed rotation that led to Granger's three-pointer.
"Everything was going good except for that last rotation," said Johnson who finished with six steals, six points and eight rebounds. "That's the one that cost me the most, that's the one I feel like I let my team down on. I have to learn from that and never let it happen again, especially at crunch time when we were busting our butts so hard to get back."

"They ran the normal play. We knew it. We watched film on it, I studied it and we were on it. I just helped too much. The big guy did a good job on screening me in and Granger is going to knock down a shot like that every time when he's wide open."
In its season-opening win against the Cleveland Cavaliers, the Raptors had seven players hit double figures in a balanced scoring attack. This time only three scored in double digits as Andrea Bargnani and Jerryd Bayless finished with 21 and 13 points, respectively, in addition to DeRozan.
Indiana's entire starting lineup scored in double figures led by Granger with 21 points, followed by Paul George (18), David West (14), Roy Hibbert (12) and Darren Collison (10). Hibbert was the only player on either team that registered a double-double and finished tied with Raptors Amir Johnson for a game-high 10 rebounds.
Pacers coach Frank Vogel, who had the interim-tag removed in the off-season, was happy with effort put forth by his team against what he called an underrated Raptors team.
"We played a tough defensive game but we know we can get better on the defensive end," said Vogel. "You come in here on the road against that team and that team is better than they look on paper.
"They are very well coached. They had thirty-five assists last game. They move the basketball well and they defend and they are going to be a good team this year, so it is a really good win for us."
The Pacers made the playoffs last season and pushed top seeded Chicago Bulls in a hard fought first round matchup. The Bulls prevailed in five games, but in games 1-4, the average difference in score was just five points.
This year Indiana wants to build off that experience and Vogel realizes that playing well on the road is an important step in making a return to the playoffs.
"We know we have got to play .500 basketball on the road if we are going to take that next step into being one of the elite teams and this was the first step in doing that," said Vogel.
Coming Home

For the 6'11 centre and Toronto native Jamaal Magloire Wednesday night was a real homecoming. After leaving home as a teenager to attend college and then play 11 years in the NBA on U.S. teams, he played his first game as a Raptor at home. He took to centre court before the game and thanked the Raptors organization for bringing him back home and looked emotional during the playing of O Canada.
"Hearing the national anthem, I always heard the national anthem in elementary school growing up, but it was a lot more special today, not that it was any different, it just felt surreal," said Magloire who on Monday became the first Canadian to play for the Raptors in team history.
"This thing has taken a 360-degree turn, I was born here, raised here, I left here when I was 18-years-old to go to college, and for it to come back around after 12 years in the NBA was something that I'll never forget.
The NBA lockout seems to have done little to keep fans away in Toronto. The home opener was announced as a sellout with an attendance of 19,800. Even the lone preseason game had an attendance of close to 17,000 fans.
"The crowd is I would say one of the best crowds, not only in the NBA in the present day, but that I've ever seen," said Magloire who was also surprised by the preseason game turnout.
"The atmosphere was like the playoffs. Everybody was uniform and had red t-shirts and everybody had handkerchiefs waving. You don't see that until playoffs."

As the Raptors clawed its way back into the game, the crowd cheered in appreciation with every Toronto bucket and collectively chanted "Defence" on each Indiana possession.
"The crowd was definitely with us, I don't know what a playoff game feels like, but if it feels like that, it was definitely fun to play in front of," said DeRozan.
"It just felt weird being back on your court really playing your first game, especially after so many months. We needed that. We needed a good fight like that to show us what we have."
The Raptors will now head out on a three-game road trip starting in Dallas against the defending NBA champion Mavericks. The tipoff is at 8:30 p.m. at theAmerican Airlines Center. Toronto then makes stops in Orlando and New York before returning home to face the Cavaliers on Jan. 4.
To follow me on twitter click HERE
Photos courtesy of Karan Vyas.
Download or stream the 500 Level podcast with co-hosts Aman Dhanoa and Ben Trattner as they discuss news, opinions, and views on Toronto sports from the Upper Deck. Leafs, Raptors, Jays, Argos, TFC – nothing is off limits. It's good to be a fan!
Also available on iTunes