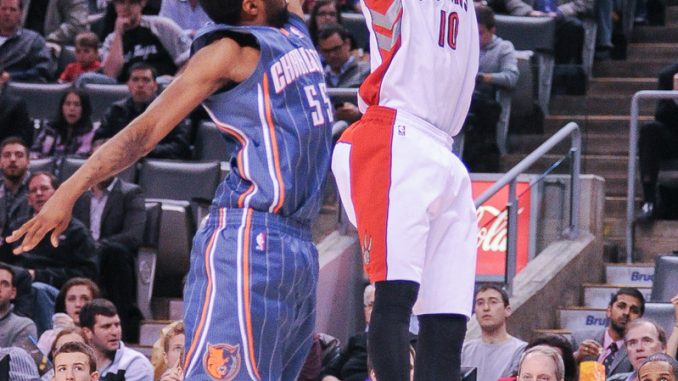 This article was last updated on April 16, 2022
Canada:

Oye! Times readers Get FREE $30 to spend on Amazon, Walmart…
USA:

Oye! Times readers Get FREE $30 to spend on Amazon, Walmart…
Andrea Bargnani Ices Game and Scores Game-high 30 Points

It wasn't pretty but the Toronto Raptors were finally able to defeat NBA's last place team, the Charlotte Bobcats, and finished its five-game home stand with a 3-2 record.
In two prior meetings this season, the Bobcats were able to get the better of the Raptors, first winning 98-91 on the road in February and 107-103 at home last month. This time the Raptors got revenge to break a six-game winless streak against the Bobcats and held on for a 92-87 win at the Air Canada Centre.
Andrea Bargnani showed glimpses of his all-star form from early in the season to put up a game-high 30 points to pace the Raptors while DeMar DeRozan had a big second half to finish with 20 points.
Linas Kleiza shot 4-for-8 from beyond the arc and led the bench with 18 points. Jose Calderon had a game-high 11 assists while Aaron Gray had a team-high nine rebounds.
The Raptors (19-35) have now won back-to-back games for the first time since January and haven't had a winning streak at home since December 2010. One of the key factors for Toronto in the game was protecting the ball as the team finished with just 10 turnovers, one shy of its season low.

"We got off the snide, first time we won back-to-back home games in (nearly) two years, 3-2 in a five-game home stand," said Head Coach Dwane Casey.
"Little victories (are) what we got. I thought everybody came into tonight, fought and scrapped. Andrea and DeMar carried us down the stretch defensively. We did a better job in the second half. We held them to what 40 per cent so we did a decent job."
The Bobcats (7-44) were led by a great effort from second year forward Byron Mullens who finished with a double-double – 20 points and a game-high 14 rebounds. Rookie point guard Kemba Walker started in place of D.J. Augustin and put up 10 points, four rebounds and dished seven assists.
Augustin came off the bench for just the second time this season and led the Charlotte subs with 18 points and added seven assists as well. Derrick Brown had a good night off the bench as well scoring 12 points and hauling down six rebounds.
Finishing Touch

Bargnani was also instrumental offensively down the stretch scoring Toronto's last nine points of the game and a total of 11 in the final quarter. Mullens and Bargnani were matched up against each other for most of the game and each had success on the night.
Following a Mullens jump shot to get the Bobcats to within two points, Bargnani nailed a step back jumper to make it 85-81 for the Raptors with 1:20 left. Then the two players exchanged three pointers before Augustin got in the act and knocked one down from beyond the arc as well.
Then Bargnani hit a driving hook shot to give Toronto a 90-87 lead before icing the game with a pair of free throws.
"The roll was there. We were 0-2 against this team, so it was a great win for us," said Bargnani who had his fifth 30-point game of the season and has scored 25 plus points in three of his past four games.
"It was good at the end against Mullens and it paid off. I feel comfortable either inside or outside, it depends on who is guarding me. The coach is very good about finding the right situation and I can play inside or outside."
At halftime, Casey pointed out to DeRozan that he had just four points and the guard responded with a big 16 points after the break.
"I said we are going to get you going in the second half and he did," said Casey. "He did a great job of attacking again, up balance between attacking and outside shots and did a great job for us in the third quarter."

DeRozan was able to find space and create shots when the Bobcats paid extra attention to Bargnani in the second half. He scored 10 points in the third quarter and another six in the fourth.
"I think when it comes to me and Andrea I play off of him a lot," said DeRozan. "He had it going in the first half and we kept going to him. In the second half they started to focus on him more and I just tried to pick it up, be aggressive and help us score."
Raptors backup guard Gary Forbes was a last minute scratch due to a sore left knee. Toronto was also without Jerryd Bayless, who is sidelined the rest of the season with a partially torn left oblique muscle.
The Raptors left Toronto immediately after the game and are back in action on Wednesday night in Philadelphia against the 76'ers with tipoff is at 7 p.m. at Wells Fargo Center. Toronto hopes to have a better showing after being embarrassed 97-62 at Philly in early January. 76ers centre Andre Iguodala will be a game-time decision with a left eye contusion.
To follow me on twitter click HERE
Photos courtesy of Karan Vyas
Download or stream
the 500 Level podcast with co-hosts Aman Dhanoa and Ben Trattner as they discuss news, opinions, and views on Toronto sports from the Upper Deck. Leafs, Raptors, Jays, Argos, TFC – nothing is off limits. It's good to be a fan!
You can publish this article on your website as long as you provide a link back to this page.