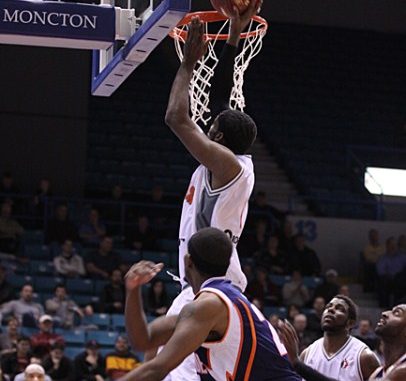 The Moncton Miracles, presented by Rogers, lost to the Summerside Storm with a final score of 95-101. The Miracles now sit with a 9-11 record.
The Miracles started the game with a 4-0 lead over the Storm, which the Storm would soon catch and then surpass. Summerside led by as many as 13 points in the first half with Moncton trying to play catch up. They would close the spread to as few as 3 points late in the second quarter but the Storm would go on a 2-9 run to finish the first half with a 42-51 lead over the Miracles.
Moncton turnovers would be what killed them in the first half with 15 compared to Summerside's 6. At the end of the first 24 minutes Devin Sweetney led the Miracles with 12 points while Brandon Robinson had 13 points for the Storm, Robinson also managing to be the first played in NBL Canada history to reach 1,000 career points.
Summerside continued to take advantage of the lead they had built in the first quarter until late in the fourth quarter. Moncton who had continued to plug away at the lead eventually took the lead with 3:34 on the clock when Micah Brand laid the ball in and got the foul, 89-88. Two minutes later the game was tied up at 94-94 and was anyone's game. Summerside would continue to cash in at the free-throw line giving leaving them with the win.
Devin Sweetney led the way for the Miracles with 29 points. Micah Brand followed with 16 points and Darrell Wonge with 14.
Brandon Robinson was the top scorer for the Storm with 29 points. Antonio Ballard was right behind him with 15 points and 9 rebounds.
Technical foul was given to Miracles Sylvania Watkins and Darrell Wonge as well as Storm's Greg Plummer. Watkins was fouled out late in the game as well as Devin Sweetney.
Upcoming Community Events:
The Miracles are offering a Holiday 4 Game Flex Pack. The offer is for 4 tickets for the price of 3 at the low price of $45. The whole family can come enjoy a Miracles game at this discounted price for one of the games between Sunday, December 23rd and Sunday, January 6th. The Holiday 4 Game Flex Pack is available at the Moncton Coliseum Box Office
The Miracles play their next game at home on Saturday, December 29th against the Saint John Mill Rats. Tip-off is 7pm at the Moncton Coliseum.