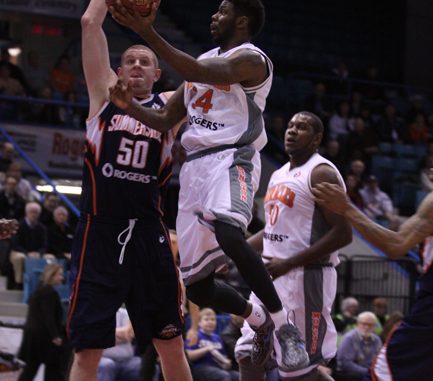 The Moncton Miracles, presented by Rogers, defeated the Summerside Storm with a final score of 110-106. The Miracles now sit with a 16-20 record.
The Storm would start the game with an early 7-2 lead before the Miracles would plug away and try and break even. Miracles Isaac Butts would cash in a 3-point play to give his team an 11-9 lead. The first 12-minutes of play would go back and forth before the Storm would finish on top with a 27-29 lead.
The second quarter would be a close one with the lead continuing to be passed back and forth between the two squads. In the first half, the game would be tied up on 12 different occasions with 8 lead changes. The first half of the game would end once again tied up at 48-48.
The Miracles would come out strong in the third quarter and outscore the Storm 34-25 to finish with a strong 82-73 lead. Moncton would have the biggest lead of the game in the third leading by 14 points, Summerside would not give up that easily and come back with a vengeance in the fourth.
Storm's Greg Plummer hit a 3-point shot with 7:21 left in the fourth to take a 87-89 lead, which was their first lead in the second half. The game would go back and forth until the four minute mark when the Miracles finally regained control of the score clock.
Devin Sweetney led the way for the Miracles with 28 points. Isaac Butts followed with 24 points and pulled down 18 rebounds and Darrell Wonge with 19 points and 10 rebounds.
Brandon Robinson was the force for the Storm with 25 points. Greg Plummer was next with 21 points and Omari Johnson with 15 points and 13 rebounds.
Miracles Isaac Butts received a technical foul as well as Storm's Josiah Turner. Miracles Sylvania Watkins was fouled out of the game.
Upcoming Community Events:
The Miracles players will be at the MKMBA Jr. Puppy and Puppy Jamboree on Saturday, February 16th at Lou MacNarin School. They will also be at Harrison Trimble High School and Moncton High School on Monday, February 18th talking to the Leadership Classes.
The Miracles play their next game on the road on Thursday, February 21st against the Oshawa Power. The last home game is on Monday, February 25th against the Halifax Rainmen. Tip-off is 7pm at the Moncton Coliseum.