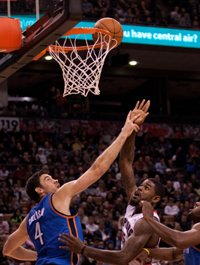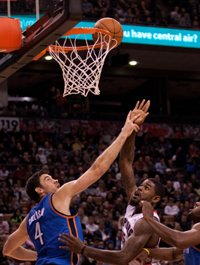 Thunder forward Nick Collison
and Raptors' Amir Johnson
watch intently as Johnson's shot
goes up towards the rim
Andrea Bargnani scores game high 26 points in 111-99 victory at ACC
Prior to the season, many had the Toronto Raptors pegged for a miserable year and destined for a lottery pick. It's only 19 games into the season but the 2010-11 edition of the Dinos are not only ahead of last year's pace, but have pulled out a few surprising performances including knocking off powerhouse teams like Orlando and Boston. You can now add Oklahoma City Thunder to that list as well.
Toronto (8-11) turned the game in their favour with an explosive third quarter, eventually pulling away from Oklahoma City (13-7) for a 111-99 victory on Friday night.
"I thought the third quarter was very, very good basketball," said Raptors coach Jay Triano. "We got up and put the pressure on them and were able to get stops and get scores to get us right back in it."
Leading all scorers was Raptors centre Andrea Bargnani who finished with his first double-double of the season, 26 points and 12 rebounds. After two early fouls, shooting guard Leandro Barbosa recovered for a stellar 22 points off the bench in 7 of 12 from the floor. In a balanced scoring attack, four of the five starters scored in double digits. The team also outscored the Thunder 26-22 on the fast break and still lead the NBA in averaging 20.2 fast-break points per game.
Even without Kevin Durant, who was out for a second straight game with a left knee sprain, Oklahoma City has other offensive threats in Jeff Green and Russell Westbrook. Green and Westbrook were coming off big games in New Jersey, scoring 37 and 38 points respectively, in a triple overtime win.
Raptors point guard Jose Calderon, who has a reputation for a porous defence, played extremely well guarding Westbrook. The Spaniard also received timely help from his teammates whenever Westbrook was able to slip by him, holding the talented guard to just 20 points.
"It was tough," said Calderon, who finished the game with 8 points and 15 assists. "He's fast, he's strong, he does a little bit of everything. The only thing I was trying to do was give him different looks…that way he couldn't get into a rhythm."

Johnson and Raptors centre
Andrea Bargnani double-team Thunder point guard Russell Westbrook changing his shot
in the air
"I was trying to get in front of him all the time and it worked…he forced it a little bit and the other guys didn't get him the ball as well. The game plan was good today."

Triano had high praise for Calderon and his team's overall defence, especially in the second half.
"I thought Jose (Calderon) did a pretty good job on (Russell) Westbrook," said Triano. "He got him to turn it over a couple of times. He stayed in the play. As we said before the game, he's the type of player that you can't stop with one guy and I thought our bigs were always right there showing a body and a stance."
"Even Amir (Johnson) jumped straight up to protect the rim. I thought it was just a very good defensive effort. They had 40 points in the second half and I thought that was really good for us."

Third Quarter Storm
The Raptors didn't play a great first half, but well enough to stay close as both teams exchanged leads several times. However, 10 turnovers led to points and a sloppy end to the second quarter saw the Dinos trailing 59-52 at halftime.

Bargnani powers the ball past
three Oklahoma City defenders

Toronto picked up their game in the second half playing great basketball on both ends of the floor showing great hustle and determination in battles for rebounds and loose balls. The Thunder came out sluggish to start the third quarter and simply could not match the intensity of the Raptors, who as a team, played better in all facets of the game.
Starting the third quarter on a tear, Toronto went on a 21-9 run in the opening 6:11, including emphatic jams by Weems and Johnson. Raptors outscored the Thunder 34-18 and shot 61.9% from the floor. Raptors displayed great ball movement as well, routinely finding the open shot or the high percentage play. Calderon had 8 of his 15 assists in the third quarter alone.
On the defensive end, the entire team got in the act by changing shots in the air, getting steals, putting pressure on the ball carrier and double teaming at the right time. The Thunder shot a woeful 6 for 21 in the quarter.
Thunder coach, Scott Brooks, gave full credit to the Raptors on playing a great game.
We got beat by a good team," said Brooks. "They have been playing good basketball, coach Jay (Triano) has them playing hard, playing fast and playing good team ball. We just got beat.
Give them a lot of credit, they were ready to play and they defended in the second half when they needed to. We had no answers for their ball movement, it was a good basketball game on their part."
"In the second half they did a good job defending us and like I said give them credit, we didn't play a good game in the second half but it was based on their effort, their energy and defensive presence."
With the victory, Toronto improves their home record to 6-4 and have now won six of their last eight games overall. Raptors close out their four-game homestand when they host the New York Knicks on Sunday afternoon with tipoff at 1pm.

Just out of reach – Raptors forward Amir Johnson (15) watches the
ball fly past his outstreched hand

Notes: Power forward Reggie Evans underwent surgery on Wednesday to repair a non-displaced fracture in his right foot and is expected to be sidelined for approximately 8 weeks. Prior to his injury, Evans ranked third in the NBA in rebounding with 12.1 boards per game.
Ed Davis played in his second NBA game after an impressive debut on Wednesday in the blowout victory over the Washington Wizards. The 13th overall pick in the 2010 NBA Draft scored 11 points and grabbed six rebounds in his debut. He had missed the first 17 games of the season with a torn meniscus in his right knee and had a brief conditioning stint with the Erie Bayhawks of the NBA Development League.
To follow me on twitter click
HERE