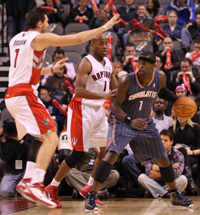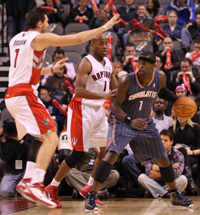 This afternoon at 3pm, Jan 17, our Raptors are in New Orleans facing the Hornets. The action will be broadcast on TV on Sportsnet One and on the radio on Fans590. Time to get out the earphone and hope nobody at work notices I'm preoccupied or distracted later this afternoon.
CBS Sports.Com
is offering a pre-game analysis:
With the New Orleans Hornets playing some of their best basketball of the season, their biggest danger Monday may be overlooking the stumbling Toronto Raptors. The Hornets will try for a fifth straight win when they host the Raptors in a matinee matchup.
5th straight win? My goodness, this doesn't bode well for the Raptors. Just what the heck is Toronto doing? Or is New Orleans that good? After today's game, I'd say the last of any doubt will be removed. Whether I'm crying in my beer tonight or celebrating, you can sure of one thing: there will be beer!
Recap
: Sat Jan 15; Raptors: 95; Wizards: 98
The video highlights show a good game but in the end, – what the hey? – the Wizards just won. I would have liked to have seen otherwise, but such as it is.
Our boys are going to have a busy week ahead of them. I note the following up-coming games:
Wed 19: at San Antonio
Fri 21: at Orlando
Sat 22: at Miami
Click HERE to read more from William Belle.