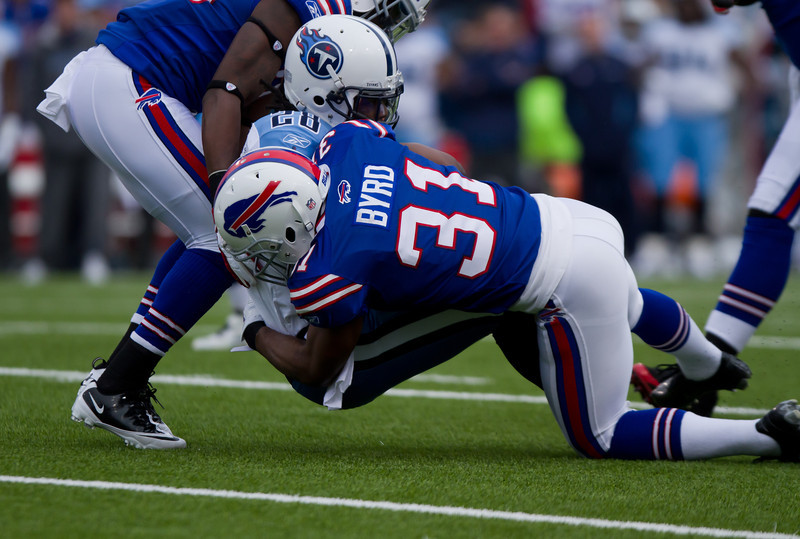 This article was last updated on April 16, 2022
Canada:

Oye! Times readers Get FREE $30 to spend on Amazon, Walmart…
USA:

Oye! Times readers Get FREE $30 to spend on Amazon, Walmart…
Chris Johnson Rushes for Two Touchdowns to Pace Titans Offence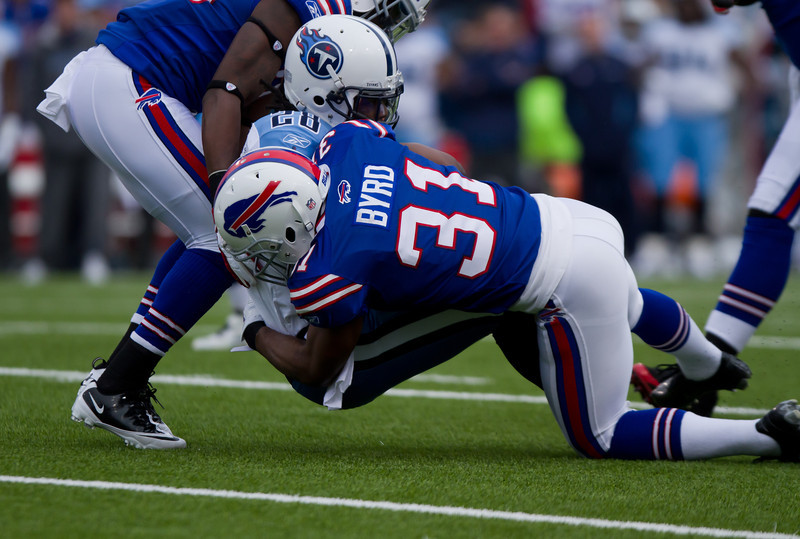 Home sweet home – well not anymore.
The Bills hoped a return to Ralph Wilson Stadium would help the team rally and bounce back into the win column, but instead the Tennessee Titans used its rushing game to roll to a 23-17 road victory.
Buffalo started out the season with four straight home wins – three at Ralph Wilson Stadium and one in Toronto at Rogers Centre – and have now lost two straight in front of its own fans and are mired in a five-game losing streak.
But it seems as though some fans had already lost hope in the Bills after last week's loss to the New York Jets. Sunday's game was blacked out on television locally with over 12,000 seats still unsold on Thursday. After kickoff there were still thousands of empty seats visible as only 56,463 fans turned up for the game.
The Bills had two key turnovers and a penalty that were costly and simply could not contain Tennessee running back Chris Johnson. Johnson led the Titans with two touchdowns and accounted for 153 of his team's 187 total rushing yards on Sunday afternoon.
C.J. Spiller, who started his second game for the Bills since Fred Jackson was injured, had a great first half rushing the ball and had a career-high 83 yards and scored a 35-yard touchdown. Wide receiver Stevie Johnson scored a late touchdown, but it was too little too late for the Bills.
"The reason we lost was fundamentals," said Bills Head Coach Chan Gailey. "You got to block, you got to tackle, we got to take care of the football. Those are the things that happen to us in this game today that we didn't get the job done to win and you have to do those things, fundamentally in order to be able to win. You just can't play like that."

Bills quarterback Ryan Fitzpatrick tried to sum up his team's frustration after starting the season so well at 5-2 and to where it is now at 5-7. The sudden slump has put the Bills on verge of missing the playoffs for a 12th consecutive season.
"Extremely shocked and disappointed, all those words," said Fitzpatrick. "The way we've played lately hasn't been good enough and the last few weeks we knew that we had to get something going."
"I guess it's a growing process for this team, it's a position that we haven't really been in lately and it's been a really disappointing these last five weeks."
Tight end Scott Chandler knows that the situation is bleak, but has not lost hope for this season.
"We've still got resolve to go out there and win every game," said Chandler who injured his ankle on his third quarter fumble. "You never know what's going to happen in the playoff race, we're not completely out of it."
"Obviously it's frustrating to lose five in a row. We were set up in pretty good shape and we need to get back to winning."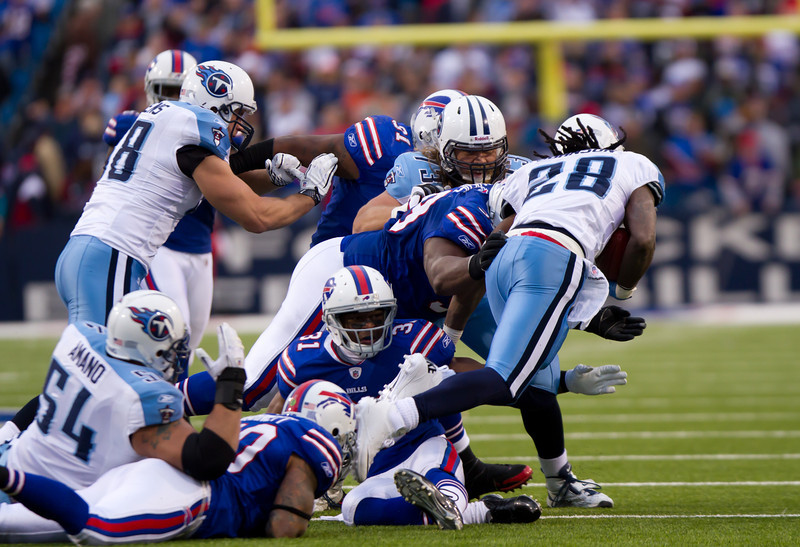 The Titans, on the other hand, seem to be coming together at the right time in an up and down season. With back-to-back wins and the team has moved into a four-way tie for the final AFC wild card spot. The win also kept the Titans two games behind Houston Texans for first place in the AFC South division.
With the Texans losing its top two quarterbacks to injury, the Titans realize that its final game of the season in Houston could be big showdown for a playoff berth.
"Yeah it was a big one," said Johnson. "We got a complete win and everyone stood up well. Houston, right now is in control and ahead of us. In order to be a showdown on the last game of the season we have to continue to handle our business and continue to win every week."
Johnson has now surpassed the century mark for the third time in the past four games after being held under 100 yards in seven of his first eight games this season.
"It's real big because at the beginning of the season the passing game carried us and now it's time for the rushing game to step up and match what the passing game is doing," said Johnson. "Any time you want to build depth and balanced team and hopefully make it to the Super Bowl you have to be hitting on all elements."
On the Run

At this time of year, a game in Buffalo would mean a tough game in cold and wintery conditions, but it was an unusually warm early December afternoon. The Bills and Titans both got off to quick starts and relied on the running backs to rush the ball for significant gains.
After the Titans scored a 38-yard field goal on its opening drive, the Bills responded with a successful drive of its own. Fitzpatrick marched his team down to the Titans 35 yard line and handed off to Spiller. The running back avoided tackles and seemed to be on his way for an easy touchdown when he was stripped from behind by Michael Griffin. Spiller pounced on the bouncing ball in the end zone and slid out of bounds.
The referee originally ruled the play a touchback, but Buffalo challenged the call and it was reversed after a review.
Tennessee needed just four plays and 1:27 from quarterback Matt Hasselbeck to re-take the lead. The drive was capped off by a spectacular 48-yard run by Johnson who narrowly avoided tackles and tip-toed into the end zone.
On the next drive, Fitzpatrick passed short to Brad Smith for a 29-yard gain. He then handed off to Spiller who ran for 41 yards into the end zone, but there was a flag on the play. Fullback Corey McIntyre was charged with a 10-yard penalty for holding and brought the ball back.
Many felt the call was questionable, including McIntyre who was adamant that it was not a hold.
"I don't know what the ref saw, but when you touch a person, let him spin and don't even grab him…you be the judge of that," said McIntyre. "You can call it phantom or whatever, but I know that wasn't a hold. I feel bad because we made a big play.
"That was a big penalty and I didn't even hold the guy. When things are going bad, things are going bad. I feel bad for C.J. and my teammates for something like that."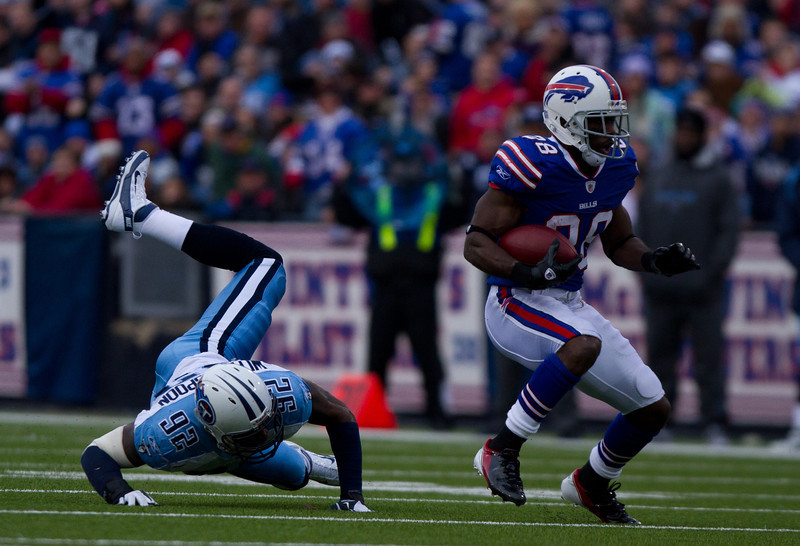 Said Spiller, "I saw the flag and that's why I knew I couldn't celebrate because I knew there was a good chance that something might happen."
"That was a tough break. That definitely would've been a great momentum swing for us, but I just have to learn from it."
A short while later the Bills then gambled on a 4th and 3 situation on the Titans 45 yard line. Fitzpatrick scrambled up the middle before being hit hard by linebacker Colin McCarthy and the ball popped loose for a fumble that was recovered by Tennessee.
Much of the talk before the game was the mismatch between the Titans league-best red zone offence and the Bills 31st ranked red zone defence. With good field position, Hasselbeck led his team into the red zone and then handed off to Johnson for a four-yard touchdown run. The Bills defence barely touched the running back and suddenly the Titans had built up a 17-7 lead.
The Bills added a field goal on its next possession and headed into halftime down 17-10.
The Bills continued to struggle moving the ball forward and had another fumble recovered by the Titans early in the third quarter. Tennessee once again used the turnover to produce a scoring drive, but this time a field goal.

The Titans added another field goal on its first drive of the fourth quarter and the third of the game by kicker Rob Bironas.
The Bills responded with a touchdown late in the game when Fitzpatrick passed to Johnson for a two-yard touchdown with 2:58 remaining. The scoring drive was 15 plays and 5:57 for 80 yards. Johnson had a much more subdued celebration compared to his much criticized antics last week against the New York Jets.
"Yeah, just hand it to the referee and handshakes and go back to the sidelines and celebrate with my teammates," said Johnson who made five catches for 52 yards.
Buffalo got the ball back for an opportunity to win the game in dramatic fashion, but Fitzpatrick threw three incomplete passes to end the threat and lose possession.
After losing five games straight and falling out of the playoff picture, Gailey realizes it will be more difficult to motivate his team for the final four games of the season.
"It's not easy," said Gailey. "You can say you're playing for pride, you can say you're playing for jobs, you can say you're playing for the future and all of those are true in some way, shape or form. If we're pros like we say we are, we get ourselves ready to play and go play.
"I don't want to say it's impossible, nothing is impossible we all know that. It's hard."
The Bills will now travel to San Diego on Sunday to take on the Chargers at Qualcomm Stadium with kickoff at 4:15 p.m. Meanwhile, the Titans will host the New Orleans Saints at LP Field with 1 p.m. kickoff.

To follow me on twitter click HERE
Photos courtesy of JP Dhanoa.
Click HERE to view more pictures from the game.
Download or stream the 500 Level podcast with co-hosts Aman Dhanoa and Ben Trattner as they discuss news, opinions, and views on Toronto sports from the Upper Deck. Leafs, Raptors, Jays, Argos, TFC – nothing is off limits. It's good to be a fan!
Also available on iTunes
You can publish this article on your website as long as you provide a link back to this page.