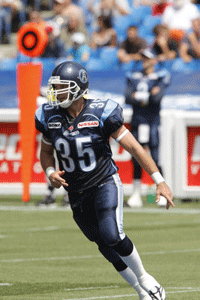 The Canadian Football League announced today the Argonauts' team award nominees for the 2009 season. Leading the pack for the Boatmen were team Outstanding Player RB Jamal Robertson and double award nominee
LB Kevin Eiben.
The players were selected by voting members of the Football Reporters of Canada (FRC) and the CFL head coaches. In this first ballot, FRC representatives from each CFL city plus the respective head coach submitted votes for the six categories. Voters were asked to select players from their local CFL club who through on-field performance excellence, best represent the awards' title – Most Outstanding Player, Most Outstanding Canadian Player, Most Outstanding Defensive Player, Most Outstanding Offensive Lineman, Most Outstanding Rookie, and Most Outstanding Special Teams Player.
| | |
| --- | --- |
| AWARD | PLAYER |
| Outstanding Player: | RB Jamal Robertson |
| Outstanding Canadian: | LB Kevin Eiben* |
| Outstanding Defensive Player: | LB Kevin Eiben |
| Outstanding Lineman: | OG Taylor Robertson |
| Outstanding Special Teams Player: | K/P Justin Medlock |
| Outstanding Rookie: | DB Lin-J Shell* |
* – unanimous selection
RB Jamal Robertson has been the Argonauts' most dangerous offensive weapon all season long. In his first year as a fulltime starter at the professional level, he achieved something he'd never done before and only five other players in club history have ever accomplished – run for 1,000 yards in a single season. Currently, Robertson is seventh in the CFL in rushing yards (1,037), fourth in yards from scrimmage (1,519), ninth in the league in combined yards (1,710), and tied for sixth in touchdowns (9). In addition to his running back duties, Robertson also returned kicks and his 482 receiving yards are the second-most by a CFL running back this season. This is the first time that Robertson has been named a team nominee for this award.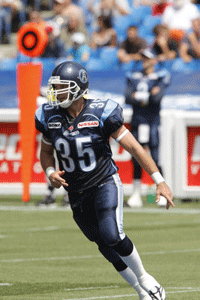 LB Kevin Eiben
LB Kevin Eiben
returns to the podium after a one-year hiatus, but this time he's a double award nominee. Eiben has started in all 17 games this season and has proven once again why he's one of the premier Canadians and defensive players in the entire CFL. His 88 defensive tackles are second on the Argos and fourth in the CFL (with teammate Zeke Moreno), his team-leading three interceptions are a single-season career-high and his seven pass knockdowns lead the club. This is the fifth time Eiben has been named the club's Outstanding Canadian (2004-07), and the second time he's been honoured as the team's Outstanding Defensive Player (2004).
For the third consecutive season OG Taylor Robertson has been named the club's Outstanding Lineman. The seventh year CFL veteran has been an intimidating force at right guard and is the only member of the Double Blue offensive line to start at least 17 games this season and last season for the Argos. He is a model of consistency as he anchors an offensive line that helped Jamal Robertson become the first Argo since Michael Jenkins in 2001 to breach the 1,000-yard plateau.
K/P Justin Medlock is a CFL rookie who had just one game of professional experience under his belt before coming to the Argos this season. Since then, Medlock has quickly become a household name among Argo faithful. His pinpoint accuracy has given him the second-highest field goal percentage (37 of 43 for 86.0%) in the league (highest in the East) and the former UCLA Bruin is fourth in the CFL in kickoff average, second in the East, with a 60.8 average on 74 kicks. His versatility has also installed him as the team's punter, something he'd never tried before coming to Toronto, with 115 punts for a respectable a 42.0 yards per kick average.
DB Lin-J Shell is a rare find for a CFL defensive back; in first year he has become a stalwart in one of the best defences in the league. As a true CFL rookie, Shell tied for the team lead with two fumble recoveries, finished fifth on the team with 57 defensive tackles, registered three sacks, turned in five pass knockdowns and made one interception. He also contributed on special teams notching 10 tackles. He was big part of a secondary unit that has allowed the second-fewest net passing yards in the East (4,242) and the second-fewest average passing yards per game (249.5) in the East.
The East and West nominees for the 2009 Gibson's Finest CFL Player Awards will be announced on Thursday, November 12, 2009. The league-wide winners will be announced during Grey Cup week at the Gibson's Finest CFL Player Awards on Thursday, November 26 at the TELUS Convention Centre in Calgary.
The Toronto Argonauts are North America's oldest professional football club, celebrating their 136th anniversary in 2009. As Toronto's #1 community team through player involvement, community programs and The Argos Foundation, the Toronto Argonauts, a member of the Canadian Football League (CFL), have 15 Grey Cup championships to their credit. The Toronto Argonauts are privately-owned by two Toronto-based businessmen. For 2010 season ticket and group sales packages, please contact the sales team at (416) 341-ARGO. For more information on the Toronto Argonauts Football Club, please visit argonauts.ca.
(Photo courtesy of  Toronto Argonauts Football Club)