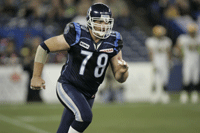 For the Toronto Argonauts, a long and arduous season will come to an end on Saturday afternoon at the Roger's Centre against CFL's best team, the Montreal Alouettes.
The Argos are coming off another loss last week at the hands of the Edmonton Eskimos, meanwhile the Alouettes enjoyed their 14th win of the season against the Winnipeg Blue Bombers, tying a franchise record.
The Alouettes have dominated the season series with a 2-0 record and outscoring the Argos 52-8. Having already clinched the East, Montreal will likely rest their starters or use them sparingly to avoid any risk of injuries heading into the playoffs.
The Boatmen are playing for pride and look to end the season on a positive note but more importantly want to win this game for their fans on Fan Appreciation Day.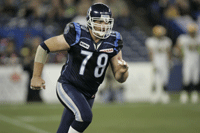 Adriano Belli
"Tomorrow's our Grey Cup. So we're going to go out there and have fun. More than anything we feel bad for our fans but it hasn't been a lack of effort out there and we're going to play our hearts out tomorrow," says defensive tackle Adriano Belli.
Reaves Gets the Call
Last Friday, the Argos dropped a 36-10 decision in slick and muddy conditions at Commonwealth Stadium which much like their season had few bright spots. But one of them was rookie quarterback Stephen Reaves.
The Southern Mississippi product made his first career appearance last week and certainly left an impression on Coach Bart Andrus to earn his first career CFL start tomorrow.
Reaves started out well against Edmonton and led his team to a late first half touchdown to close the gap to 20-10. But he struggled in the second half throwing two interceptions and left the game after taking a nasty hit from Eskimos LB Maurice Lloyd. Reaves completed 10 of 16 passes for a total of 122 yards and one TD.
Reaves started and spent majority of the season on the practice roster but has worked his way up the depth chart and has even surpassed his own expectations.
 

Stephen Reaves
"I thought coming in that I might get a shot at some playing time but that's where it really ended. Honestly I didn't expect it, if someone were to ask me 6 weeks ago if I would be at this point I'd say you're lying," says Reaves.
Coach Andrus sees this as an opportunity to evaluate how Reaves responds to different pressure situations.
"It's important for us to see him in a starting role and see how he handles it," says Andrus. "There's no doubt in my mind he'll handle it pretty well, he's started in some pretty big games in college. He's a very poised individual and not a lot rattles him."
Despite going up against the league's best defense Reaves is approaching tomorrow's game like any other and keeping his strategy simple.
"Montreal does have a good defense but I haven't really looked at it like that. I think if we go out there and move the ball well and get completions and try to put some points up on the board early, I think we go a good shot against them or any other defense that we play against."
Playing Better Defensively
 

Coach Andrus
Against the Eskimos the Argos barely challenged Ricky Ray who was the only player on the field without a mud stain on his uniform. Despite the playing conditions it was a clear indicator that their defense was ineffective from beginning to end. The Argos need to play better team defense and put more pressure on the opposing quarterback if they hope to end the season with a win.
Contact Aman Dhanoa at aman@oyetimes.com
(All photos courtesy of Toronto Argonauts Football Club)