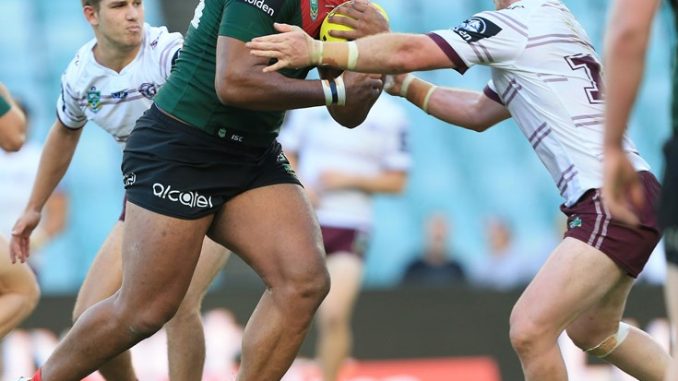 The Philadelphia Eagles saved their most interesting pick of the 2018 NFL draft for last.
They made a deal with the New England Patriots to move up and select offensive tackle prospect Jordan Mailata, a 6-foot-8, 346 pound Samoan Australian former rugby league player from Sydney, Australia who played professionally in the National Rugby League down under for the South Sydney Rabbitohs.
The Eagles sent the 250th pick and a 2019 seventh-rounder to New England to move up for Mailata.
Mailata has no experience in organized football. Watch some of his rugby league tape for the and you'll see a big, fast, athletic dynamo trucking his competition. It's to be determined how his transition to the gridiron will go, but the tools are obvious.
His journey began last summer when his agent decided to create a highlight reel to try to entice any other rugby clubs. He also sent them to a connection with the NFL's International Player Pathway program, who was intrigued.
Asked about his knowledge of football before this program, Mailata said, "Mate, as little as peanuts."
"The last three or four months have not been easy at all," he said. "Mentally challenging as well as physically. Trying to understand the basics and the fundamentals of football has been a great task. Little knowledge before I came in, but I can happily say now that I can understand concepts and a beginning to have a step in the right direction."
He held his own pro day at IMG. It was co-led by Eagles offensive line coach Jeff Stoutland, who Mailata felt was "challenging my manhood" with all that he asked of him.
"But he gave me the thumbs up at the end of the session and said I had an outstanding session, an outstanding workout," Mailata said.
He earned Stoutland's respect throughout the process. The key is that Stoutland determined that he was coachable.
Mailata ran a 5.12-second 40-yard dash at his pro day, which would have ranked eighth among offensive linemen at the combine. From there, seven teams brought him in for a visit: the Eagles, Washington Redskins, Cleveland Browns, Los Angeles Chargers, Atlanta Falcons, Indianapolis Colts and New York Jets. Philly was the one that grabbed him.
It's to be determined how this experiment will go, but Mailata says he is not turning back.