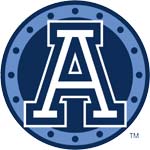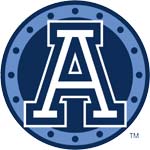 One of the favourite days on every Toronto Argonauts fan's calendar is the annual Fan Day, presented by the Toronto Sun. The Toronto Argonauts are pleased to announce that the tradition continues this Sunday, June 27 in Mississauga. Fan Day is a unique and interactive experience for the whole family as Argo faithful get an opportunity to watch and meet the 2010 Toronto Argonauts players, coaches and cheerleaders.
Fans can escape the city to the west end and take in an Argos practice while kids will get the chance to participate in interactive drills such as a First Down competition, a Football Throw, a Football Kick, and a Punt, Pass & Kick competition where participants receive a coupon for a Pizza Pizza slice.
The day starts with Argos practice and player introductions followed by a minor football scrimmage and a performance from the 2010 Argos Cheerleaders. Local dance groups and Jason the Argos mascot will entertain the crowd as music will be provided by DJ Shakes. The Argonauts Alumni Assocation will have a booth where Argos legends will sign autographs and pose for photos. New in-stadium host Mark Strong will emcee the day, interviewing players and alumni throughout.
Marc Angelo Foods will be on site to BBQ for the event, and Jones Soda will be sampling product. This year, Toronto Argonauts season ticket holders will receive a complimentary pop and hot dog, as well as a special Argo gift which will be available for pick up at Fan Day using the coupon included in the season ticket package or the subscriber ID card.
The Argos Foundation's Dunk Tank is back and this year fans will have a chance to "Dunk a Ticat". The Foundation will also be selling bottled water and holding a raffle to fundraise for its community programs. As well, the Toronto Sun is setting up a Photowall where fans can pose in the action with Argos cheerleaders. Fans can view their photos after the event at argonauts.ca. If you are on the hunt for brand new 2010 Argos merchandise from Reebok, Fan Day is the place to be. Autographed memorabilia, jerseys and helmets will also be on-sale for collectors in your family.
Here are the details for Toronto Argonauts Fan Day:
DATE: Sunday, June 27, 2010
TIME: 12:00 p.m. – 3:00 p.m.
LOCATION: U of T at Mississauga
3359 Mississauga Rd. N.
South Portables, Lower Field
PARKING: Parking available in Lot #9