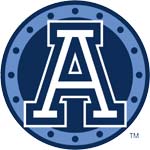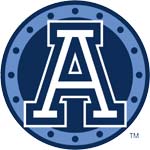 The Toronto Argonauts Football Club is thrilled to announce that two key members of the team will remain in Toronto through the 2013 season. The team's 2010 Outstanding Defensive Player DE Ron Flemons and special teams captain RB Bryan Crawford have both avoided free agency and extended their contracts with the Argos.
Argonauts GM & Head Coach Jim Barker enthused, "These two signings are critical to our organization moving forward. Both bring leadership and experience and play the game at a very high level. We are excited to have both under contract with the Argonauts. Ronald had a great season in 2010 playing multiple positions. He brings size and speed and became a force on our strong defensive line. Bryan has been one of the top special teams players in the league for some time. He's a versatile player and is definitely one of our team leaders. I'm glad both Ron and Bryan will be wearing Double Blue next year, rather than our team having to play against them."
Quiet off the field, Flemons lets his on-field play do the talking. In his fifth year in Double Blue, Flemons was the team's Outstanding Defensive Player and set career-highs in defensive tackles (53), sacks (8) and fumble recoveries with four (4) for 54 yards. Flemons' four fumble recoveries tie for second-most by an Argos player in a season, and his six passes defended tied him for the 2010 team lead. During CFL week 11, he was named CFL Defensive Player of the Week for making a career-high three (3) sacks against B.C., and then he earned CFL Defensive Player of the Month for September.
Ron Flemons remarked, "I'm excited to be back in a Toronto Argonauts uniform. I feel like we made a lot of progress last year and I'm excited to build on that progress in 2011 and become a Grey Cup calibre team. We do have great fans in Toronto and I'm confident that with the guys in our locker room, we will give them something to cheer about. "
The Argos' special team captain, who is a Hamilton native and resident, was originally drafted by Toronto in 2005 and has played in 94 regular season games for the club. Crawford challenged for the CFL lead in special teams tackles in each of his last four seasons and led the league with 26 tackles in 2010. With two more special teams tackles, he'll tie position coach Mike O'Shea (124) for the Argos' all-time team lead. Crawford has also contributed on offence, both rushing and receiving, and this season he converted three fake punt attempts for 102 total yards. The Queen's grad has been a key member of a unit that has produced five of the last six East Division Outstanding Special Teams Players, most recently KR/WR Chad Owens.
Bryan Crawford commented, "Being drafted by Toronto and having worn Double Blue for my entire career there was no other organization I could have envisioned myself playing for. I am very pleased to be returning to Toronto and look forward to continuing, and one day finishing, my career as an Argonaut. Senator Braley, Bob Nicholson and Jim Barker have worked hard to put our organization in an excellent position for future success, and I'm excited about the prospect of helping bring the Grey Cup back to the city of Toronto and all of our fans. The honour and privilege of being part of the Canadian Football League is never lost on me as I am as much a fan of 'our' league as I am a member. I look forward to hitting the field with my teammates in 2011 and taking a lot more abuse from Tiger-Cats fans in the years to come."