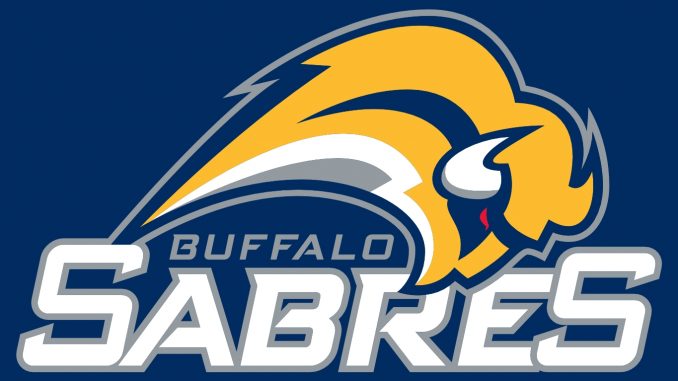 Buffalo Sabres score early to beat Toronto Maple Leafs 3-1, Here is the game summary and highlights for the game played on Saturday, February 11, 2017
| | | | | | |
| --- | --- | --- | --- | --- | --- |
| | 1 | 2 | 3 | OT | FINAL |
| BUFFALO | 3 | 0 | 0 | 0 | 3 |
| TORONTO | 0 | 1 | 0 | 0 | 1 |
GAME SUMMARY | EVENT SUMMARY | FACEOFF SUMMARY

ON THE SCORESHEET
Mitch Marner put the Maple Leafs on the board with a power play goal at 15:57 of the second period. Marner has 10 points (5 goals, 5 assists) in his last 10 games.
Tyler Bozak had the primary assist on Marner's power play goal. Bozak now has assists (5) in five of his last six games.
Nikita Zaitsev also registered an assist on Marner's goal. Zaitsev has four points (1 goal, 3 assists) over his last four games.
Frederik Andersen stopped 20 shots in the loss.
SHOTS FIRED
The Maple Leafs outshot the Sabres by a 44-23 margin in all situations and by a 34-22 margin at 5-on-5.
Toronto had an 82-44 lead in shot attempts in all situations and a 67-41 lead in shot attempts at 5-on-5.
Nazem Kadri and Mitch Marner each registered five shots on goal to lead the Maple Leafs.
Mitch Marner led Toronto with 10 shot attempts.
HOME SWEET HOME
The Maple Leafs are 13-9-4 at home this season.
Toronto's all-time record is 74-101-18-11 in 204 games against the Sabres and 46-39-12-5 in games played in Toronto.
Toronto is 17-10-5 against the Eastern Conference this season and 12-5-2 against the Atlantic Division.
Tonight's attendance was 19,427.
MAPLE LEAFS LEADERS
| | |
| --- | --- |
| Faceoff Wins | 12 (Matthews) |
| Faceoff Win Percentage | 100% (Smith) |
| Hits | 9 (Zaitsev) |
| Blocked Shots | 2 (Kadri, Zaitsev) |
| Takeaways | 2 (Matthews, Nylander) |
| TOI | 22:11 (Zaitsev) |
| Power Play TOI | 3:25 (Zaitsev) |
| Shorthanded TOI | 0:29 (Hunwick, Komarov, Polak) |
| Shifts | 27 (Rielly, Zaitsev) |
| 5-on-5 Shot Attempt Percentage | 71.4% (Bozak, Hyman) |
OF NOTE…
James van Riemsdyk played in his 500th career NHL game.
Toronto is 5-13-6 when their opponent scores first.
The Maple Leafs are now 1-12-3 when trailing after a period and 2-15-1 when trailing after two periods this season
Toronto has an 8-11-6 record when outshooting their opponent.
Ben Smith was 7-for-7 in the faceoff circle tonight.
Nikita Zaitsev led all skaters with nine hits, a new single-game high for Zaitsev this season.
UPCOMING GAMES:
Tuesday, Feb. 14 vs. New York Islanders, 7:30 p.m. (TSN 4, FAN 590)
Wednesday, Feb. 15 at Columbus Blue Jackets, 7:00 p.m. (Sportsnet, TSN 1050)
Saturday, Feb. 18 vs. Ottawa Senators, 7:00 p.m. (Hockey Night in Canada, FAN 590)
Sunday, Feb. 19 at Carolina Hurricanes, 7:30 p.m. (Sportsnet, TSN 1050)
Tuesday, Feb. 21 vs. Winnipeg Jets, 7:30 p.m. (TSN 4, FAN 590)
POSTGAME QUOTES:
HEAD COACH MIKE BABCOCK
On tonight's start as a point of frustration:
Yeah, I mean, being frustrated is a waste of time. Disappointed is what you should be because we had the opportunity to get prepared and be prepared, we knew it was an important game, and we weren't ready to play any way you look at it. That's on me, that's on the players. I thought we gifted them goals. Poor job on the penalty kill where guys are behind us for no reason, just on a short neutral zone forecheck. A faceoff play, they shot it in the net, we're not ready to jump on the guy. Then — I can't even remember the third one, who scored the third goal? [Kane] – D-zone coverage where we don't have any puck pressure and we're not widened out on our guys. That part is disappointing, you put all that energy in and you chase the game around for the next, I don't know, what is it, 45 minutes? Your first 15 minutes sink you. You've got to give them credit, they were prepared, they were organized, they played harder than we did at the start. It's like being a pitcher if you're the [Buffalo] goalie. If you're a pitcher and they've got you up 5-1, it's way easier to be a good pitcher.
On if the team relies on its skill too much at times:
I don't know if that has much to do with it. If you get prepared and you compete hard, you have a lot of success. When you don't, you don't. This is a good lesson for us. I don't know what we were doing, whether we were thinking – you know, I talked to the guys about this this morning, there's not much to pick between any of the teams. I made it very clear. Maybe our guys think there is but there obviously isn't. So, you've got to come and compete each and every day. The game is fair – you get out what you put in. If you don't prepare, you don't win. It's real simple. You can cheat the system once in a blue moon.
On if the veterans need to lead the way more as the season goes on:
You can talk about anyone but the way I look at this is that anybody who is putting on a uniform, their job is to get ready. That includes the coaching staff who didn't do a good enough job. I was shocked that we weren't ready to play, to tell you the truth. I didn't see it coming and you leave disappointed. It's a Saturday night in our building and we didn't get out of the gate good enough. You spend the whole time – and you can say you're frustrated – just be disappointed in our preparation, period.
On if teams are playing a more physical style against Matthews and Marner:
I don't see that much to be honest with you. I think [Martin] has done a good job with that stuff. I think it's easier to be played physical against when you're chasing the game, if that makes any sense to you. If you get ready and you start on time, there would be none of that.
On preventing additional slow starts:
I don't know if it's happened that many times, let's not make something up here. So, I didn't like the way we played, pretty straightforward about what I said in my comments. We have to be better. We'll take a day off tomorrow, get refreshed and then we've got a big game and I think we've got a back-to-back if I'm not mistaken. We've got to get ourselves prepared and the games each night are going to be harder. So, get ready and be prepared to play on time.
MITCH MARNER (1 GOAL, 10 SHOT ATTEMPTS)
On getting off to a better start:
I just think we've got to come out ready to play our systems and make sure we don't fall into other teams' game plan. We're a team that when we're getting on the cycle we know we're dangerous all the time. I think that's what we've got to stick to.
On if he meant to bank his goal off the goaltender:
No, I kind of saw [Kadri] coming down and was trying to get it to him. I got a lucky bounce and good things happened.
On what shifted the momentum in the second period:
I just think we got back in [the dressing room], we got calm and came out and played the way we wanted to from the start. That's what we've got to start doing more often.
On getting into a scrum at the end of the game:
I saw [Matthews] kind of getting into it and saw Matty get a couple up high. You've got to defend your teammates and help out. I just tried to get in there and help him out.
On the Maple Leafs-Sabres rivalry:
It's always been like this. It's a game everyone likes to watch and play in. It's been entertaining playing them this season and it's just going to keep getting better.
AUSTON MATTHEWS (6 SHOT ATTEMPTS, 20:16 TOI)
On the Sabres:
I think we've still got them one or two more times in Buffalo. We didn't really start out too good, I didn't think we started playing until the second period so, I mean, they've got some firepower up front and they definitely took advantage of us coming out slow.
On the cause for slow starts:
I don't know, I just think it's that first 10 minutes you've got to keep it simple, make sure the puck is getting deep, not turning it over, not giving them free ice through the neutral zone. They've got fast guys that can make plays and they definitely did that tonight.
On the team not losing confidence down three goals:
No, not at all. We had a lot of opportunities. They're a pretty good team at boxing out so we were trying to get guys to the net to try to jam in rebound goals. You've got to give credit to their goalie, he played well tonight on those second opportunities. We'll have a good day off tomorrow and rebound for next week.
On if there's more physicality as games have gone on this season:
Yeah, I think towards the end of the season there's less and less space going into team's fighting for playoff spots and into the playoffs. For us, I think that's perfect for a team that can make plays off the rush and down low. I think we've just got to keep it simple.
MORGAN RIELLY (7 SHOT ATTEMPTS, 21:52 TOI)
On the slow start:
I'm not sure why, but that was a big factor in the game and the outcome so it's something we've got to address and get better at.
On tonight's effort:
I think we played a strong last 40 minutes, 35 minutes, whatever you want to call it, but that's not good enough in this league. You've got to come out and play a full 60 and we weren't able to do that tonight. Moving forward we've got to prepare better and make sure we're ready to go when the puck drops.
On what led to more offence as the game went on:
We just started playing more down low. I think at the start we were trying to create too much off the rush and be a bit fancy. I think that once you realized it wasn't working we started chipping pucks in, going to get them and trying to put pucks on net – not trying to overdo it. That seemed to work but it was too little, too late.
JAMES van RIEMSDYK (500th CAREER NHL GAME)
On tonight's game:
We definitely didn't get off to a good start and when you're behind the 8-ball chasing the game, it's tough. We've just got to learn from it and be ready for Tuesday.
On what caused the slow start:
It was just a sluggish start, it didn't seem like we had good jump to start the game. They obviously capitalized on some of their chances and it makes it tough when you're chasing the game.
On what led to his fight vs. Ristolainen:
Just a battle at the net and that was pretty much it.
On what's going through his mind during a fight:
I don't know, the adrenaline is just going and that's pretty much it.
On what led to the late-game push:
It's a good question. We started to play our game a little more as the game went on, we started to do some things better and executed a little better.