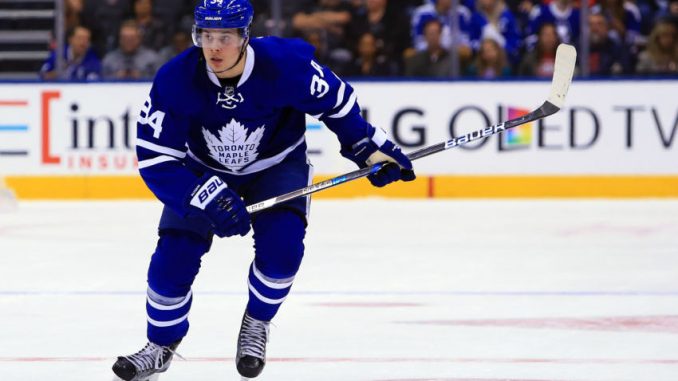 Toronto Maple Leafs hang on to beat Detroit Red Wings 5-4. Here is the summary of the game played on Saturday, April 1, 2017
| | | | | | |
| --- | --- | --- | --- | --- | --- |
| | 1 | 2 | 3 | OT | FINAL |
| TORONTO | 0 | 3 | 2 | 0 | 5 |
| DETROIT | 1 | 1 | 2 | 0 | 4 |
GAME SUMMARY | EVENT SUMMARY | FACEOFF SUMMARY

ON THE SCORESHEET
Auston Matthews put the Maple Leafs on the board with a power play goal at 2:56 of the second period, added an assist on William Nylander's second period goal and scored tonight's game-winning goal at 18:51 of the third period. Matthews has goals (5) in four consecutive games and points (7-4-11) in eight consecutive games. With three points in tonight's game, Matthews has 66 points on the season (38 goals, 28 assists), which ties the Maple Leafs rookie record for points in a season set by Peter Ihnacak in 1982-83.
Mitch Marner tallied his 18th goal of the season at 13:53 of the second period. Marner has four points (2 goals, 2 assists) in four games versus Detroit this season.
William Nylander scored the third Toronto goal at 15:08 of the second period. Nylander was named the NHL's Rookie of the Month for March on Saturday after registering 14 points (4 goals, 10 assists) in 14 games during the month of March. He has recorded 14 of his 22 goals on the road this season.
James van Riemsdyk scored Toronto's fourth goal of the night at 17:34 of the third period. He has registered a point in every game against Detroit this season (2 goals, 2 assists).
Leo Komarov
had the primary assist on Matthews' power play goal in the first period. The assist was Komarov's 18th of the season, which ties his single-season career-high for assists set in 2014-15.
Nikita Zaitsev registered the secondary assist on Matthews' power play goal. Zaitsev leads all Maple Leafs defencemen in assists (31).
Connor Carrick earned the lone assist on Marner's second period goal. Carrick has eight points (2 goals, 6 assists) this season.
Roman Polak picked up the secondary assist on Nylander's second period goal. The assist is Polak's fifth of the season and the first assist he has recorded on the road in 2016-17.
Tyler Bozak registered the primary assist on van Riemsdyk's third period goal. Bozak has 34 assists in 73 games this season.
Jake Gardiner had the secondary assist on van Riemsdyk's goal in the third period. Gardiner has recorded 19 of his 30 assists on the road in 2016-17.
Brian Boyle recorded the lone assist on Matthews' third period goal. He has three assists since joining the Maple Leafs on Feb. 27.
Frederik Andersen made 38 saves in the victory. The Maple Leafs are 17-3-4 when Andersen stops 30-39 shots.
SHOTS FIRED
The Maple Leafs were outshot by the Red Wings by a 42-27 margin in all situations and by a 35-25 margin at 5-on-5.
Detroit had a 62-49 lead in shot attempts in all situations and a 49-45 lead in shot attempts at 5-on-5.
Auston Matthews led the Maple Leafs in shots on goal and shot attempts (6).
ROAD SCHOLARS
The Maple Leafs are 18-14-8 on the road this season.
Toronto's all-time record is 285-280-93-3 in 661 games against the Red Wings and 114-172-46-1 in games played in Detroit.
Toronto is 28-14-7 against the Eastern Conference this season and 17-8-3 against the Atlantic Division.
The Maple Leafs wrap up their 2016-17 road schedule on April 3 in Buffalo at KeyBank Center.
MAPLE LEAFS LEADERS
| | |
| --- | --- |
| Faceoff Wins | 8 (Bozak) |
| Faceoff Win Percentage | 47% (Kadri) |
| Hits | 6 (Martin) |
| Blocked Shots | 5 (Polak) |
| Takeaways | 1 (Five players tied) |
| TOI | 22:53 (Zaitsev) |
| Power Play TOI | 1:19 (Zaitsev) |
| Shorthanded TOI | 2:06 (Hyman) |
| Shifts | 30 (Gardiner) |
| 5-on-5 Shot Attempt Percentage | 77.8% (Boyle – 14 for, 4 against) |
RECORD WHEN…
The Maple Leafs were 3-for-3 on the penalty kill and 1-for-1 on the power play tonight. Toronto is 26-9-6 when not allowing a power play goal and 18-12-6 when scoring a power play goal this season.
Toronto is 10-18-6 when their opponent scores first this season
The Maple Leafs are 3-16-3 when trailing after one period and 30-1-9 when leading through two periods.
Toronto has a 26-12-8 record when outshot by their opponent.
The Maple Leafs are 9-7-5 on Saturday nights.
OF NOTE…
Frederik Andersen
before Detroit's goal. After review, the Referee confirmed no goaltender interference infractions occurred and the original call stood – good goal Detroit Red Wings.
The Maple Leafs have scored at least one power play goal in seven of their last 10 games.
Toronto has scored at least one goal in 15 of their last 18 periods of play.
Brian Boyle won 83 percent (5 won, 1 lost) of his defensive zone faceoffs at 5-on-5 and led the Maple Leafs in 5-on-5 shot attempt percentage (77.8%), which starting the lowest percentage of shifts in the offensive zone among Toronto skaters (14.3%).
Jake Gardiner was on the ice for the most Maple Leaf shot attempts at 5-on-5 (22) and had a 5-on-5 shot attempts percentage of 61.1 percent (22 for, 14 against).
UPCOMING GAMES:
Monday, April 3 at Buffalo Sabres, 7:00 p.m. (Sportsnet Ontario, FAN 590)
Tuesday, April 4 vs. Washington Capitals, 7:30 p.m. (TSN 4, TSN 1050)
Thursday, April 6 vs. Tampa Bay Lightning, 7:30 p.m. (TSN 4, TSN 1050)
Saturday, April 8 vs. Pittsburgh Penguins, 7:00 p.m. (Hockey Night in Canada, TSN 1050)
Sunday, April 9 vs. Columbus Blue Jackets, 6:00 p.m. (Sportsnet, FAN 590)
POSTGAME QUOTES:
HEAD COACH MIKE BABCOCK
On tonight's win:
Obviously, a real good atmosphere. I thought they skated real good, I didn't think we skated as good or were as physical as we normally are. In saying that, we did lots of good things. I really liked our response when they tied the game. I didn't like to give up the fourth goal there at all but those are things we can fix. There were lots of mistakes we made tonight that we can fix and we'll do that tomorrow. It's a big win for us. Any time you play a team four times in one year, it's hard to beat them every time. This was a big win for us, we needed the points. It helps us obviously as you see what happened late tonight in the standings. A real big win for our team.
On the push to clinch a playoff spot:
I think what we should do is just get ready to play Buffalo and not get ahead of ourselves. That's what we try to do all along. We all watch the standings; we know what they are but I think it's important to enjoy tonight here and go into Buffalo. We'll have practice tomorrow and get ready to play Buffalo.
On the impact of the rookies tonight and this season:
I said that to the coaches – after two you see what they've done and then obviously Matthews had an unbelievable night here tonight. We've got good young players. The guys have done a good job, whoever drafted them. [Mark Hunter] and his group there have done a real good job and we don't want him resting on his laurels, we need more. The more good players you have, the better chance you have to win year-in and year-out.
On the rookies striving to be difference makers for the team:
I think they've been difference makers their whole life so they don't understand anything different. That's what they try to do. We play them lots. It's not like they tried out. They got to play lots from the get-go and they've done a good job.
On the sense he gets from the dressing room right now:
You sense confidence. Because they've earned the right to feel good about themselves they think they're a good team and when you think you're a good team that leads to you making good plays. When we go through the game tonight, [Andersen] made lots of good saves, Andy was good for us tonight and so that's a big part of it. He gives us confidence as well.
On the team playing its best when the games are toughest:
We have to or else we're not going to be having a playoff opportunity. When you look around the League, there's lots of teams playing real good and not necessarily ones in a playoff position. If you cruise along at .500 you wouldn't have a chance to be in the playoffs. Obviously, this is a big run for us. We think we've gotten better all year long and we'd like to continue to get better.
On how much he has had to coach Matthews this season:
I think the better way to ask that question is to ask him. I'm going to do what I do each and every day and try to make him better. My job is to make him the best 22-year-old player he can possibly be. So, big picture, short picture at the same time. That's the same with all those guys. If they don't turn into real players – I always say to our coaches – that's on us. That means quality, quality people who make good decisions, are team-first, know how to play without the puck, know how to play with the puck and have huge desire to win championships.
FREDERIK ANDERSEN (38 SAVES)
On tonight's win:
Yeah, I mean, happy we won because it was important. Really good timing on the goals we had at the end there, which ended up being huge for us. That was obviously a little bit hectic in the end there.
On feeling confident the team will win if he gives them a chance:
Yeah, absolutely. I felt good today and I made some stops and gave them a chance to come back after they scored the first one. We played a much better second period, I think. We took it to them and got some huge goals.
On talking with Detroit's Frans Nielsen during the game:
We're good buddies from home. We were just chirping each other a little bit and talking to each other. It's always fun to run into him.
MITCH MARNER (1 GOAL)
On the play of the rookies:
Yeah, it's nice. I think we just want to come in and help the team win and obviously we've all been given a great opportunity to go out there every shift and create offence. It's a nice feeling when we're going out there and doing something with it.
On what he was thinking before he scored his goal:
I didn't really know what to think. I kind of saw [Kadri] behind me. I thought if I got a little closer – I didn't know the pressure kind of coming behind me – but maybe pass it to him right away or kind of, in the last second, just decided to pull the trigger on it and luckily it went in.
On if the team has come a long way in its ability to close games out in the third period:
For sure. We just want to go out there every shift and obviously create something. I think that's the thing we're doing a lot better now, is just kind of creating offence when we're up, and not being scared, sit back and kind of let them come to us. We're taking to them still and that's what we've got to do more of.
AUSTON MATTHEWS (2 GOALS, 1 ASSIST)
On the atmosphere at Joe Louis Arena:
Yeah, it was pretty special. I mean, this team travels pretty well especially when you go just across the border whether it's Buffalo or Detroit, you always see a lot of blue jerseys so it a pretty special atmosphere tonight especially being the last time the Leafs are going to play here.
On what he saw on his first goal:
Just some space on the left side and I just gave it to Leo and skated through the middle and he made an unbelievable pass to me and I was just able to sneak it in.
On the key to closing out tonight's win:
It always seems to be a wild finish when we're playing these guys but I think we're just sticking to it, not getting too high or low and just continue to play the right way. Being able to come out with two points is definitely a big positive for us.
JAMES van RIEMSDYK (1 GOAL)
On his third period goal:
I think the guys made a good play to get the puck through to the net and I just tried to put it in a good area and it trickled over the line so thankfully it went in.
On the play of the rookies:
Yeah, we're towards the end of the year so they've got a full year of experience under their belts and again, they've been a big part of our team the whole year and have come in and delivered in key moments. They keep doing things very consistent and that's a good thing for us.
On why the team has had success recently:
That's a good question. I think, again, towards the second half of the year I think we really started not shooting ourselves in the foot as much and making the right play, making the high-percentage play and using our skill in the right situation so when you're not giving away those free goals it makes a huge difference in the game. You're not chasing games as much and you're right there. We've got guys who have been coming through and delivering in the big moments of the games.