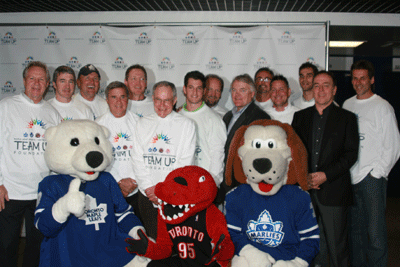 This article was last updated on April 16, 2022
Canada:

Oye! Times readers Get FREE $30 to spend on Amazon, Walmart…
USA:

Oye! Times readers Get FREE $30 to spend on Amazon, Walmart…

(Photo courtesy of Parry Long)
Maple Leaf Sports & Entertainment (MLSE) and its teams' athletes added the final touches and unveiled the newly refurbished Oriole Community Centre in North York.
The refurbishment was funded by the MLSE Team Up Foundation in partnership with Toronto's Parks, Forestry and Recreation department and is the 15th sports facility to benefit from MLSE's hockey rink and basketball court legacy program.
"We're so excited to make a difference for the kids and families that use the Oriole Community Centre every day," said Tom Anselmi, MLSE's COO and executive vice-president.
"Every athlete and coach here today will tell you that being a leader in the community is an important role that everyone is expected to play on all of our teams. That's what today's event is all about – being a leader in the community and giving back to the communities that support our teams."
Team Effort
Anselmi was joined by current and former players from the Maple Leafs, Raptors, Toronto FC and the Marlies as they put finishing touches on both the ice rink and basketball court. Just over $100,000 and more than 320 hours were spent to install rink boards, renovate dressing rooms, build benches and paint many areas of the centre.
Among those in attendance were the Leafs' Matt Stajan, Raptors' Jose Calderon, Toronto FC Coach Chris Cummins, Marlie's Darryl Boyce along with Leaf Alumni Darryl Sittler, Wendel Clark and others.
"It's the good for the community. It's good to have a place where the kids can come here to play sports and enjoy with friends," said Toronto Raptor's Jose Calderon.
To many in the community this refurbishment was long overdue and a welcomed sight for those who were on hand for the unveiling, including Brenda Patterson, General Manager, Toronto Parks, Forestry and Recreation.
"The quality of life of all Torontonians is front and centre in everything we do. Partnering with MLSE's Team Up Foundation has enabled us to engage more community members in activities that lead to a sense of unity, encourage healthy development and promote active living."
MLSE Team Up Foundation
Over the past four years, MLSE has invested approximately $1.4 million in building and refurbishing 10 rinks and 5 courts. The aim of the program is to help kids in the community by giving them opportunities to learn and play.
Contact Aman Dhanoa at
aman@oyetimes.com
You can publish this article on your website as long as you provide a link back to this page.