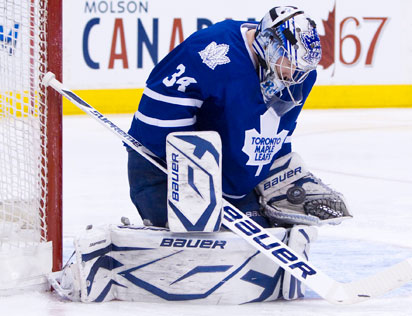 Patrick Marleau Nets Two Goals to Help Sharks Snap Losing Streak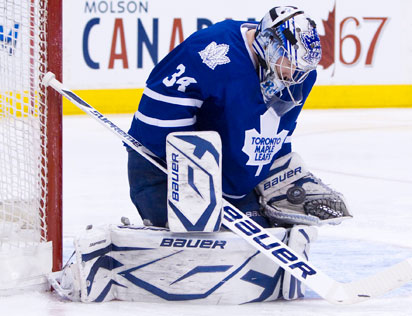 With the trade deadline just days away, Thursday's performance by the Toronto Maple Leafs did little to quell the rumours surrounding the team lately. If anything the trade chatter and speculation, whether fact or fiction, will probably only intensify.
The Leafs were not blown out or completely outplayed by any means, but a 2-1 loss to the visiting San Jose Sharks did little to answer the many questions about the team's current roster – namely goaltending. Nothing short of a win would have quieted critics.
"A win would have helped more, that's for sure," said Leafs goalie James Reimer after the game. "Hockey this season, it's all about working hard and battling through adversity."
"I think we should hold our heads up high in here because we're getting better every game and sooner or later we're going to start getting some wins."
After giving up a soft first goal, Reimer settled down to play well and stopped 23 of 25 shots – both goals were surrendered to veteran centre Patrick Marleau. Although it was a loss, the goalie played better than his last start where he was yanked in a 6-2 loss in Vancouver.
Leafs General Manager Brian Burke was a guest on a radio show Wednesday and openly admitted that his team's goaltending has been disappointing lately and that he has considered the option of looking for another goaltender at the trade deadline. His comments came off the heels of Jonas Gustavsson letting in two bad goals in Tuesday's loss to New Jersey, including the overtime winner on a shot that was going wide.
Despite all the media attention to the Leafs' goaltending woes, Reimer is blocking everything out and is just concentrating on his game.
"Don't pay attention to it," said Reimer. "I'm sitting here – ignorance is bliss. Obviously there are comments floating around and I have no idea what those comments are and I really don't care what they are.
"I love doing my best and I hate going home and knowing that I let myself down, I let my teammates down, and didn't do what I know that I could do. That's all I'm worried about."
With the win San Jose snapped a four-game losing streak on the strength of Marleau notching his 24th and 25th goals of the season.
"It was nice to get a couple of goals, especially to get the team off the losing ways," said Marleau.
"When you get on a losing streak you want to snap it as quick as possible and we let it slide there for four games. We haven't been playing our best hockey but tonight was a team effort, something we can build off of. The games are only going to get tougher as going down the stretch here."
Coming Up Short…Again
Both teams started the game slowly and did not create many chances in what resulted in a scoreless first period. The Sharks pressured the Leafs from the opening faceoff of the second period and needed just 32 seconds to strike first.
San Jose cycled the puck behind the net where Joe Thornton moved the puck ahead to Tommy Wingels who backhanded a pass out front. Marleau wasted no time by quickly firing a shot from the faceoff circle and underneath the arm of Reimer – a goal the Leafs netminder probably should have stopped.
The Sharks increased the lead seconds into a power play just after the halfway mark. Marleau, who was planted in front of Reimer, deflected a point shot by Logan Couture to make it 2-0 for his second goal of the game.
Early in the third period, the Leafs were sparked by fourth liner Mike Brown who challenged Sharks' Jim Vandermeer. Brown held his own against the much bigger defenceman and his team used it as a rallying point to play with more urgency – something that was missing in the opening 40 minutes.
Just over a minute later, Leafs leading scorer Phil Kessel sent a cross-ice blue line pass to defenceman Jake Gardiner who one-timed the shot past Sharks goalie Antti Niemi to get within one goal. The shot seemed to either deflect off either San Jose defenceman Marc-Edouard Vlasic or Toronto forward Joffrey Lupul who was in front of the net.
The Leafs created a few good scoring chances in the third and outshot the Sharks 16-9 but either missed the net or were thwarted by Niemi. Unlike Tuesday, there were no last minute heroics to force overtime, but the result was still the same.
"Every game is a big game right now so we're just trying to go out there and take it one game at a time," said Leafs centre Tim Connolly who quietly played a solid game.
"Points are extremely important right now."
With the loss coupled with Winnipeg's 4-3 win over Tampa Bay dropped the Leafs down into ninth place in the Eastern Conference. Toronto now sits one point behind Florida with 65 points and is just two points up on Washington.
Ironically, the Leafs will play both teams to close out its four-game home stand with the Ovechkin-less Capitals on Saturday night and the Panthers on Tuesday.
"We need a win somehow," said Leafs Head Coach Ron Wilson.
"We have to understand that as a group in there, that you've got to be ready to give whatever you've got left in the tank to win those hockey games."
To follow on twitter click
HERE
Download or stream
the 500 Level podcast with co-hosts Aman Dhanoa and Ben Trattner as they discuss news, opinions, and views on Toronto sports from the Upper Deck. Leafs, Raptors, Jays, Argos, TFC – nothing is off limits. It's good to be a fan!