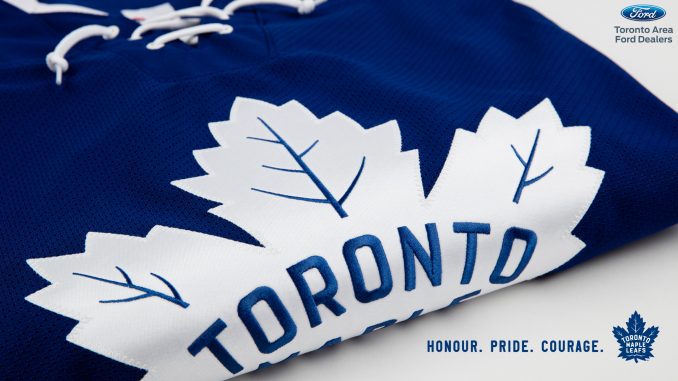 Toronto Maple Leafs put out the Calgary Flames 4-1. Here is the summary of the game played on Tuesday, November 28, 2017
| | | | | | |
| --- | --- | --- | --- | --- | --- |
| | 1 | 2 | 3 | OT | FINAL |
| TORONTO | 1 | 1 | 2 | 0 | 4 |
| CALGARY | 0 | 0 | 1 | 0 | 1 |
GAME SUMMARY | EVENT SUMMARY | FACEOFF SUMMARY

ON THE SCORESHEET
Roman Polak opened the scoring for the Maple Leafs at 18:36 of the first period. Polak's goal is his first of the season. He had four goals in 75 games last season with the Maple Leafs.
Nikita Zaitsev scored the second Maple Leafs goal of the night at 12:36 of the second period. Zaitsev has goals (2) in two consecutive games.
Nazem Kadri had the third Toronto goal of the night at 1:54 of the third period. Kadri has registered at least one point (6 goals, 5 assists) in 10 of his last 11 games.
Leo Komarov
scored an empty net goal at 19:59 of the third period. Komarov has recorded five (2 goals, 3 assists) of his seven points on the road this season.
Zach Hyman recorded the primary assist on Zaitsev's second period goal. Hyman has points (1-2-3) in three consecutive games.
Auston Matthews picked up the secondary assist on Zaitsev's goal. Matthews has assists (3) in three consecutive games.
William Nylander had the lone assist on Kadri's third period goal. Nylander has assists (3) in three consecutive games.
Frederik Andersen stopped 19 shots to earn his 14th victory of the season.
SHOTS FIRED
The Maple Leafs outshot the Flames by a 30-20 margin in all situations and a 24-20 margin at 5-on-5.
Toronto had a 62-51 lead in shot attempts in all situations and a 53-49 lead in shot attempts at 5-on-5
Zach Hyman and Mitch Marner each recorded five shots on goal, a team high.
Mitch Marner led Toronto with eight shot attempts.
SHOTS ON GOAL
| | | | | |
| --- | --- | --- | --- | --- |
| | 1st | 2nd | 3rd | TOTAL |
| TORONTO | 12 | 11 | 7 | 30 |
| CALGARY | 9 | 6 | 5 | 20 |
SHOT ATTEMPTS
| | | | | |
| --- | --- | --- | --- | --- |
| | 1st | 2nd | 3rd | TOTAL |
| TORONTO | 27 | 18 | 17 | 62 |
| CALGARY | 18 | 16 | 17 | 51 |
ROAD WARRIORS
The Maple Leafs are 8-4-1 on the road this season.
Toronto's all-time record is 59-58-12-4 in 133 games against the Flames franchise and 24-40-5-2 in games played on the road.
Toronto is 7-4-0 against the Western Conference this season and 4-3-0 against the Pacific Division.
The Maple Leafs continue their road trip on Thursday, Nov. 30 when they take on the Oilers in Edmonton.
MAPLE LEAFS LEADERS
| | |
| --- | --- |
| Faceoff Wins | 9 (Bozak) |
| Faceoff Win Percentage | 100% (Moore – 4 won, 0 lost) |
| Hits | 2 (Borgman) |
| Blocked Shots | 3 (Komarov) |
| Takeaways | 4 (Komarov) |
| TOI | 23:37 (Zaitsev) |
| Power Play TOI | 2:16 (Rielly) |
| Shorthanded TOI | 3:40 (Zaitsev) |
| Shifts | 35 (Zaitsev) |
| 5-on-5 Shot Attempt Percentage | 71.4% (Moore – 10 for, 4 against) |
RECORD WHEN…
The Maple Leafs were 3-for-3 on the penalty kill and 0-for-2 on the power play tonight. Toronto is 10-2-1 when not allowing a power play goal this season and 7-5-1 when not scoring a power play goal.
Toronto is 13-4-0 when scoring the first goal of the game.
The Maple Leafs are 7-2-0 when leading after one period and 9-0-0 when leading after two periods.
Toronto has a 3-3-1 record when outshooting their opponent.
The Maple Leafs are 2-0-0 in Tuesday games.
OF NOTE…
The Maple Leafs scored in the first period of tonight's game. The goal was Toronto's first in the opening frame in the team's last seven games.
Tyler Bozak won 67 percent (6 won, 3 lost) of his faceoffs in the offensive zone.
Leo Komarov started 22.2 percent of his shifts in the offensive zone, which was the lowest mark among Maple Leafs skaters.
Morgan Rielly was on the ice for a team-high 20 Toronto shot attempts-for in tonight's game. Rielly finished the game with a 5-on-5 shot attempt percentage of 57 percent (20 for, 15 against).
UPCOMING GAMES:
Thursday, Nov. 30 at Edmonton Oilers, 9:00 p.m. (TSN4, FAN 590)
Saturday, Dec. 2 at Vancouver Canucks, 7:00 p.m. (Hockey Night in Canada, FAN 590)
Wednesday, Dec. 6 vs. Calgary Flames, 7:30 p.m. (Sportsnet, FAN 590)
Saturday, Dec. 9 at Pittsburgh Penguins, 7:00 p.m. (Hockey Night in Canada, TSN 1050)
Sunday, Dec. 10 vs. Edmonton Oilers, 7:00 p.m. (Sportsnet, TSN 1050)
POSTGAME QUOTES:
HEAD COACH MIKE BABCOCK
On the defensive effort:
I thought we came out and skated so that set us up for success, obviously. We had lots of real good players here tonight, which is positive. It gives you a good start to your road trip. I thought it was an efficient game by the whole group and it's nice to get ahead and protect a lead and get a win.
On if there was carry over from the effort vs. Washington:
I liked our game more than everyone else against Washington. I didn't think we gave up much against Washington and, I mean, [Ovechkin] does what he does. In the end, I thought that transferred into this night. Ideally, we're just getting better and better. You know, like I said, we had a lot of good players tonight.
On the value of getting offence from the blueline:
Well, for sure. If you look around the League, everybody's 'D' is active, everyone's 'D' can really shoot the puck and the better D have the more time you spend in the offensive zone. I thought our guys did a nice job of that here tonight, obviously. I think when you're playing as a five-man unit it's a lot easier.
On defending Calgary's top line:
They chose to play Matthews against them, which was great for us. Brown and Hyman are workhorses and Matty is a real good player. We spent a lot of time in the offensive zone because of that. They've got good players, so do we.
On Marner's effort tonight:
I thought Mitch was outstanding, I thought this may be his best game. He was flying out there. I know everyone looks at the other things, but to me it's effort and consistency. If you work hard and you generate chances, it's going to happen for you. He's too talented for it not to for him. I thought it was a real good night for him.
On getting his first win in Calgary since becoming Maple Leafs head coach:
Is that right? You didn't have to bring that up. I didn't know that. Obviously, I've won in here before [with Anaheim and Detroit] so no big deal, but I didn't know that, so, good. Good win.
FREDERIK ANDERSEN (19 SAVES)
On tonight's game:
It was great. Today we did a really good job coming back and staying above them, which caused them obviously to not get as many chances and I think we followed that game plan really well.
On if he noticed defencemen playing within the structure and having a good gap:
I think obviously I'm more focused on doing what I do so not always, but I'll try to pay attention to what they do. I think they did a real good job of being in the shooting lanes as well so they didn't get the puck to the net. That's what I saw.
On his success playing in Calgary:
I guess it's a fun building to play in. There's a little bit more Leafs fans than there were Ducks fans back then, but I think that's a fun atmosphere, especially for us coming in and getting a good win. That's always fun having both teams getting chants going. It's fun.
ZACH HYMAN (1 ASSIST)
On the goals the team scored tonight:
I think their goalie played really well, made some big saves early on and then we got a couple good bounces that went our way.
On his assist on the second goal:
That's the big thing, you've got to be working like you said in all three zones. Often times the first turnover isn't the goal, it's the second or third. The more times you can get the puck back the more tired their guys will be and the better chance you have.
On improving to an 8-4-1 record on the road:
We just try to bring that same mentality to road games. I think our next stretch of games are mostly on the road so it's important to get into that kind of road groove and get rolling on the road because you need to be a good road team to be successful in this league.
On importance of starting off a road trip with a win:
Yeah, you don't want to be behind the eight ball. The first one is really important, getting momentum and getting your feet wet on the road. Two more games here, first one is really important, get the two points and move forward to the next one.
ROMAN POLAK (1 GOAL)
On his goal:
Oh, you know, it was a lucky shot, I break a stick on that shot too and it was a rolling puck so it actually hit one of their 'D' and went in so it was a lucky shot.
On recent scoring from the defence:
I don't think we've changed anything you know, just trying to get pucks through. That's what we are doing, just shooting from the blueline and it's just going in.
On the team's road success this season:
I think it's just being patient. Starting on time, have a good start in the first period, you know. Just be patient, stick with it no matter what's going on out there and just stick with the plan and play hockey.
On his goal meaning more after his comeback from injury this summer:
Yeah, but it's a regular goal. It's a goal like any other.
MORGAN RIELLY (5 SHOT ATTEMPTS)
On the 60-minute effort tonight:
I think we were solid defensively. We played a good team game for 60 minutes, nothing flashy. They have a lot of offense on that team so that was a main focus for us.
On shutting down Calgary's top line:
Just taking away their time and speed. They are pretty creative when they get across the blueline. They start making plays when they get space so it's important that we focus on defence and we make sure we know who we're out there against. That's a couple really good players on the same line so they can do some damage.
On the team's strong start:
I think it was good, I think we came out and knew what we wanted to do. We knew we had to start better. That was part of our previous games that we talked about that we needed to improve and I think we did that tonight.
NIKITA ZAITSEV (1 GOAL)
On his goal:
I was just trying to shoot it. I was pretty close to the net and in a good spot. I was lucky that I scored.
On if he was looking to score when he initially got the puck before his goal:
I was trying to handle it because the puck was bouncing. I was just handling it for five minutes.
On what went well defensively tonight:
I think when we're structured in the D-zone and everyone is in their spots and we're all together, it's pretty hard to play against us.
On Polak's goal:
Great goal, really fast shot. He did what they ask from us, which is just shoot the puck fast. He gets the rebound and it's a goal.