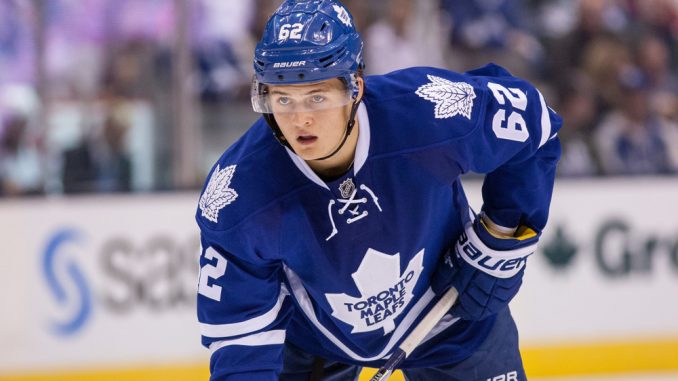 Toronto Maple Leafs blank Edmonton Oilers 1-0. Here is the summary for the game played on Sunday, December 10, 2017
| | | | | | |
| --- | --- | --- | --- | --- | --- |
| | 1 | 2 | 3 | OT | FINAL |
| EDMONTON | 0 | 0 | 0 | 0 | 0 |
| TORONTO | 1 | 0 | 0 | 0 | 1 |
GAME SUMMARY | EVENT SUMMARY | FACEOFF SUMMARY

ON THE SCORESHEET
Zach Hyman put Toronto on the board with a goal at 0:34 of the first period. Hyman's goal is the fastest to start a game by the Maple Leafs this season.
Jake Gardiner had the primary assist on Hyman's first period goal. Gardiner's assist is his 10th primary assist of the season, which leads the Maple Leafs.
William Nylander picked up the secondary assist on Hyman's first period goal. Nylander has four points (1 goal, 3 assists) in two games against Edmonton this season.
Curtis McElhinney stopped 41 shots to earn his first shutout of the season. McElhinney's 41 saves are a new season-high (Previous: 38 – Nov. 11 at Boston).
SHOTS FIRED
The Maple Leafs were outshot by the Oilers by a 41-23 margin in all situations and a 26-21 margin at 5-on-5.
Edmonton had an 89-47 lead in shot attempts in all situations and a 61-39 lead in shot attempts at 5-on-5
Patrick Marleau led the Maple Leafs with four shots on goal and six shot attempts.
SHOTS ON GOAL
| | | | | |
| --- | --- | --- | --- | --- |
| | 1st | 2nd | 3rd | TOTAL |
| EDMONTON | 6 | 19 | 16 | 41 |
| TORONTO | 11 | 7 | 5 | 23 |
SHOT ATTEMPTS
| | | | | |
| --- | --- | --- | --- | --- |
| | 1st | 2nd | 3rd | TOTAL |
| EDMONTON | 18 | 33 | 38 | 89 |
| TORONTO | 18 | 17 | 12 | 47 |
HOME SWEET HOME
The Maple Leafs are 10-5-0 at home this season.
Toronto's all-time record is 49-42-8-1 in 100 games against the Oilers and 28-17-2-0 in games played in Toronto.
Toronto is 10-5-0 against the Western Conference this season and 7-4-0 against the Pacific Division.
The Maple Leafs are 3-2-0 in the second leg of back-to-backs.
Tonight's attendance is 19,486.
Toronto will take to the road again when they visit the Philadelphia Flyers on Tuesday, Dec. 12 at 7:00 p.m.
MAPLE LEAFS LEADERS
| | |
| --- | --- |
| Faceoff Wins | 9 (Kadri) |
| Faceoff Win Percentage | 100% (Brown – 1 won, 0 lost) |
| Hits | 4 (Polak) |
| Blocked Shots | 4 (Hainsey, Polak) |
| Takeaways | 3 (Marleau) |
| TOI | 23:08 (Zaitsev) |
| Power Play TOI | 2:20 (Kadri) |
| Shorthanded TOI | 5:53 (Hainsey) |
| Shifts | 27 (Gardiner, Zaitsev) |
| 5-on-5 Shot Attempt Percentage | 66.7% (Moore – 16 for, 8 against) |
RECORD WHEN…
The Maple Leafs were 4-for-4 on the penalty kill and 0-for-2 on the power play tonight. Toronto is 12-3-1 when not allowing a power play goal this season and 10-6-1 when not scoring a power play goal.
Toronto is 16-4-0 when scoring the first goal of the game.
The Maple Leafs are 10-2-0 when leading after one period and 12-0-0 when leading after two periods.
Toronto has a 14-5-0 record when outshot by their opponent.
The Maple Leafs are 1-0-0 in Sunday games.
OF NOTE…
Jake Gardiner was on the ice for a team-high 19 Toronto shot attempts-for at 5-on-5 in tonight's game. Gardiner finished the game with a 5-on-5 shot attempt percentage of 45.2 percent (19 for, 23 against).
Nazem Kadri was 9-for-13 (69%) in the faceoff circle when matched up against Edmonton centre Connor McDavid.
Patrick Marleau skated in his 1,524th career NHL game tonight to move into a tie with Brendan Shanahan for 16th on the NHL's game played list.
UPCOMING GAMES:
Tuesday, Dec. 12 at Philadelphia Flyers, 7:00 p.m. (TSN4, FAN 590)
Thursday, Dec. 14 at Minnesota Wild, 8:00 p.m. (Sportsnet Ontario, TSN 1050)
Friday, Dec. 15 at Detroit Red Wings, 7:30 p.m. (TSN4, FAN 590)
Tuesday, Dec. 19 vs. Carolina Hurricanes, 2:00 p.m. (Sportsnet Ontario, FAN 590)
Wednesday, Dec. 20 at Columbus Blue Jackets, 7:30 p.m. (Sportsnet, TSN 1050)
POSTGAME QUOTES:
HEAD COACH MIKE BABCOCK
On finding a way to win tonight:
It started by scoring first, obviously. We played a few players a lot of minutes last night and [Edmonton] got away on the other team early last night. We knew we had to start on time and we did. I thought our goaltender was really good, our penalty killing was outstanding and, in the end, we spent too much time in our own zone. But, it's a big night on a back-to-back and a big win for us.
On being 5-0-0 without Matthews in the lineup:
We're not trying to have him out of the lineup, but it's nice we can win without him. He's got an upper-body whatever and I think he'll be ready to go, but I'm not 100 percent sure so we'll just go with the trainers. We expected him here tonight, but it'll just be on how he feels.
On how Nylander fared at centre tonight:
I thought he did good, I thought he started really good. He got an assist on the game-winning goal and I thought he skated really good. I think when you haven't played centre in a while and your first game is a 1-0 game, it's going to be tense the whole third period and it's not the easiest one to play in. You'd rather play in a 5-0 game and cruise around and play on offence. I thought he did good, his wingers can obviously really help there, but I thought he did good. He wasn't involved in anything negative I guess is what I would say to you. So, good for him. He wanted to play – I gave him the option of whether he wanted to play the wall or play in the middle, he wanted to play in the middle, we gave him a chance and I think that's a good thing.
On watching Connor McDavid:
It's real good, obviously. He's a talented, talented guy, he can flat-out fly. Let's be honest, they've got a very talented team. They've got lots of players out there, lots and lots. Their centre ice has got to be as good as anybody in the National Hockey League, doesn't it? They look like a real good team to me.
On the 5-on-3 penalty kill:
They missed some shots, we had good goaltending. Our guys did a good job. I didn't like the 5-on-3 call, you've got to be sure when you put a guy down 5-on-3, but that's life.
RON HAINSEY (5:53 SHORTHANDED TOI)
On killing off a two-minute 5-on-3:
Well, you're probably going to give up something, which eventually we did. I think it was Draisaitl who got the direct point shot there that had a good chance, but that's better than a backdoor play or a one-timer in the slot. Eventually good players like that are going to get a chance or two, but for the most part we didn't allow anything through the seam on us backdoor, which is kind of an automatic unless your goalie – not that [McElhinney] didn't play incredible, he did – unless he makes some incredible save, you're in trouble. For the most part, we kept them to the outside and did okay.
On McElhinney providing good goaltending:
It was probably better than good. The second and third period we allowed them to come through our neutral zone with way too much speed and he had to make a bunch of great saves because of that. Really a tremendous performance from him.
On defending McDavid on a 5-on-3:
It's time to retreat for the most part on that one. If you're flat-footed – you can just see his ability with the puck is – it kind of stands alone right now. He's got his head up with the puck and he can seem to get a little faster. That's tough. Try to keep him to the outside and hope for the best.
ZACH HYMAN (1 GOAL)
On scoring the game winning goal:
It's tough to say, you have a whole game ahead of you after that. I think it was 30 seconds in we scored and you want to keep the gas on them and it ends up being a 1-0 game. Mac played unbelievable, big reason why we won.
On whether or not he knew he got a piece of Jake's shot:
I thought I did because my stick felt like it broke and then I check on the bench and it had a crack in it so I switched it out but to me it doesn't matter, it was just a big goal to start the game.
On the 5-on-3 penalty kill:
Oh yeah, anytime you kill off a two minute 5-on-3 you get a momentum boost. With Leo [Komarov], [Hainsey] and [Zaitsev] were almost out there for two minutes so it's huge for us.
On McElhinney's shutout:
I think he's being doing it a long time. He's a veteran guy who does his job every night. Great win for us and great win for him. He couldn't have played any better.
On McElhinney's save on McDavid breakaway:
I think we had a power play so it was important to stop that PK chance. McDavid is a great player so big save.
CURTIS McELHINNEY (41 SAVES, SHUTOUT)
On tonight's win:
It's great. Obviously, it's nice to see the first shot go in for the team and get a lead. You're up 1-0 right away so it was kind of a tight game after that. They poured it on in the second pretty good. I've got to give credit to the killers who were out there on the 5-on-3. They just did a tremendous job keeping those guys at bay.
On if the posts that were hit tonight were the result of good positioning:
Of course, that's what a goalie would say. Sometimes you get lucky and tonight I think there was about four of them. I'll take those breaks. Obviously, my last game was a tough one for me so this is a nice bounce-back game.
On facing McDavid:
Obviously, you can see him coming a mile away. When he's 200 feet away and starts building speed it's just like a freight train coming. You know he has the ability to dipsy-doodle and walk right through guys, it's pretty impressive. I don't think I've seen anyone else like it. I think it's one of those things. Thankfully I don't have to go 200 feet with him, I've just got to match him the last little way and I did it tonight.
On stopping McDavid on a poke check in the first period:
I probably surprised myself more than anyone. I think if he gets on the other side of that net he's probably going to score. It's just one of those things, it's a desperation move at that point playing it with Hainsey. It worked out.
On how he felt tracking the puck:
I felt great. The back-to-backs are always tough, sometimes there's not a morning skate so you're kind of left to your own devices. I got a good skate in by myself and things felt pretty good overall.
On starting the second game of a back-to-back:
It certainly has its challenges but it's one of those things, having been here for almost a year now, I'm pretty familiar with it. I've kind of got the hang of it I think.
On stopping McDavid on a shorthanded breakaway:
Two-hundred feet away you can just kind of see him sneaking around the far blueline there, building up speed. It's just one of those things where you're trying to match and stay with him and hopefully he doesn't deke you out of your pants.