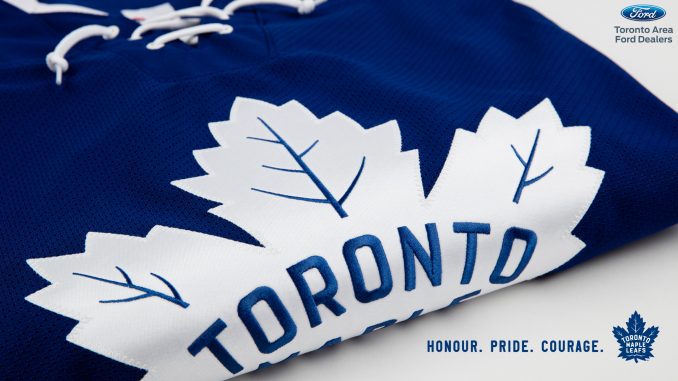 Toronto Maple Leafs blank Florida Panthers 1-0. Here is the summary of the game played on Tuesday, February 20, 2018
| | | | | | |
| --- | --- | --- | --- | --- | --- |
| | 1 | 2 | 3 | OT | FINAL |
| FLORIDA | 0 | 0 | 0 | – | 0 |
| TORONTO | 1 | 0 | 0 | – | 1 |
GAME SUMMARY | EVENT SUMMARY | FACEOFF SUMMARY

ON THE SCORESHEET
James van Riemsdyk opened the scoring for the Maple Leafs at 19:31 of the first period. He has points (2-1-3) in three consecutive games. The Maple Leafs are 16-6-2 when van Riemsdyk scores a goal this season.
Tyler Bozak recorded the primary assist on van Riemsdyk's first period goal. Bozak has assists (3) in three consecutive games. Toronto is 14-3-1 when Bozak registers an assist.
Jake Gardiner picked up the secondary assist on van Riemsdyk's first period goal. Gardiner's assist is the 200th point of his NHL career. He is the 13th defenceman in Maple Leafs history to record 200 points with the franchise.
Frederik Andersen
stopped 40 shots to earn the shutout victory. Andersen's shutout is his fifth of the season, which is tied for the second most in the NHL.
SHOTS FIRED
The Panthers had a 40-31 lead in shots on goal in all situations and a 32-27 edge in shots on goal at 5-on-5.
Florida had a 70-61 lead in shot attempts in all situations and an 56-54 lead in shot attempts at 5-on-5.
Six Maple Leafs registered three shots on goal.
Patrick Marleau recorded a team-high eight shot attempts.
SHOTS ON GOAL
| | | | | | |
| --- | --- | --- | --- | --- | --- |
| | 1st | 2nd | 3rd | OT | TOTAL |
| FLORIDA | 13 | 12 | 15 | – | 40 |
| TORONTO | 11 | 15 | 5 | – | 31 |
SHOT ATTEMPTS
| | | | | | |
| --- | --- | --- | --- | --- | --- |
| | 1st | 2nd | 3rd | OT | TOTAL |
| FLORIDA | 18 | 23 | 29 | – | 70 |
| TORONTO | 26 | 27 | 8 | – | 61 |
HOME SWEET HOME
The Maple Leafs are 20-8-2 at home this season.
Toronto's all-time record is 40-32-7-3 in 82 games against the Panthers and 22-15-2-1 in games played in Toronto.
Toronto is 20-12-3 against the Eastern Conference this season and 10-5-1 against the Atlantic Division.
Tonight's attendance is 18,961.
The Maple Leafs continue their homestand on Thursday, February 22 when they host the New York Islanders at 7:00 p.m.
MAPLE LEAFS LEADERS
| | |
| --- | --- |
| Faceoff Wins | 10 (Bozak) |
| Faceoff Win Percentage | 100% (Hyman – 4 won, 0 lost) |
| Hits | 3 (Kapanen) |
| Blocked Shots | 4 (Zaitsev) |
| Takeaways | 2 (Marner) |
| TOI | 22:59 (Zaitsev) |
| Power Play TOI | 2:19 (Marner) |
| Shorthanded TOI | 2:48 (Hainsey) |
| Shifts | 29 (Zaitsev) |
| 5-on-5 Shot Attempt Percentage | 68.9% (Kapanen – 11 for, 5 against) |
RECORD WHEN…
The Maple Leafs were 2-for-2 on the penalty kill and 0-for-2 on the power play tonight. Toronto is 23-10-4 when not allowing a power play goal this season and 17-13-4 when not scoring a power play goal.
Toronto is 30-5-3 when the scoring the first goal of the game.
The Maple Leafs are 23-3-0 when leading after one period and 25-1-2 when leading after two periods.
Toronto has a 23-11-2 record when outshot by their opponent.
The Maple Leafs are 4-2-0 in Tuesday games.
OF NOTE…
Toronto won 83 percent (24 won, 5 lost) of their defensive zone faceoffs.
Tyler Bozak was 6-for-6 on the draw when matched up against Florida centre Jared McCann.
Patrick Marleau skated in his 1,555th career NHL game to move past Jarome Iginla for sole possession of 12th on the NHL's all-time games played register.
Auston Matthews won 67 percent (6 won, 3 lost) of his faceoffs when matched up against Florida centre Aleksander Barkov.
Nikita Zaitsev was on the ice for a team-high 27 Toronto shot attempts-for at 5-on-5. Zaitsev finished the game with a 5-on-5 shot attempt percentage of 58.7 percent (27 for, 19 against).
UPCOMING GAMES:
Thursday, Feb. 22 vs. New York Islanders, 7:00 p.m. (TSN4, FAN 590)
Saturday, Feb. 24 vs. Boston Bruins, 7:00 p.m. (Hockey Night in Canada, FAN 590)
Monday, Feb. 26 at Tampa Bay Lightning, 7:30 p.m. (Sportsnet Ontario, TSN 1050)
Tuesday, Feb.27 at Florida Panthers, 7:30 p.m. (TSN4, FAN 590)
Saturday, March 3 at Washington Capitals, 8:00 p.m. (Hockey Night in Canada, TSN 1050)
POSTGAME QUOTES:
HEAD COACH MIKE BABCOCK
On if he thought the team gave up a lot of shots while maintaining structure:
Yeah, but I also think we gave up shots because we're ahead. I thought it was an even game, I thought their team played hard. I thought their goalie was good, I thought our goalie was good. We both had some good opportunities. Their good guys are good players on that team, both on the back end, in net and up front. I thought it was a good game.
On Andersen's growth this season:
I think a huge part of it is fitness. He did a real nice job this summer and so he's just building off of confidence. I think last year, if I'm not mistaken, was the first time he's ever really been the starter. So, you go through that and you get comfortable and you get comfortable with your teammates and it just goes from there. The other thing, I think our team plays really well in front of him.
On van Riemsdyk's recent play:
I thought today was one of his better games, for sure. James has an ability to score. Is that four or five game-winners with the shootout, if you count the shootout? I think it is. It's ridiculous. The other thing about him is I thought in our last game he back-checked, he competed, he won some loose puck battles. We always encourage him to do more. I think he can do more, he's got a big body, he's got a skill set, and just get to the net. Last game, again, he scored there just by getting to the net. The guy should have boxed him out and didn't, he got to the net and it hit him in the chest or whatever it did across in front. Today, I mean, that's a good goal. One [Luongo] would like to have back – Lu made tons of good saves – he would have liked to have that one back. That's what James seems to do, he just gets it in. Other guys, as you see, don't.
On Kapanen's speed:
Obviously, he can really skate. Him and [Dermott] are trying to figure it out, trying to figure out when to make a play and take care of the puck and when you can't lose your position. It's not going to help them to play in the American League anymore, they're going to learn that when guys are – when they're on the wrong side of things and doing that. I thought his speed showed and I think [Dermott] made lots of good plays and then sometimes it was like, 'What happened there?' That's part of being a kid.
On if keeping van Riemsdyk beyond the trade deadline is an easy decision:
I don't think anything is an easy decision. We've talked about this a bunch, you always have this plan but your plan can always change. It depends on what people want. There's lots of times you're going through and not planning on doing anything and you end up doing something. We don't really know, in the end, what's available and what we could pursue either. The way I look at it is, instead of worrying about that stuff, you just keep playing good and give ourselves the best opportunity. Then, whatever is best for our team, Lou will do.
On if it's a luxury to be able to manage van Riemsdyk's minutes:
I think what we tried to do even tonight is their big guys played more than our big guys. We're trying to have a four-line team, that's what we're trying to do. At crunch time we might have to do something a little different, but right now I think it's important. He plays on the power play, he's playing with [Bozak], they're playing regular, but we're trying to play our fourth line. We could play them more and not play the fourth line, but I think our fourth line is good.
FREDERIK ANDERSEN (40 SAVES)
On earning his 30th win:
It's great. Obviously, if you play well and have a good team in front of you, you're going to be in this position and when you play a lot, you're going to get a lot of wins. These are always fun. The game was tough from the beginning. I think the ice was a little tough, it seemed to bounce off the guys sticks and could be a low-scoring game where the chances weren't really coming that often. I had to be sharp.
On the defensive effort in front of him:
Very structured. I think given the fact everyone knew it could be low-scoring, I think we settled in and made sure we played tight defensively. Everyone was blocking shots, even [Matthews] at the end there, probably felt a little guilty about some comments earlier today.
On Luongo saying he was among the upper-tier of goaltenders in the NHL:
It's nice. Obviously, he has been around for a long time and seen a lot of good goalies. That's cool to get some praise from him. Other than that, it doesn't mean too much at this point. You want to keep pushing and keep playing well.
JAKE GARDINER (1 ASSIST, 200th CAREER NHL POINT)
On Andersen's performance in 1-0 shutout:
Yeah, he was unbelievable, had some huge saves. Made every save when you needed him to. He's been good all year, just shows tonight he's got confidence right now and is playing well. He makes it pretty easy for us.
On Andersen's play this season:
He's been great all year. Any team going into the playoffs seems to have a great goaltender and that's what we have here so it's good.
On how calm Andersen's remains during these close games:
I don't know if I've ever seen him not calm. He makes it easy for us. Plays the puck great, just real solid tonight.
On if Andersen has elevated his game:
Yeah, I think he's gotten a lot more comfortable and starting to have more of a leadership role and be more vocal. He's a quiet guy, but I think he's being more vocal this year and playing tremendous.
On if there's a reason for the team's success in one-goal games:
It starts with Freddie, that's always key. The group last year tended to give away leads a lot more than we did this year and I think we've learned from that. Our decision-making is a lot better in those high-risk areas.
JAMES van RIEMSDYK (1 GOAL)
On Andersen's play tonight:
He made some big stops for us, it's the difference in the game for sure. I thought both teams played pretty well. They made some pretty good little plays up and down the ice and were able to create a lot of chances off of that. I thought, again, we played hard, tried to make it as hard as possible on them and then Freddie was there to make the saves when we need him too.
On if he had any notion that his goal would be the lone goal tonight:
Not necessarily, that's just how it goes sometimes. Both goalies played pretty well and we're happy to come out on top.
On seven straight wins at home:
I think when you're playing at home you're sleeping in your own bed and comfortable within your routine. You're able to prepare consistently day-in and day-out to have success and obviously we've been on a pretty good run here.
On if he has seen Andersen elevate his game:
With him I think the biggest thing is he wants to get better every single day and he's always looking for an edge. When you have that kind of attitude with his skillset that he has, he's going to get better and better every day and every year. We're lucky to have a guy like that. He's a huge part of our team.