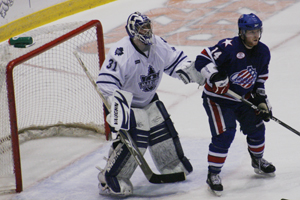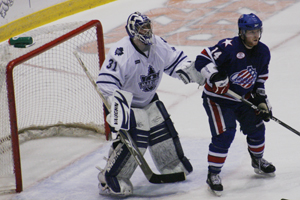 The Toronto Marlies put forth a lacklustre effort on Saturday afternoon as Mike York and Clay Wilson each had two goals and an assist to pace the Rochester Americans in a 7-3 victory in front of 4,308 fans at Ricoh Coliseum.
Victor Oreskovich, David Brine and Jamie Johnson also scored for the Americans (40-31-2). Forward Jeff Taffe also had a big night picking up three assists, while Johnson also added a couple of helpers as well.
The Marlies (30-32-11) who had their season-best five-game winning streak snapped with a 4-0 loss in Syracuse on Friday night have now lost two in a row and also missed opportunities to pick up points on the idle Manitoba Moose. With seven games left, the Marlies remain five points behind the Moose for the final playoff spot.
"We took too many penalties," said Marlies centre Justin Hodgman who scored the first goal of the game.
"And the coach was saying that between periods that they're opportunist team and they capitalize on their chances when they get them. I think we made too many mistakes and they're a good team, they the scored goals when we made mistakes."
Marlies forward Andre Deveaux also thought his team made too many mistakes but was quick to deflect the blame away from the goalies.
"You can't really blame Macs (MacDonald) or Reims (Reimer) for that one. A lot of the goals were backdoor or rebound and he didn't really have a chance on any of them. I think defensively we made a few mistakes and they were very opportunistic tonight."
The game started out well for the Marlies as Hodgman skated out from behind the net and put the puck past Americans goalie Tyler Plante to give Toronto the early 1-0 lead. Juraj Mikus and Greg Scott drew assists on the power-play goal.
The lead was short-lived as Rochester evened the game 41 seconds later when former NHLer York tapped the puck in past Joey MacDonald after a scramble in front of the Marlies net.
The play was chippy in the first period as both teams were checking very close and delivering big hits. This resulted in lots of pushing and shoving after whistles and both teams were penalized for roughing minors.
Late in the first period, while on a power-play York backhanded the loose puck along the boards to Jamie Johnson in the corner who fired a quick pass to Oreskovich for the tap-in past MacDonald to put the Americans up 2-1.
Just 18 seconds later, Rochester caught the Marlies napping and were in on a partial 2-on-1 break, John-Scott Dickson passed the puck off to Brine who was stopped on the initial shot but managed to bang in his own rebound to put the Amerks up 3-1 after the first period.
The Marlies got back into penalty trouble early in the 2nd period. Just seconds into a Rochester power-play, a Wilson point shot found its way past MacDonald to extend Rochester's lead to 4-1.
A couple of minutes later the Marlies responded with a power-play goal of their own when Foster delivered a diagonal cross-ice pass to Mikus who fired the puck past Plante to close the gap to 4-2. Marlies defenceman Simon Gysbers collected the other assist and picked up his first career AHL point.
Just before the halfway point of the game, Rochester made it 5-2 when Wilson, at the top of the right faceoff circle, drew MacDonald out of the net and delivered a pass to an open York on the left side who put the puck into the empty cage.
Both teams traded late power-play goals in the 2nd period with Ryan Hamilton scoring for Toronto and Wilson scoring his second of the game for Rochester. The Marlies found themselves down 6-3 after 40 minutes despite outshooting their opponent 24-18.
MacDonald was pulled after the 2nd period and James Reimer started the 3rd period for the Marlies.
"It's one of those games," said MacDonald. "We weren't clicking like we are on most nights. I wasn't as good as I was the last three or four games. And I thought the D wasn't as good and the forwards weren't good."
"We just got to come out with a little more desperation, getting pucks to the net and our penalty killing is got to be better. That was the difference tonight, that's how you win/lose games at this time of year."
The change of goalies didn't stop the Americans as they tested Reimer early and with Reimer out of position after being knocked down by a teammate, Johnson pounced on a loose puck and fired it into the net to make it 7-3.
The goal put the game out reach as Rochester continued their mastery over Toronto this season. The Marlies have yet to defeat the Americans posting a dismal 0-5-1-0 record.
Plante stymied Toronto shooters once again as he made 32 saves on 35 shots for his fourth victory over Marlies this season. MacDonald had a poor game as he let in 6 goals on 18 shots, while Reimer stopped 3 of 4 shots in relief.
Every Game is Now a Must Win

Essentially the playoffs have already begun for the Marlies who are trying to make a push for the post-season. Every remaining game is a now a must win and there is very little room for error in their final seven games of the season.
"Absolutely," said Hodgeman. "I think we've been resilient all year and we need to keep putting up wins in this playoff race so I'm sure we will come out just as hard tomorrow as we have been in the past few games."
"We're right there," said MacDonald. "We let a couple of big points in the last couple of games there slide but we're still right in it right now. Like I said tomorrow (tonight) is huge, we got to come out and win and build on it for the next weekend."
Toronto has very little time to dwell on the loss as they head right back on the road for a rematch this afternoon in Rochester at 3pm.
"A loss isn't good for us right now," said Deveaux. "At the same time, the guys have shown character all year we're going to refocus tomorrow and forget about this one and just get back at them."
Game's Three Stars
1)
Americans defenceman Clay Wilson
2)
Americans forward Mike York