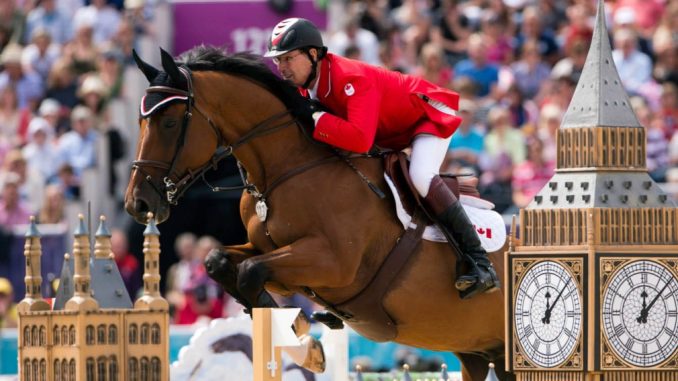 Ten-time Olympian, Ian Millar of Perth, Ontario, announced his retirement from international show jumping competition.
"It's hard to put into words what Ian Millar means to the sport of show jumping in Canada," said EC Director of Sport, Jon Garner. "Right from the early days of his career, he transcended the sport and quickly became a household name from coast-to-coast. You don't have to be a horse fan to know who Ian Millar is and what he means to Canadian sport."
Millar's accomplishments on the world stage are too numerous to list in full. A 10-time Olympian, he holds the world record for the most Olympic Games appearances of any athlete, in any sport. This includes his 2008 appearance, where, partnered with In Style, he helped the Canadian Show Jumping Team bring home the silver medal from the Beijing Olympics.
In addition, Millar has 10 medals from the Pan American Games to his credit, including two individual two team gold, and has earned a record 12 Canadian Show Jumping Championship titles and amassed over 150 grand prix wins. Millar is also a three-time winner of the coveted CP International Grand Prix at Spruce Meadows, including the $1.5 Million edition, presented by Rolex, in 2014 aboard Dixson. In fact, Millar has won over $3.5 million at the prestigious Spruce Meadows venue alone.
A staple of the Canadian Equestrian Team since the 1970s, Millar became a household name with his legendary partner Big Ben. Together, they dominated the international show jumping scene for two decades, winning everything from back-to-back FEI World Cup Finals indoors (1988 and 1989) to grand prix derbies in big outdoor fields (including the CP International at Spruce Meadows in 1987 and 1991).
"Representing Canada many times over my career has been my greatest honour," said Millar. "Each time I wore the red team jacket was very special to me, and the fact that I was able to share this experience with so many great riders is a testament to the quality of horsemen and horsewomen here in our country."
A well-respected horseman at home and around the world, Millar was made a Member of the Order of Canada in 1986 and together with Big Ben, was inducted into the Canadian Sports Hall of Fame in 1996. He was also presented with an honourary doctorate from the University of Guelph in 2005 and joined the Ontario Sports Hall of Fame in 2013. Millar's extraordinary career was also honoured by EC with the Gold Medal Award for 2018.
While Millar may be stepping down from international competition, his love for the sport and horses is second to none, and he will remain as involved as ever. At the age of 72, he continues to be enthusiastic about coaching and developing young horses, stating, "Over the past few years, I have found myself more and more drawn toward working with young horses and riders, and I am excited to expand my coaching to share my knowledge and passion with the next generation."
Garner added, "We are proud and grateful to have Ian's involvement in several athlete development programs that will allow equestrians, from the grassroots to the world stage, to benefit from his incredible depth of knowledge and talent. While his retirement from international competition changes the face of the Canadian Show Jumping Team, there is an opportunity for the next generation of team athletes who grew up in the sport with Ian as their icon, to ride under the maple leaf with similar pride."