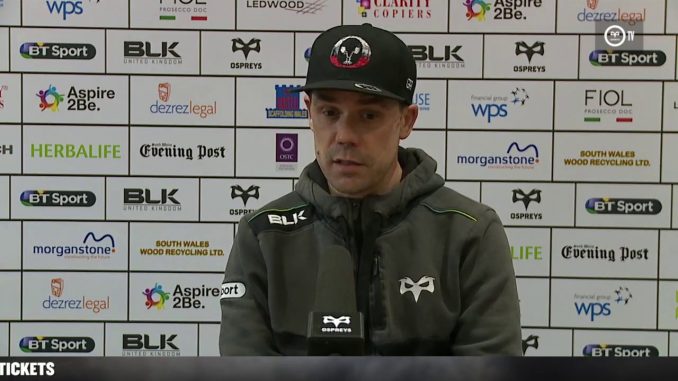 New Cardiff Blues academy manager Gruff Rees says he hopes to help Canada qualify for the 2019 World Cup in Japan after taking on a part-time role with the Canucks.
Rees was recently appointed to his new Blues' role for the 2018-19 season.
The former Ospreys attack coach will join fellow Welshman Kingsley Jones' Canadian back-room staff.
"Being involved in a World Cup is something all coaches aspire to," said Rees.
"To try and go to a World Cup is a huge carrot for me as a coach, but more importantly the Canadian players."
Canada are facing a battle to maintain their record of qualifying for every World Cup having missed out on the two automatic America spots, to Uruguay and USA.
Jones' side will now face three other nations in November in the repechage to claim the 20th and final place.
If they succeed, they will be in a group alongside title-holders New Zealand, South Africa, Italy, and the top African side, probably Namibia.
The three other repechage contenders, alongside Canada, have yet to be confirmed. It will be the loser of a two-legged play-off between Samoa and Germany, the winner between Hong Kong and Cook Islands and the second African qualifier.
The quartet will contest a round-robin tournament in France in November 2018 with the winner going to Japan.
Rees has seen Canada suffer a miserable few weeks where they have lost to Scotland, Russia and USA.
"Kingsley gave me a call at the end of April and asked whether I would be interested in doing a block of games this summer," said Rees.
"Coming on the back of the 12 months I have just had, I found it refreshing to work with a new willing group of players.
"It is hugely challenging because they are probably at one of the lowest points they have been.
"Kingsley is under-resourced because he is the only full-time technical coach on the staff.
"Despite the last couple of results, we feel as if we are making some headway towards the autumn period which is crucial."
Blues is Rees' 'main job'
Rees joined the Blues following 13 years at the Ospreys, where he had been backs coach since 2012.
As part of his new role with the Blues, he will oversee the age-grade sides and the new development team which will be in place for next season.
Rees insists his new Canada role will not compromise his permanent Blues position with him being involved with Canada for a few weeks a season.
"My main job is with the Blues and I am passionate about that," said Rees.
"It is something I have spoken to the Blues about and it keeps my coaching eye in.
"This is something that will improve me as a coach and a manager."