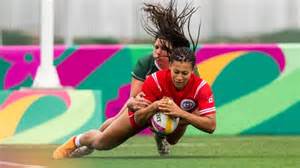 Canada's rugby sevens teams opened the Pan American Games with convincing victories on Friday.
The Canadian women crushed Mexico 54-0, while Canada's men beat Uruguay 31-0. Each team won gold last time out in Toronto in 2015.
Emma Chown of Barrie, Ont., Victoria's Caroline Crossley and Tausani Levale of Abbotsford, B.C., each had two tries for the Canadian women against Mexico.
Admir Cejvanovic of Burnaby, B.C., and Nathan Hirayama of Richmond, B.C., had two apiece for the Canadian men.