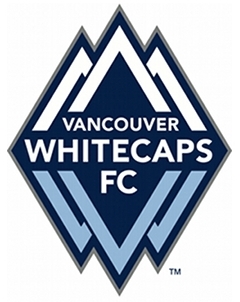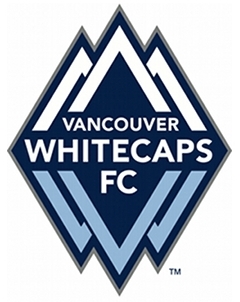 Looking to win their first Voyageurs Cup title, Vancouver Whitecaps FC (1W-0L-2D) are in Southern Ontario to face Major League Soccer rivals Toronto FC (2W-0L-1D) in the decisive second leg of the 2011 Nutrilite Canadian Championship (NCC) final at BMO Field on Saturday morning.
Tom Soehn's side are preparing to face The Reds for a second time in three days after both sides clashed in MLS action at BMO Field on Wednesday night, with TFC avenging a season-opening loss to the 'Caps with a 1-0 home win. Both clubs will settle this year's Voyageurs Cup title in this replayed contest after the original second leg at BMO Field on May 25 was abandoned due to unplayable field conditions, with Whitecaps FC having led the match 1-0 at the time.
Per competition rules, the second leg must be replayed in its entirety on Saturday, with the final well poised at 1-1 on aggregate following the first leg at Empire Field on May 18. Whitecaps FC need to score at least once in the second leg to cancel out TFC's away goal from the first leg in Vancouver and boost their chances of winning the four-club competition. The 2011 NCC winners will then face Nicaragua's Real Esteli FC in the Preliminary Round of the 2011-12 CONCACAF Champions League (CCL) on Wednesday, July 27, and Tuesday, August 2. Real Esteli qualified for the CCL after a 3-2 aggregate success over Deportivo Walter Ferreti in the two-leg Nicaraguan Primera Division 'Clausura' final back in May.
Saturday's Nutrilite Canadian Championship final, second leg, between Whitecaps FC and Toronto FC from BMO Field in Toronto, Ontario, kicks off at 9:30 a.m. PT and is live on Rogers Sportsnet ONE and sportsnet.ca. 'Caps fans can also listen to Saturday's match live on TEAM 1410 radio and teamradio.ca, starting with the pre-game show at 7:30 a.m. PT. TEAM 1410 will also have a two-hour post-game show.
NUTRILITE CANADIAN CHAMPIONSHIP
Unlike the first three editions of the competition – in which Whitecaps FC, Toronto FC, and Montreal Impact contested the Voyageurs Cup in a round-robin format – this year's competition has been contested by four Canadian clubs. Vancouver, Toronto, and Montreal were joined by FC Edmonton, who are playing their inaugural season in the second-tier North American Soccer League. As a result, the tournament was modified to a home-and-away semifinal stage followed by a home-and-away championship final series. In the semifinals, Whitecaps FC needed extra time to defeat Montreal 2-1 on aggregate, while Toronto FC made easy work of FC Edmonton with a 4-0 aggregate victory. As the highest-seeded team in the final, Toronto FC chose to open the final in Vancouver before hosting the second leg in Toronto.
During this two-match final series, if both clubs are level on aggregate over the two games, the 'Away Goals' rule will be used to determine the series winner (ie: the club that scores the most goals on the road over the two games). If the 'Away Goals' rule does not produce a result (ie: both teams have scored the same number of goals at home and away), then two 15-minute periods of extra time will be played at the end of the second leg. If, during extra time, both teams score the same number of goals, the visiting team will win the series on the strength of the number of 'Away Goals' they have scored in the extra-time period. If no goals are scored during extra time, the series will then be determined with a penalty shootout.
The winners of the 2011 Nutrilite Canadian Championship not only claim the Voyageurs Cup and bragging rights as Canada's top club, they will also represent Canada in the 2011-12 edition of the CONCACAF Champions League, where they will play the top clubs in North America, Central America, and the Caribbean. The winners of the 2011-12 CONCACAF Champions League title will then represent the confederation at the 2012 FIFA Club World Cup.
WHITECAPS FC
Soehn's decision to play a younger line-up in Wednesday's league defeat at TFC underlined the importance of Saturday's match to the Blue and White, as a couple key players earned a rest to recover from injuries in order to be ready for this weekend. Whitecaps FC fans will not only anticipate a stronger looking line-up for the second leg, but an improved performance as well. Despite dominating possession in Wednesday's league game, Whitecaps FC struggled to test TFC goalkeeper Stefan Frei during the league contest.
The 'Caps look to have some options available for Saturday's game, as captain Jay DeMerit (groin) and fellow defender Alain Rochat (quad) are listed as probable for the second leg after the pair missed Wednesday's match. Centre back Mouloud Akloul (hamstring) remains questionable, while the club are still without midfielders Davide Chiumiento (hamstring) and John Thorrington (calf), as well as striker Atiba Harris (knee).
TORONTO FC
In a season that has seen many setbacks for TFC, Wednesday proved to be a good day for Southern Ontario outfit. Not only did they end their nine-match winless run in MLS with Wednesday's result over Vancouver, they also unveiled two new Designated Players in former German World Cup star Torsten Frings and Dutch striker Danny Koevermans. Both players are expected to have a positive impact on a struggling Reds side once they are eligible to play for their new club on July 15.
As for TFC's quest to win a third-straight Voyageurs Cup title, the long list of injuries that Aron Winter's side have had to endure may be clearing up, as several players may be available for the second leg. Midfielders Julian de Guzman and Tony Tchani seem closest to regaining fitness after coming through a full training session with TFC on Canada Day. Centre back Nana Attakora, winger Jacob Peterson, and strikers Alan Gordon and Maicon Santos all jogged and took part in TFC's scrimmage at training on Friday, but the quartet seem not as close to full fitness as de Guzman or Tchani.
HEAD-TO-HEAD
Saturday's NCC final, second leg, will be the 10th all-time meeting between Whitecaps FC and Toronto FC. Before their two MLS clashes this season, the first six meetings came in the last three editions of the Nutrilite Canadian Championship when Vancouver was a North American second division club. Since 2008, Whitecaps FC have amassed a favourable record of three wins, two defeats, and four draws versus TFC. This includes a record of one win, two defeats, and one draw versus The Reds in Toronto.
BLUE & WHITE IN TORONTO
Vancouver's 1-0 defeat at TFC in MLS on Wednesday night took the club's all-time record of results in Toronto to 11 wins, 18 defeats, and four draws. Between 1974 and 2011, the 'Caps have played no less than seven different Toronto-based clubs.
In the days of the North American Soccer League, Whitecaps FC had three wins and six defeats in away matches versus Toronto Metros, Toronto Metros-Croatia, and Toronto Blizzard between 1974 and 1984. In the Canadian Soccer League years of 1987 to 1992, Vancouver had one win, four defeats, and three draws versus the CSL's Blizzard in Toronto, while in the American Professional Soccer League, the club won and lost twice on the road to the Blizzard in 1993 and Toronto Rockets in 1994.
Vancouver's more recent exploits with Southern Ontario opposition came in the form of ex-United Soccer Leagues First Division club Toronto Lynx between 1998 and 2006. Though Whitecaps FC hold the all-time set of results, they recorded four wins and four defeats versus the Lynx in Toronto during that time.
HOME TO COLUMBUS
Following Saturday's NCC decider, Whitecaps FC return home from their extended road trip to host MLS Eastern Conference club Columbus Crew next Wednesday night.