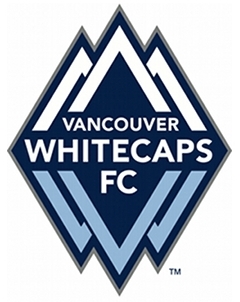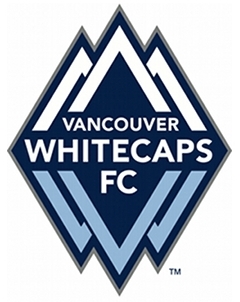 Playing their first league match in the month of July, Vancouver Whitecaps FC (2W-9L-8D) suffered a heartbreaking 1-0 home defeat to Eastern Conference high-flyers Columbus Crew (7W-5L-6D) in Major League Soccer on Wednesday evening.
A 90th-minute strike by substitute Jeff Cunningham earned Columbus a sweep of results against Whitecaps FC in 2011, with the Blue and White suffering their second league defeat on Bell Pitch at Empire Field this season. It was also Vancouver's third straight defeat in MLS and fourth straight setback in all competitions. The loss also ended Vancouver's 100 per cent home record against teams from the state of Ohio (4W-0L-1D). Columbus, meanwhile, have now won four of their last six league matches.
It was a devastating end to an eventful match that saw the home side perform well for much of the contest, but see events turn against them in the latter stages. Vancouver substitute Terry Dunfield missed a second-half penalty before the 'Caps were forced to play the last 13 minutes of the game with ten men after winger Shea Salinas was sent off for serious foul play.
"It is obviously very disappointing," said Whitecaps FC head coach Tom Soehn. "We had a lot of young, fresh legs and for the most part, they did a good job of executing our tactics and keeping them under pressure and creating chances. Yet, you have to finish your chances and then with the energy that we put into the game, we have to reward ourselves. You have to take advantage of them and we didn't. The only important stat on the stat sheet is wins and losses, and they got the goal and we didn't, so we are very disappointed, especially here on our home turf."
Injuries forced Soehn into four changes for this midweek contest, with Wes Knight replacing captain Jay DeMerit in the backline to play at right fullback, while Jonathan Leathers moved to left fullback. Nizar Khalfan and Pete Vagenas replaced Dunfield and Jeb Brovsky in midfield, while Omar Salgado earned his first MLS home start against the club that he made his first league start against on April 30. During the match, Whitecaps FC players were seen wearing armbands in memory of former club owner and long-time season ticket holder, Milan Ilich, who passed away on June 29.
A gorgeous and hot summer's evening greeted an enthusiastic crowd of 19,079 on the Pacific National Exhibition grounds, and they were given plenty to sink their teeth into, as Whitecaps FC and the Crew showed no fears of getting forward and creating chances throughout this midweek contest. The warm weather seemed to lend itself to an open and entertaining first half that saw Whitecaps FC create the majority of scoring chances, while the Crew also posed an equally dangerous threat to break the deadlock.
Visiting Columbus got themselves in great positions to test Whitecaps FC goalkeeper Joe Cannon, but some fine last-ditch defending by the home side restricted the Crew to just one shot on target from seven efforts. Knight did well to correct the mistake he made in giving possession away to Columbus' Robbie Rogers by conceding a corner on 10 minutes, while Leathers made a timely block to stop the Crew's Eddie Gaven striking on target after Rogers neatly put his midfield partner through on goal on 25 minutes.
It was at the other end where Crew goalkeeper William Hesmer was the busier shot-stopper, as he needed to make important saves from 'Budweiser Man of the Match' Camilo and Gershon Koffie, while Salgado was just off target with two good sights of goal from a counter-attack and a Khalfan cross from the left.
Fittingly, a goalless first half ended with chances at both ends. On 41 minutes, Columbus' Designated Player Andres Mendoza had a dangerous shot blocked by a sprawling Koffie in the Whitecaps FC box after the Peruvian forward saw Bernardo Anor's free kick deflect kindly into his path. Then in the one minute of time added on, Salinas was unlucky not to score his first goal for the 'Caps when he struck the post with a low shot after taking a pass from Camilo in the Crew box.
Both teams picked up right where they left off, with more chances created at both ends from the restart. Rogers and Mendoza had early opportunities for the Crew, then on 55 minutes, Columbus midfielder Eric Gehrig missed the target with an unmarked header from Anor's well-struck corner. At the other end, the lively Camilo forced a good reaction save from Hesmer, while Koffie had a couple of solid attempts for the home side.
It was an interesting contest for a goalless scoreline, but on 73 minutes, Whitecaps FC had a great opportunity to take the lead from the penalty spot after match referee Chris Penso adjudged that Columbus midfielder Dejan Rusmir had fouled 'Caps skipper Alain Rochat in the Crew box. Substitute Dunfield stepped up to take the spot kick, but Hesmer guessed correctly and dove to his right to stop the penalty and keep the match scoreless.
Things then took a turn for the worse for Vancouver, as they were reduced to ten men on 77 minutes when referee Penso adjudged that Salinas' challenge on Crew defender Josh Gardner was dangerous enough to warrant a straight red card – much to the displeasure of Soehn and the home fans.
As time ticked down, Columbus started to surge and create late chances from Cunningham and Rogers, who forced a good save from Cannon with a low strike. From the ensuing 90th-minute corner, Whitecaps FC were unable to clear their lines, and that allowed Gardner to curl in a fine cross to an unmarked Cunningham at the far post.
Though he was in an offside position, the former Toronto FC striker confidently headed home to steal all three points for Columbus and break the hearts of Whitecaps FC and their supporters. Cunningham's strike was an historical one in MLS, as the goal pulled him level with the retired Jaime Moreno at 133 on the league's all-time goalscoring chart.
Whitecaps FC will have little time to ponder Wednesday's disappointing home result, as they visit Western Conference rivals Colorado Rapids on Saturday evening. Columbus, meanwhile, will have a week-and-a-half off before hosting San Jose Earthquakes on Saturday, July 16.
Scoring Summary:
90′ – COL – Jeff Cunningham (Josh Gardner)
Match Stats:
Shots: Vancouver 17 – Columbus 17
Shots on Goal: Vancouver 7 – Columbus 5
Saves: Vancouver 4 – Columbus 7
Fouls: Vancouver 11 – Columbus 11
Offsides: Vancouver 1 – Columbus 6
Corners: Vancouver 7 – Columbus 8
Cautions:
7′ – VAN – Gershon Koffie
23′ – VAN – Camilo
74′ – COL – Eric Gehrig
84′ – COL – Chad Marshall
Ejections:
77′ – VAN – Shea Salinas
Vancouver Whitecaps FC
1.Joe Cannon; 8.Wes Knight, 2.Michael Boxall, 4.Alain Rochat, 25.Jonathan Leathers; 22.Shea Salinas, 33.Pete Vagenas (7.Terry Dunfield 64′), 28.Gershon Koffie, 16.Nizar Khalfan; 37.Camilo, 17.Omar Salgado (13.Michael Nanchoff 74′)
Subs not used: 18.Jay Nolly, 3.Bilal Duckett, 12.Jeb Brovsky, 14.Greg Janicki, 23. Long Tan
Columbus Crew
1.William Hesmer; 21.Sebastian Miranda, 14.Chad Marshall, 26.Julius James, 31.Josh Gardner; 12.Eddie Gaven, 22.Dejan Rusmir (33.Jeff Cunningham 83′), 7.Bernardo Anor (9.Justin Meram 76′), 16.Eric Gehrig, 18.Robbie Rogers; 10.Andres Mendoza (32.Tommy Heinemann 70′)
Subs not used: 30.Andy Gruenebaum, 5.Danny O'Rourke, 15.Kevin Burns, 23.Korey Veeder