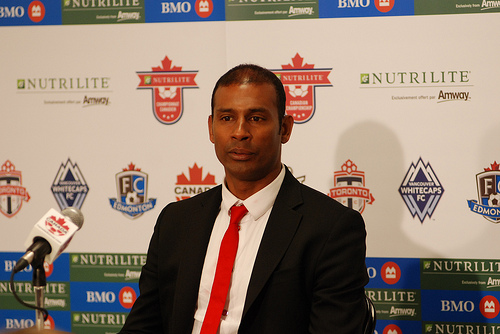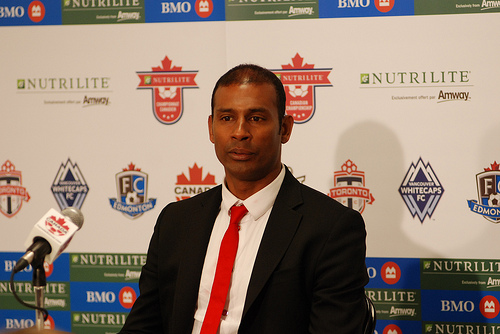 Aron Winter- Head Coach & Technical Director, Toronto FC
On the match:
"Five to zero is hard. Five times they went on the counter and got a goal. They got a chance, and they finished. If you watched the game, you saw how many opportunities we had within the front of the box, but we weren't able to score."
On moving forward:
"We have to be calm. It's a hard defeat. But if you watch the game, I saw some positive things. We get opportunities because the first 20 to 25 minutes, we were the better team. We had a lot of opportunities but we didn't score. But New York, the moments they came in the box, the five or six moments, they scored. After 3-nil, it was much easier for them to play football."
RICHARD ECKERSLEY- Defender, Toronto FC
On the team conceding five goals:
"I think it wasn't just defensively, or just the back four. When were defending, we need to do it as a team. If one player runs off their man, they're going to pick us off. They did that tonight. They've got good players, and obviously we paid the price tonight."
On Toronto not finishing their own chances early in the match:
"I think it's difficult because obviously, if you've given that much time on the ball and that much possession, you need to put your own chances away. If we don't do that, we pay the price and we definitely did that tonight. Obviously they only needed half a chance and they could score. So that's how difficult it could be."
DAN GARGAN- Defender, Toronto FC
On the match:
"I kind of feel similar to how I felt after the game in Toronto last year when we played them. When we lost by a few, I think it was four (the final score was 4-1 on Aug. 21, 2010 at BMO Field). But I don't remember walking off the field feeling like we got thoroughly out played. I think simple mistakes led to all their goals. Mistakes that are easily correctable and easily fixable. They finished their chances last year, and they certainly finished them again today. And that was something that we were missing. We had quite a few opportunities in the beginning of the game, and if we finish one or two of them there, we make a difference. I think we need to put away our opportunities when we have them because against a team like New York, they'll finish theirs."
On moving forward:
"Games keep coming, so this is a loss and obviously it stings a bit whenever you lose badly. But we created some chances and we just have to look forward."
On Toronto's struggles with New York:
"They certainly have some players that can put the ball in the back of the net. They have players that are willing to run at our backline. They have a good solid core in the midfield. Those things obviously make for a tough matchup. They finish their opportunities, and when teams finish, that's when it gets ugly like it did today."
HANS BACKE- Head Coach, New York Red Bulls
On the match:
"We said at halftime that we just need to keep up the high tempo. We've been in that situation before where we go out for the second half and just drop and defend and never break the lines from midfield, and a poor passing game. We just need to do 90 good minutes now. In the second half, good decision making went to the possession, went to go forward. It was perfect the way we killed the game and ended up scoring five goals. Probably one of the better performances this year."
On the return of Luke Rodgers:
"It helped that he played around 45 to 60 minutes. He was, at the beginning of the second half, limping a little bit. But the energy he has and his work rate, the phenomenal goal, helps the team definitely. He has done two practices after being away for three weeks so I think that was a great performance from Luke."
On the team's attack:
"I must say we have been really effective today. I haven't looked at any stats or any finishes we had today, but we looked pretty effective scoring five. I think most of the time we got a hold of the ball, our possession and the decision making was to go forward. That was probably the key to winning this game. And of course Toronto came here trying to win this game and played open. So you've also got time and space in our
attacking game."
THIERRY HENRY- Forward, New York Red Bulls
On the team scoring five goals:
"(It was) good. Even though before we scored the third one, it could have easily been two to one. They hit the post. I am sure we would have had a game like we've had since the beginning of the season where maybe we would have gotten scared and it would not have been five nil. But (Greg) Sutton touched the ball, it hit the post, and it came back to him. So for once we had good luck. After that we scored the third one
and it was another game. Juan Agudelo came on and finished the game for us.
On why the team is more successful with Luke Rodgers and him playing up top:
I do not agree with that. We scored goals without Luke and we've scored goals without me. The only thing I can say is that we did not concede goals today. Even if we did not score four or five, I think we would have won two nil tonight. Of course, it is easy to talk now. It is nothing to do with Luke and me.
The thing we did well today was to not concede a goal. That always helps. If you look at our record on goals, it is more than impressive. And today if Agudelo did not score the last one, it would have been four nil with four different goal scorers. The other day Joel (Lindpere) scored two. One time it was Mehdi (Ballouchy) for us. Another time some other players. I do not think it as anything to do with Luke and I. Today we defended well with some luck sometimes, as I said. Even there at the end it hit the post. I think that was the key to what we did today.
Scoring Summary:
NY – Thierry Henry 9 (Jan Gunnar Solli 5) 33′
NY – Luke Rodgers 6 (Jan Gunnar Solli 6) 38′
NY – Joel Lindpere 5 (Dane Richards 4) 52′
NY – Juan Agudelo 3 (Joel Lindpere 4) 66′
NY – Juan Agudelo 4 (Joel Lindpere 5) 89′
LINEUPS
Toronto FC — Stefan Frei, Richard Eckersley, Dan Gargan, Ty Harden, Danleigh Borman (Ashtone Morgan 46), Nathan Sturgis, Tony Tchani (Matt Stinson 57), Mikael Yourassowsky (Gianluca Zavarise 68), Nick Soolsma, Javier Martina, Joao Plata.
Substitutes Not Used: Alan Gordon, Doneil Henry, Jacob Peterson, Milos Kocic.
New York Red Bulls — Greg Sutton, Jan Gunnar Solli, Carlos Mendes, Tim Ream, Roy Miller, Dane Richards, Teemu Tainio (Mehdi Ballouchy 80), Dax McCarty, Joel Lindpere, Luke Rodgers (Juan Agudelo 56), Thierry Henry.
Substitutes Not Used: Austin Da Luz, Mike Jones, Stephen Keel, John Rooney, Bouna Coundoul.
Misconduct Summary:
NY — Luke Rodgers (caution; Reckless Tackle) 39
NY — Teemu Tainio (caution; Dissent) 59
TOR — Nick Soolsma (caution; Reckless Tackle) 62
Referee: Geoff Gamble
Referee's Assistants: -Daniel Belleau; Eric Proctor
4th Official: Alex Prus
Attendance: 15,269